RAMP DEFI NAVIGATION GUIDE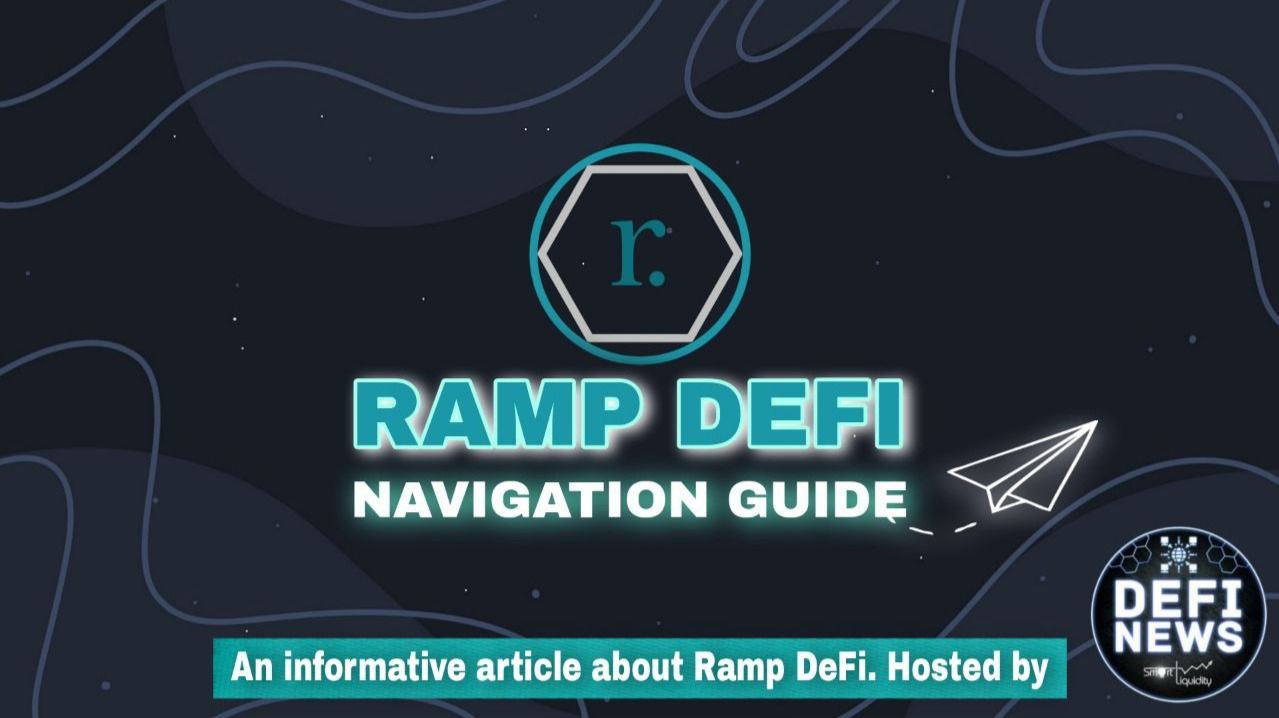 INTRODUCTION
As we continue digging on the decentralized finance ecosystem, we are proud to introduce to you this one of the best DeFi project RAMP DEFI. Join us to find out what is the secret behind the success of this project.
WHAT IS RAMP DEFI?
RAMP DEFI is a decentralized protocol that aims to boost decentralized finance adoption by allowing non-Ethereum users to stake their tokens on ETH-powered platforms. The company is focus to develop a suite of DeFi products that will act as the building blocks to power its ecosystem and cross-chain liquidity system.
Now let's tackle about what RAMP DEFI can offer to the entire decentralized finance community and how this project gives an opportunity to their user to earn. Let us check on ways how people can gain profit or make some passive income through their ecosystem
RAMP DEFI allows the holder of rUSD to borrow, lend, or exchange rUSD for another stable coins such as USDT, or USDC freely within its ecosystem. Users also can create seamless liquidity on or off ramp.
WHAT ARE THE BENEFITS OF rUSD HODLERS?
🌀 Unlock staked capital as a liquidity for development into trading or investment opportunities
🌀 Retain majority of staking rewards on their staked portfolio
🌀 Retain the potential for the capital appreciation of their collateralized portfolio
🌀 Farming of RAMP token by committing their digital assets as rUSD collateral
The RAMP ecosystem was the center of staking where users can earn incentives and rewards through token buyback and burn, governance and voting rights of the protocol, regular distributions from fees generated.
LIQUIDITY ON/OFF-RAMP DESIGN 
RAMP DEFI proposed that the staked capital on the various non ERC20 staking blockchains be collateralized into stablecoin rUSD which is issued through Ethereum Blockchain via a gateway bridge. Through this strategy, rUSD holders can deploy their rUSD into yield farming opportunity to earn passive income, or they can swap USDT/USDT for free.
The creation of a native collateralized xUSD, is done within the native network after which the stablecoin is swapped into ERC20 rUSD using a cross-chain bridge and this is how Staked Capital to Liquid Capital (On-Ramp) Process works
Lets take a look on what more RAMP DEFI Ecosystem is preparing for its community. In the next text, we will gonna find their plans for the year 2021 and beyond.
💥 rMint takes in the wrapped tokens as collateral and mint a native stablecoin
💥 Vaults is the product for RAMP and rUSD deployment and utility and supports functions like staking and liquidity provision rewards for RAMP and rUSD holders, liquidity pools for RAMP, rUSD, USDT trading, yield products that's support RAMP and rUSD to power up the yield stacking and lastly, financial derivatives utilizing RAMP and rUSD as the core assets
💥 rKeeper manages the conversion of liquidated assets into stablecoins for rUSD
💥 rBurn was launched year 2020 but there was a product upgrade on Q1 2021. The fees generated from sStake are used to buyback and burn RAMP to remove token from circulation.
RAMP DEFI DESIGNS AND PRINCIPLES
📌 Community Governance– RAMP Token holders are the decision maker for RAMP DEFI. As per the growth of the RAMP ecosystem, its community have to power to change the proposals and shape of RAMP DEFI as the network project progresses
📌 Deflation Through Secondary Martlets and Buyback – the rBurn product has been activated to the repurchase and burn of RAMP Tokens on Uniswap.
📌 Efficient Liquidation– in RAMP liquidation, mechanism, the rTreasury acts on behalf of RAMP token holders as the immediate OTC(Over the counter) buyer of all liquidated assets
RAMP DEFI UPCOMING DEVELOPMENT
FIRST QUARTER 2021
📍Launch of RAMP Ignite 2021 master plan
📍 Marketing partnership with content creator
📍wRAMP development
📍rMint development
📍rUSDT liquidity mining program
📍New protocol integration
📍RAMP Vaults
📍 RAMP Alliance
📍RAMP Community Products will be released
📍Bug Bounty program
SECOND QUARTER 2021 
🔹RAMP governance structure
🔹 Decentralization of RAMP Governance
THIRD QUARTER 2021
🔸On board new assets under management and blockchain ecosystems
RAMP DEFI PARTNERS
🤝 IOST– a decentralized blockchain network based on proof-of-believability consensus algorithm
🤝 SOLANA– a web scale blockchain that provides fast, secure, scalable, decentralized application and marketplace
🤝 NULS– an open source enterprise grade, adaptive blockchain platform that offers fast track business solutions for developers
🤝 Tezos– a decentralized open source blockchain network that can execute peer-to-peer transactions
🤝 ICON– a blockchain technology and network designed to allow independent blockchains to interact with each other
🤝 CRUST NETWORK– a decentralized storage network for the We've ecosystem
🤝 Metanyx– a leading staking service platform
🤝 Elrond Network– a highly scalable, fast, and secure blockchain platform for distributed apps
RAMP DEFI INVESTORS
💷 Alameda Research 
💷 Mechanism Capital 
💷 IOST 
💷 Ruby Capital 
💷 Signum Capital 
💷 LayerX Capital 
💷 Parafi Capital 
💷 Addington XRP Capital 
💷 Torchlight Ventures 
💷 Blockwater Capital 
💷 Me Partners 
💷Orthogonal Trading
The following are the people behind the success of RAMP DEFI
1️⃣ Lawrence- project leader 
2️⃣ Zheng Rong- marketing leader 
3️⃣ Caspar- technical leader 
4️⃣ Jeremy- community leader 
5️⃣ Jeanette- operations leader 
6️⃣ Terry- technical advisor 
FRIENDLY REMINDER:
"We deliver these news article based on our own thorough research. We want to preserve some important information regarding the project that is presented in our column. We value our reader's opinion and appreciate your valued respect to us. The article above is not a financial advice and as we always say "Invest at your own risk and only invest what you an afford to lose"