OVR REALITY NAVIGATION GUIDE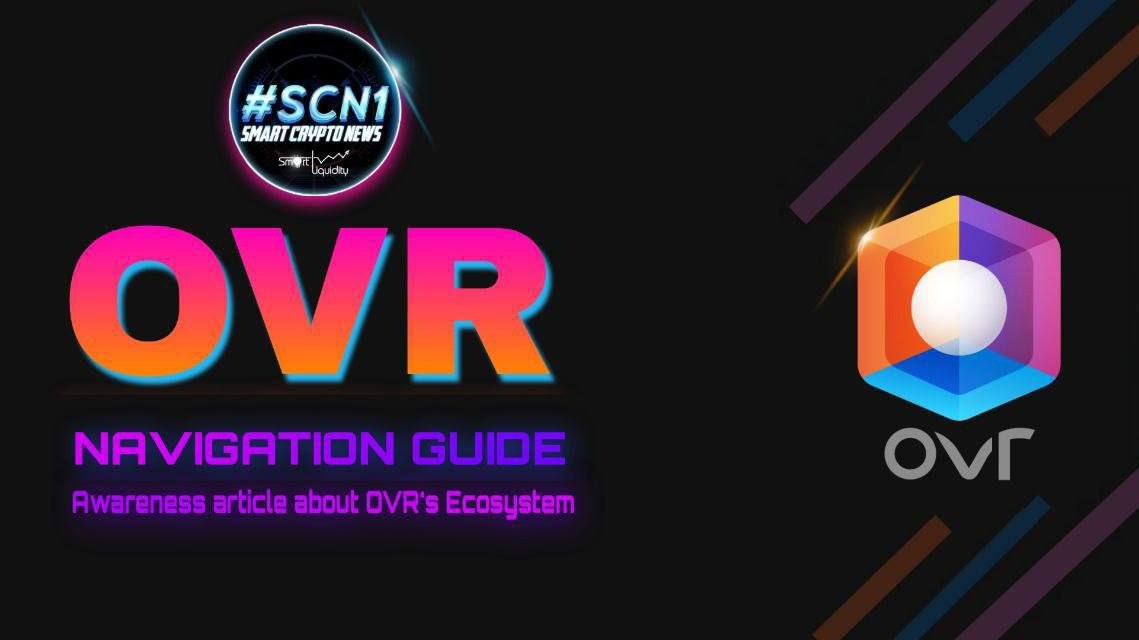 INTRODUCTION  
As a journalist, writer, and researcher, SmartCryptoNews never sleeps to deliver meaningful news covering the blockchain industry or even any project related to cryptocurrency whether DeFi or gaming platform. Today we warmly invite you to explore and evaluate a project that probably you haven't heard it yet SmartCryptoNews Proudly Presents "OVR NAVIGATION GUIDE" 
WHAT IS OVR? 
OVR Platform is the decentralized infrastructure for the spatial web, merging physical and virtual world through "Augmented Reality", creating a new dimension where everything is possible. It is a digital layer covering the entire globe.The layer is composed of 1.6 trillion unique hexagons called OVRLands. 
WHAT IS OVRLand? 
OVRLand is a tokenized Spatial Web Domain where the OVRLand owners will have the power to decide which content will be shown on their geographic location. The property of each land is represented by a Non Fungible Token (NFT) based on Ethereum Blockchain. The OVR SDK will be launch in beta stage soon, and if you are a creator and you can code in Unity 3D you will be able to use it to create a new Augmented Reality contents and sell it to OVR Marketplace.
WHAT DOES OVR HAS TO OFFER?
💠 STAKING it allows OVRToken holders to vote for the best node, and granting them governance over a critical component of the platform such as hosting performance. Voters will rewarded with a share of hosting fees for securing the network and for staking temporary illiquidity. In order to participate on staking program, users must need to login on the website and should connect their wallet on the platform.
💠 OVR CASHBACK grants its user a high percentage of claims in the first 9 months of OVR platform operations when buying the OVRLands. User get 95% cashback of what they have spent for the OVRLand for the first month, 85% for the second month and 75% for the last 9 months since the OVRLand Auction been launched. The cashback program will be available from the 15th day of the month following the auction. It will be applied to the first lands sold in that month. Cashback does not include Gas Fees paid in OVR Tokens.
💠 OVR APPLICATION 
Over the Reality "OVR" is a new level of reality. It covers the entire world's surface and divided into hexagons. OVR Assistant allows users to discover new things that surrounds them and experience augmented reality experience. 
HOW TO USE OVR APP?
OVR Application is available on Google Playstore for Android and App Store for iOS users. All you need to do is download the application and start creating your account.
1. OPEN THE OVR APP and select which way you will connect to sign up. You can use Facebook, Google, WeChat, and or Email to create your account. 
2. If you wish to create an account using your Google Account, be sure to read the information provided by the application as it needs your permission to allow them to see your profile, your name and email address. 
3. The OVR Application also need to access your device's location, so you need to allow it to be able to use the app. After you sign in, you can start exploring the flat form. 
4. Inside the application you can personalize your avatar so that your friends can easily recognise you.
OVR APPLICATION FEATURES 
💥 OVR LIVE you can enter this feature to find and meet new friends. For you to be available to access this feature, the app will need to allow voice and video record. Here you can select the room that you want to join. You can choose between Virtual Orthopedic Academy, Exhibition, Sistine Chapel, Disco, Meeting Room, DJ on Mars and Shopping Mall. You can also create your own room.
💥 MARKETPLACE in this feature, it allows you to discover how to earn OVR token and it will drives you to the website where the OVR Auction is happening. 
💥 TREASURE HUNT in this feature you can earn OVR token by participating in the official OVR Treasure Hunting. You need to open your camera and use the OVRLand to locate the unexplored Treasure Land.You can find various prize offer that scale from 1 to 100 OVR tokens. The OVR token that you have collected will be credited directly to your account. You can explore maximum not 1 treasure a day. 
💥 OVR PLAYGROUND allows you to play and discover new Land. 
HOW TO PARTICIPATE IN AN AUCTION?
Before users, can participate in an auction, they will need a Metamask or imToken wallet, fully loaded with OVR tokens. If they don't have any OVR token, they can simply swap it on Uniswap. 
To participate in an auction, users must need to create an account by registering their email address and nationality information. Then after filling out the registration form, they should check their email inbox to confirm their registration. 
After doing so, the registration has been confirmed, users can visit OVR Marketplace and click "connect wallet " to start with. Make sure that you installed Web3 provider, login to Web3 provider and connect to Mainnet network and you're good to go! 
AUCTION ALLOWANCE 
Increasing Auction Allowance can be done once. This step is to permit smart contract to take the OVR tokens as payment from your wallet once you win the auction. After clicking the "Increase" button a prompt from the wallet will ask for a confirmation and in a matter of minutes you can see Auction Allowance number becomes 10000000 which means your are ready to participate. Again click the Marketplace option, and select OVRLand that you want to map, then open the bidding panel by clicking on Init Auction or Place Bid. Insert the amount you want to bid and confirm by clicking Place Bid. Wait for 24 hours and if no other user over pass your bidding option, you will get to own this OVRLand NFT and the status of this auction is "closed" But if there is a higher bidder, the auction will still be live for another 24 hours. 
( You can visit "My Asset" tab to check the status of your ongoing land auction and your own OVRLand ) 
OVR Platform provides an AR MARKETPLACE where creators will be able upload their AR contents and OVRLand owners will be able to choose from a wide range to AR to grow their OVRLand.
HOW TO PARTICIPATE ON A PRESALE?
To be able to participate in OVR Presale, users must need to create an account in the website. OVR Token price was $0.07 and the more token minted the higher the price. The IBCO is both primary and secondary market where users can buy and sell to the curve buying=creating tokens, selling=burning tokens. Users need to pass KYC before it can participate on OVR Presale but if they choose not perform KYC, they can purchase OVR tokens on Uniswap, MXC, Bitmart, Bilaxy, and Loopring.
OVR Platform will never be successful without these intelligent people who are striving and working hard to make this ecosystem more friendly to its users. 
♻️ David Cuttini–CEO an Entrepreneur in AI Blockchain 
♻️ Diego Di Tommaso–COO OVR Co-Founder 
♻️ Mattia Crespi–CSO a Technology strategist and Research Affiliate of the Institute of the Future 
♻️ Lydia Wang–Marketing Director 
♻️ Angelica Gordon–Head of Communications 
♻️ Carlo Davide–AR Architect and Unity Developer 
♻️ Antonio Dal Cin–Web Architect and Lead Developer 
♻️ Saul Clemente–Head of 3D Development Area 
♻️ Marco Toppano–UX/UI Designer 
♻️ Federico Palla–Unity and Back-end Developer 
♻️ Mattia Di Nunzio–3D Artist 
♻️ Fabrizio Barachino–Digital Strategist 
♻️ Alex Faraone–Community Manager 
♻️ Victor Amaechi–Social Media Manager 
♻️ John Henry Clippinger–Advisor 
♻️ Gianmarco Boggio–Advisor 
♻️ Felix Mago–Advisor 
♻️ Sean Ness–Advisor  
 RESOURCES: 
OVERVIEW: 
" Based on our experience OVR has a strong interface, a broader platform that have a lot of products to offer. We have downloaded OVR Application and we test how it works. It's a user friendly application and very easy to toggle up. By using the application, each day you can earn OVR Token via Treasure Hunting ".
FRIENDLY REMINDER:
"We deliver these news article based on our own thorough research. We want to preserve some important information regarding the project that is presented in our column. We value our reader's opinion and appreciate your valued respect to us. The article above is not a financial advice and as we always say "Invest at your own risk and only invest what you an afford to lose".