KARDIACHAIN Navigation Guide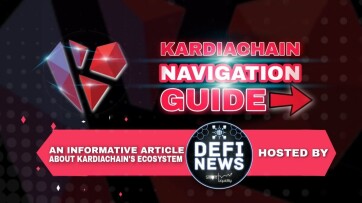 INTRODUCTION
Another exciting topic we will discuss today regarding an immense ecosystem of the blockchain industry. Join us to explore the depths of the KardiaChain project 
WHAT IS KARDIACHAIN?
KardiaChain is the first fully decentralised interoperable and self-optimised blockchain ecosystem, a scalable and interoperable blockchain platform for decentralised application. Its use cases includes Smart City, Supply Chain Management, and Fully Decentralized Cross-chain Exchange. KardiaChain technology allows non-invasive data connections to transfer both asset and data between participating blockchains and dApps.
KARDIACHAIN PRODUCTS 
🔶 KAI STARTER PLATFORM— is a DeFi platform to provide flexible earnings for KAI HOLDERS via traditional business investments. KAIStarter utilizes KAI Token to govern all activities such as proposing an investment, voting for approval, and claiming interest. It also provide a new investment channel for the non-crypto population
🔶 KAI MEMBERSHIP— is the KardiaChain flagship application pushing the frontier of mass adoption. A super App for general public to earn, store, spend, and invest KAI, focusing on user experience and utilities.
💥 Application Features:
* Gamification: Play and earn, NFT collectibles and social mining
* Utilities: Mobile top-up, E-vouchers, Mai-Linh Card 
* Wallet: Fiat Gateway, DID, Bank Integration, eKYC 
* Wealth Management: KAIStarter (invest in traditional business) DeFi features like token collateral, lending, and credit line 
🔶 YOUTH UNION INCENTIVE APP— a mobile app aims to improve and tokenize volunteering tasks for the Union members. It helps Union digitising, managing membership data, and personal IDs. The first phase,creates a new playground for more than 60,000 young people in Hi Chi Minh City where they can play games, finish some task, and do test quiz to earn KAI from the Union.
🔶 DEX CROSS-CHAIN DECENTRALISED EXCHANGE PROTOTYPE — first DeFi application that enables cross-chain, asset exchange regardless of protocol and without any requirement or custodial entities to wrap, mint or burn tokens. The DEX was developed to showcase KardiaChain Dual Node technology that enables non-invasive interoperability which currently connected to ETH, NEO, and TRX public blockchains.
TECHNOLOGY
🔸Dual Master Node– it allows KardiaChain to expedite the blockchain mass adoption process in an efficient manner, reducing the need for educating the market. It provides more usability and blockchain features for more and more service provider that are joining KardiaChain ecosystem. Dual Node have simultaneous access to the ledger data of KardiaChain and other blockchain that carries any data between blockchain while preserving the cryptographic proof.
🔸Elastic Sharing With Incentive Mechanism(ESWIM)– ensures the optimal network performance and security. It maintains the appropriate number of nodes and staking power in Dual groups and the main network using block reward distribution and TX fee commission
🔸Smart Contract MarkUp Language– it is the ultimate tool for developers to efficiently deploy cross-chain smart contract on KardiaChain without significant learning curve or any prior experience. It also aims to break the language barrier between different smart contact platforms.
KARDIACHAIN PARTNERS 
1. Mai Linh Group a largest Taxi Company in Vietnam that will provide KardiaChain with access to a large user base, boosting the use case for KAI token, while KardiaChain will help Mai Linh Group gain a technological advantage over its competitors.
2. Coinplug a leading blockchain solutions provider for enterprise working with KardiaChain to empower the MYKEEPiN Alliance (DID and SSI) in Vietnam
3. Geleximco one of Vietnam's leading conglomerates with a total asset of $2.2 billion will pool all resources at its disposal to support KardiaChain with a long term goal of making KardiaChain a major blockchain platform for enterprise in Vietnam and South East Asia 
4. Chainlink a market leading decentralized oracle network will allow dApps to connect to real world data and traditional infrastructure in a highly secure and reliable manner.
5. MahaDAO a decentralized autonomous organization where the partnership focus is to give more rewards for KAI and OM token holders thru staking and providing liquidity to their prospective networks
6. Matic Network a layer 2 scaling solutions and a leading global blockchain projects. KardiaChain will utilize Matic's highly scalable technology to meet throughput demands for KardiaChain's large scale enterprise
7. CertiK a blockchain smart contact auditing platform will empowers KardiaChain's developers by applying CertiK's cutting edge technology, leveraging mutual strengths to better enhance the innovative tools and solutions for its clients and partners
8. Bounce Finance a decentralized auction platform works together with KardiaChain to launch more NFT auction campaign on the Bounce platform
9. Vite and Vitex a feeless and high performance public chain enable fully decentralized cross-chain asset transfer and apply fully non-invasive interoperability "Dual Mode" KardiaChain technology to enable ViteChain cross-chain transactions in a full non-custodial manner.
10.Morpheus Labs a Singapore based blockchain startup will accelerate progress in exploring and deep-diving into blockchain scene with South East Asia specially in Singapore and Vietnam
KardiaChain Mainnet 1.0 promises the completion of another significant milestone in KardiaChain roadmap while Staking is a process of holding KAI tokens in a the wallet and security of KardiaChain network. As a return, holders will be rewarded with KAI Tokens as an incentive. 
The KardiaChain Mainnet 1.0 is launched 29th December and will be the most awaited moment for the KardiaChain ecosystem and community 
" Every project cannot be developed without resources and especially when there are no smart people to promote it" 
Below are the powerful team of KardiaChain Ecosystem
📌 Tri Pham– CEO/Co-founder, a Tech Startup founder and advisor in London with over 10 years of entrepreneurship experience in multiple sector 
📌 Huy Nguyen– CTO/Co-founder senior Tech Lead Manager at Google, with over 10 years experience in building large-scale distributed infrastructure
📌 Anthony Vo– CFO, a seasoned fianncialist who is currently working as First VP Bankof Hope the largest Korean American Commercial Bank in the US 
📌 Johnny Tri Dong– CBO, also a COO and Co founder of Big Cat Entertainment and Asia Pacific Director at CleverAds Corporation
📌 Thien Nguyen– Teach Lead, senior software engineer at Google with over 10 years experience in software infrastructure with strong expertise in highly secure and scalable database systems
📌 Nam Do– Teach Lead, a senior software engineer at Google with over 10 years of experience in system infrastructure,advanced algorithms and complex backend system
📌 Huy Doan– a seasoned software engineer at Google with a burning desire to work on impactful projects 
📌 Luu Tran– Director of Product Development, a seasoned engineer and researcher with 12 years of expertise in infrastructure solution for enterprise leveraging emerging technology 
📌 Thao Dang(Astrid)– Head of Marketing and Partnerships, a proactive with vast business connections, having worked with top ICT companies like FPT Software as IT business analyst  
A project without an ADVISOR wouldn't prosper in anyways, this what how KardiaChain becomes more progressive as well as a very promising ecosystem. They have chosen intellectual people who will help them grow in a very spectacular way.
KardiaChain Advisors 
🔹Mr Voung Duy Bien a former deputy minister of culture–sports and tourism
🔹Mr Huy Ho chairman of Mai Linh Group a largest Taxi corporation and transportation operator in Vietnam
🔹Mr Richard Yun COO of Coinplug and Co-founder of Metadium 
🔹 Colonel Tuan Pham a former deputy director of traffic and transportation 
🔹Mr Ryan Fang Co-founder and COO of Ankr Network
🔹Thang Huynh a professor in mathematics at UC San Diego
🔹Mr Michael Parks a marketing director, block crafters 
RESOUCES: 
---