Pollo Finance Navigation Guide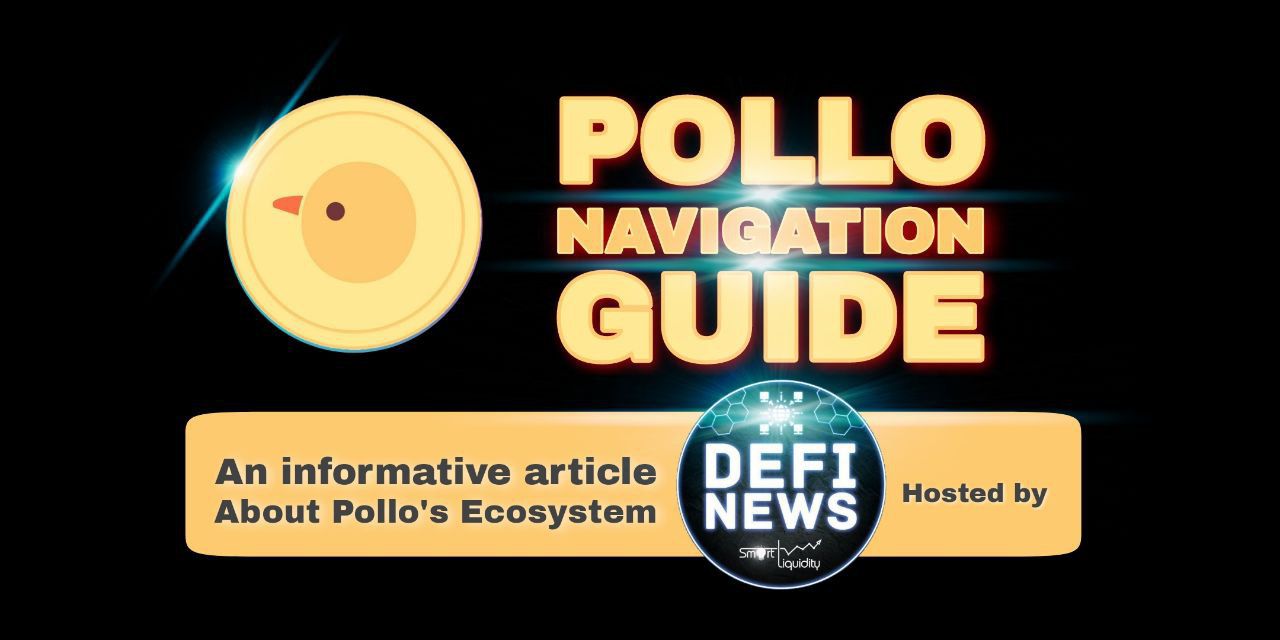 INTRODUCTION 
" We've done a long road and now we are onboarding in our true home the " SmartLiquidity Network". Here we will constantly give you an update about cryptocurrency news that can help you realize that we are now living in a digital world. Today we have another offer for our readers that will absolutely gives an intense interest regarding our topic today. Let's begin our article by, SmartLiquidity Network Present "Pollo Finance Navigation Guide" 
WHAT IS POLLO FINANCE? 
Pollo Finance is an advanced initiative that is built on Binance Smart Chain that allows the generation of sustainable basic income in a digital ecosystem. It is an innovative solution that brings programmability and interoperability to the three(3) protocols such as Pollo Swap—(Yield Farming) is now open, Pollo Basic Income—(Algorithmic Stablecoin) opened 3rd April, and Pollo Vault—(Auto Farming) will be open on May
What Does Pollo Finance Has To Offer? 
🌀 Staking– Users can stake POFI tokens to generate passive income up to 853.35% APY in return.
🌀 Farming–Users can stake their LP Tokens to earn POFI via POFI-BNB-LP, POFI-BUSD-LP, BUSD-BNB-LP, BTCB-BUSD-LP, ETH-BNB-LP, CAKE-BNB-LP, USDT-BNB-LP and lot more pairs to choose. 
🌀 Exchange–Users can trade their asset easily in just on click and can select wide pairs of token to trade for. 
🌀 Liquidity–Users who will add liquidity will receive LP Tokens as reward. All they need to to is to click the "Add Liquidity" and all is are set to start the activity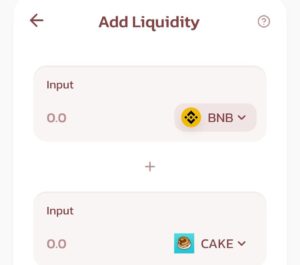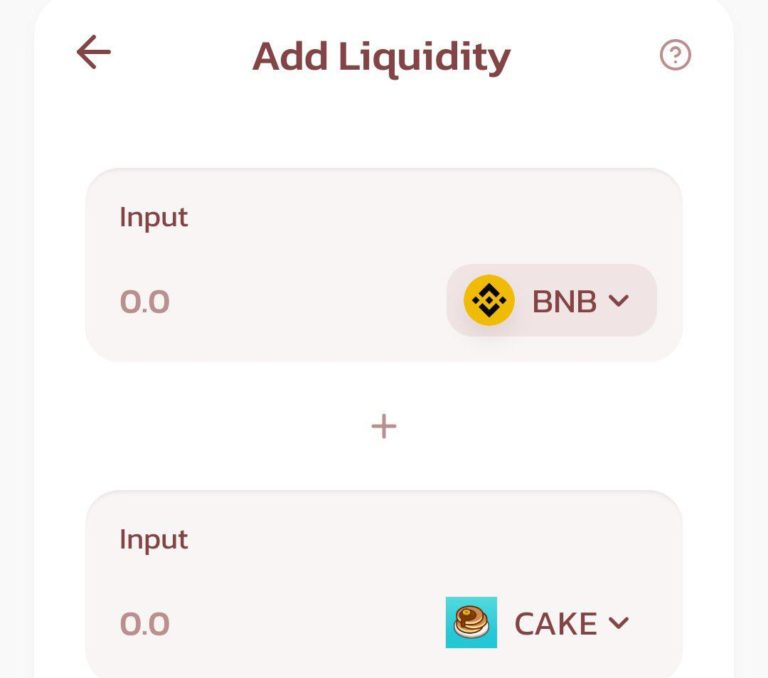 The Pollo Finance has been audited specially its DEX project. The audit is processed for three program files and these are MasterChef.sol, POFI.sol, and Timelock.sol. The MasterChef.sol manages minting, POFI.sol processes transactions and Timelock.sol controls pausing. The system is design to work within the Binance Chain and the codes are hardfork of Sushiswap and Uniswap that has already been audited by several auditing firms. 
See Diagram Below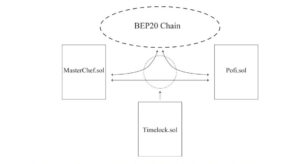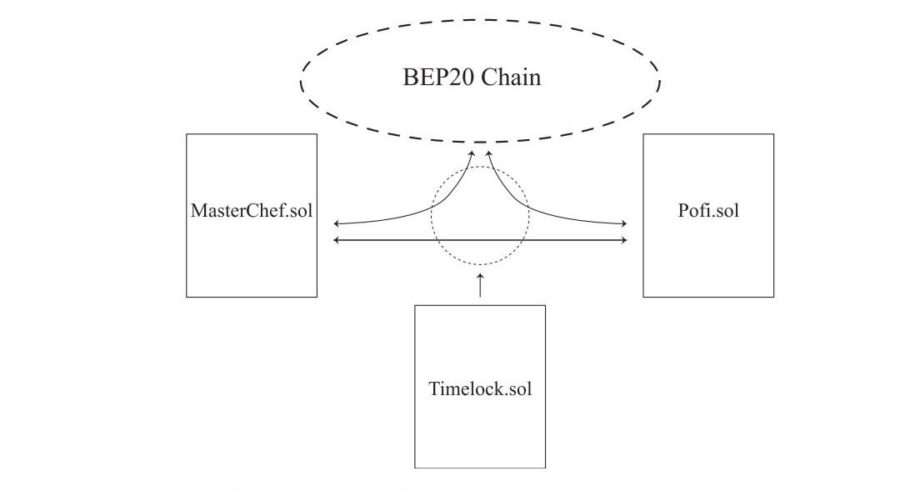 The auditing report shows how the known problem is treated and how the project is governed. Pollo Finance has been audited by some experts to ensure the safety of its users, investors as well as their network and ecosystem.
Pollo Finance Smart Contract was also audited last March 2021 by Recharge an analytic and engineering agency focused on blockchain technology solutions and audit. The team examined the contract carefully and found Smart contract do not contain any high severity issue.
Pollo Finance has the ultimate goal being a "Decentralized Autonomous Organisation". 
POFI supply has been reduced to 500,000 from 21M originally. It means that on 18th April 2021 it will stop and there will no new POFI token to be issued. It can be used as voting right for DAO in the future. The fee revenue generated from all Pollo services will be distributed to POFI holders semi-permanently and users can take advantage into it.
By having POFI, it entitles users to a permanent fee revenue and allows them to participate in the jackpot as well as for a voting rights in a DAO.
Pollo Finance Special Promotion 
There will be a total of 50 BNB to be given away by Pollo team to all its valued followers as a celebration of Pollo Basic launching.
How To Access Early User Acquisition? 
⏹️ Purchase POFI from Polloswap
⏹️ Access the Share Pool
⏹️ Deposit POFI token in the POFI Pool
⏹️ Quote Pollo Finance post in their social media account specially in Twitter
⏹️  And fill the their form to take a share of 10 BNB in reward after completing the task
https://forms.gle/tbwgev8zcaAcsCP27
Pollo Finance has is the platform where each user can enjoy lots of benefits. They have so much ways of earnings to offer that can give their users a satisfaction guarantee. Their wide selection of products brings lot of opportunities not only for their users but to the entire world of decentralized finance. 
RESOURCES: 
🌐 https://official.pollo.finance/
🌐 https://bitcointalk.org/index.php?topic=5322221
🌐 https://github.com/pollofinance
🌐 https://medium.com/@pollofinancegroup
🌐 https://official.pollo.finance/pdf/roadmap_202103.pdf
🌐 https://official.pollo.finance/pdf/audit_report01_v1.0.pdf
🌐 https://official.pollo.finance/pdf/audit_report02_v1.0.pdf
🌐 https://bscscan.com/address/0x312274D383B2a8D3E8CF0C46b43035B927b1D85B
🌐 https://twitter.com/FinancePollo
"We deliver these news article based on our own thorough research. We want to preserve some important information regarding the project that is presented in our column. We value our reader's opinion and appreciate your valued respect to us. The article above is not a financial advice and as we always say "Invest at your own risk and only invest what you an afford to lose"