Horizen Onboarding Copper to make ZEN more Reachable for its Users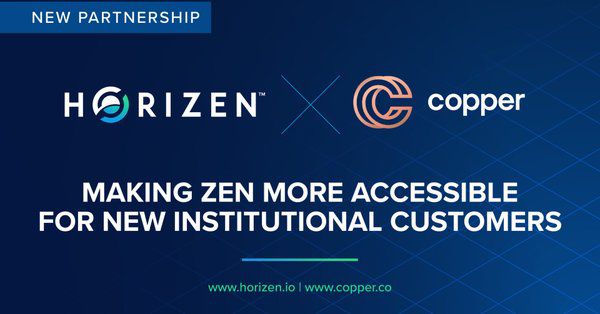 The most secure blockchain ecosystem, Horizen announced partnership with Copper the institutional gateway to digital asset investing. By partnering with Copper, Horizen will be more visible and available to all institutional customers that are looking forward to hold ZEN asset. 
ZEN holders and investors are no longer be afraid of losing their asset because Copper is a platform with a solid security to protect their customers' property. Users can trade their assets without moving to exchanges, eliminating the risks of hacked, or frozen. 
ABOUT HORIZEN  
Horizen is the most secure blockchain ecosystem supported by most decentralized node infrastructure. ZENDOO is its unique side chain that focuses on scalable data privacy and enable business and developer to customize their own public or private blockchains .
ABOUT COPPER 
Copper is a digital asset infrastructure develop in partnership with pioneering institutions. It is a secure cryptocurrency platform that emphasizes asset security with a user friendly interface.