Newscrypto is Coming To Travala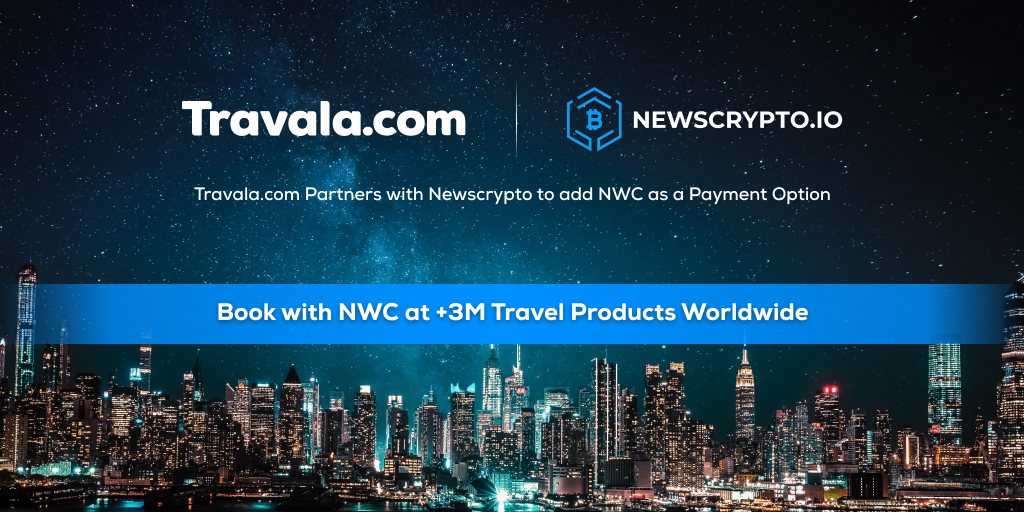 The world's leading cryptocurrency-friendly online travel agency Travala announced partnership with Newscrypto the high performance and high security blockchain platform.
The partnership will enable Newscrypto's native token NWC holders to book over 2.2 million hotels and homes, 600+ airlines and 400,000 more activities in more than 230 countries. NWC will be more visible and usable to all its avid holders made possible by Travala
"We are very pleased to partner up with the world's number one crypto-friendly travel platform, Travala. Just as travel is becoming possible once again, we're all excited to start this journey and provide our community with more use cases for NWC. Proud to say that Newscrypto team will use Travala services when travelling to conferences from now on".~Vid Mihelič, Founder and CEO,Newscrypto 
On the other hand Travala CEO also express gratitude and commented on the partnership.
"In continuing our commitment towards mass cryptocurrency adoption, we're very excited to partner with Newscrypto to champion the growth of the crypto community and to bring a new use case to NWC.The team impressed me with their vision for their business, and I have no doubt that we will see them making waves in the crypto community." 
Aside from NWC, Travala also allows users of BTC, ETH,as well as its own token AVA to be used to purchase their services on their platform.
ABOUT TRAVALA 
Travala was founded in 2017 and now back by giant cryptocurrency exchange Binance. It is the worlds leading cryptocurrency-friendly travel booking services with 2.2M properties, 400K activities in 230 countries and 600 airlines worldwide
ABOUT Newscrypto 
Newscrypto recognized the need for providing relevant crypto information for experienced traders as well as giving newcomers a place to kickstart their trading career. It wa the high-performance and high-security blockchain platform.