PancakeSwap will List $ITAM ItamGames to Farm And Syrup Pool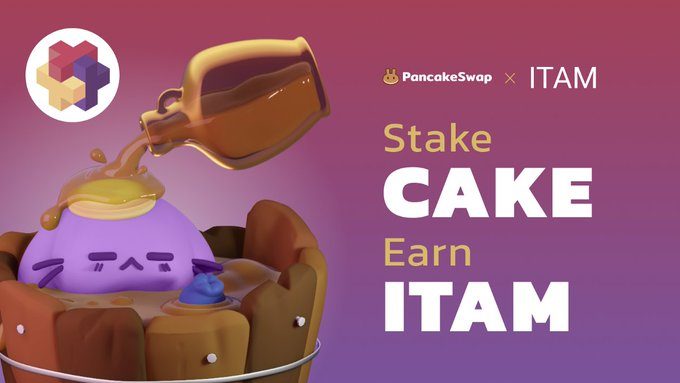 PancakeSwap added ITAM to Their Farm and Syrup Pool
How do you stake CAKE to earn ITAM rewards?
Visit this webpage: https://pancakeswap.finance/syrup
Click "Approve CAKE" on the ITAM Syrup Pool
Click on the stake button.
Confirm the transaction.
The Syrup Pool:
Stake $CAKE tokens to earn $ITAM tokens!
Total Tokens: 5,350,000 $ITAM
Distribution duration: 60 days
Start block: 6409500 (April 9th 3PM SGT)
Finish block: 8137500 (June 8th 3PM SGT)
Token rewards per block: 3.096 $ITAM
About ITAM
ITAM is an ecosystem where all creation of paintings, cartoons, fashion, and games are digitised by NFT platforms. Artworks of K-Pop artists and celebrities are minted on NFT platforms, and they will be traded on NFT.Farm
About PancakeSwap?
PacakeSwap is decentralized exchange and 1st Automated Market Maker and Yield Farming on Binance Smart Chain.
PancakeSwap uses an automated market maker (AMM) model. That means that while you can trade digital assets on the platform, there isn't an order book where you're matched with someone else. Instead, you trade against a liquidity pool.
➡️Source:
https://pancakeswap.medium.com/pancakeswap-welcomes-itam-to-syrup-pool-6f8cdb8e4cad