AllianceBlock x Binance Smart Chain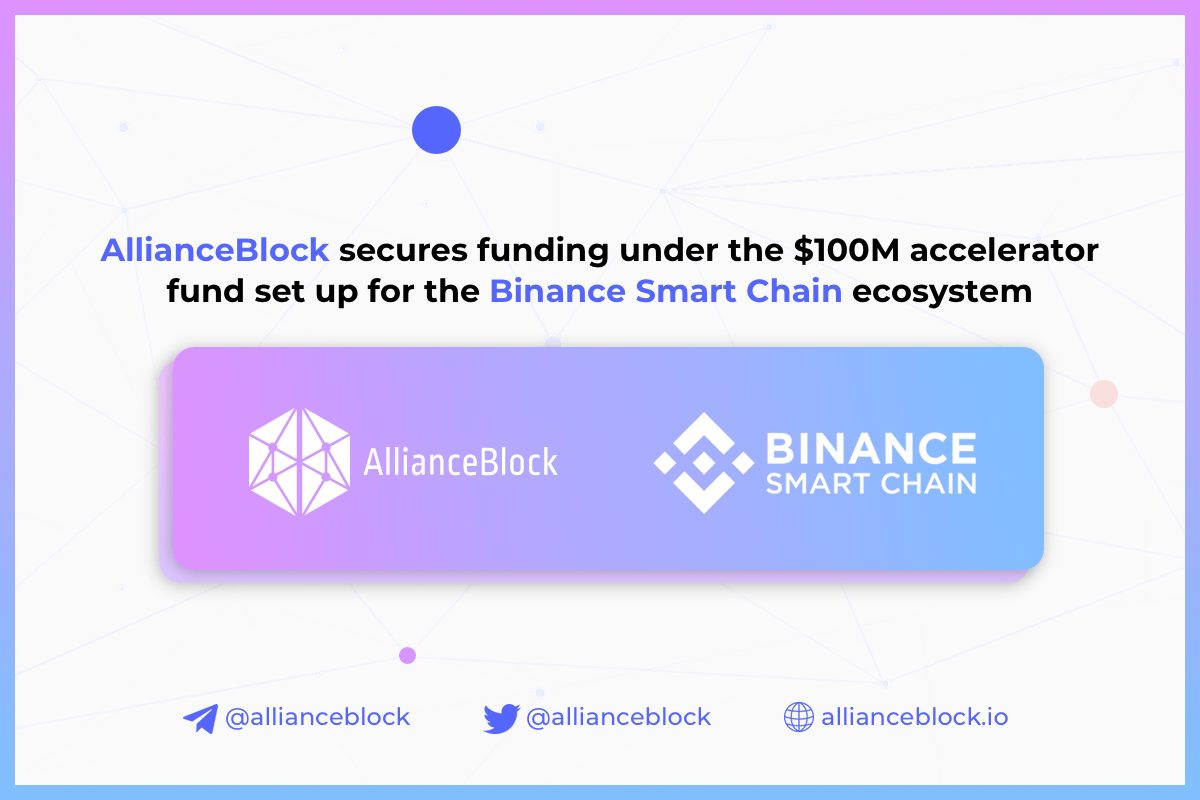 AllianceBlock has secured funding under the $100M accelerator fund set up to boost #BinanceSmartChain ecosystem.
AllianceBlock was launched on Binance Smart Chain in late 2020, and will continue to support the chain with all future product releases. As a part of the fund, AllianceBlock will benefit from exposure to the fast-growing Binance Smart Chain community.
What is AllianceBlock?
AllianceBlock is building the first globally compliant decentralized capital market. The AllianceBlock Protocol is a decentralized, blockchain-agnostic layer 2 that automates the process of converting any digital or crypto asset into a bankable product.
Incubated by three of Europe's most prestigious incubators: Station F, L39, and Kickstart Innovation in Zurich, and led by a heavily experienced team of ex-JP Morgan, Barclays, BNP Paribas, Goldman Sachs investment bankers, and quants, AllianceBlock is on the path to disrupt the $100 trillion securities market with its state-of-the-art and globally compliant decentralized capital market.
What is Binance Smart Chain?
Binance Smart Chain is a sovereign smart contract blockchain delivering Ethereum Virtual Machine (EVM) compatible programmability. Designed to run in parallel with Binance Chain, Binance Smart Chain retains the former's fast execution times and low transaction fees while adding Smart Contracts functionality to support compatible dApps.
📰 INFO:
https://blog.allianceblock.io/allianceblock-secures-funding-under-the-100m-accelerator-fund-set-up-for-the-binance-smart-chain-1436c4d4a46f