SWFT Blockchain Giveaway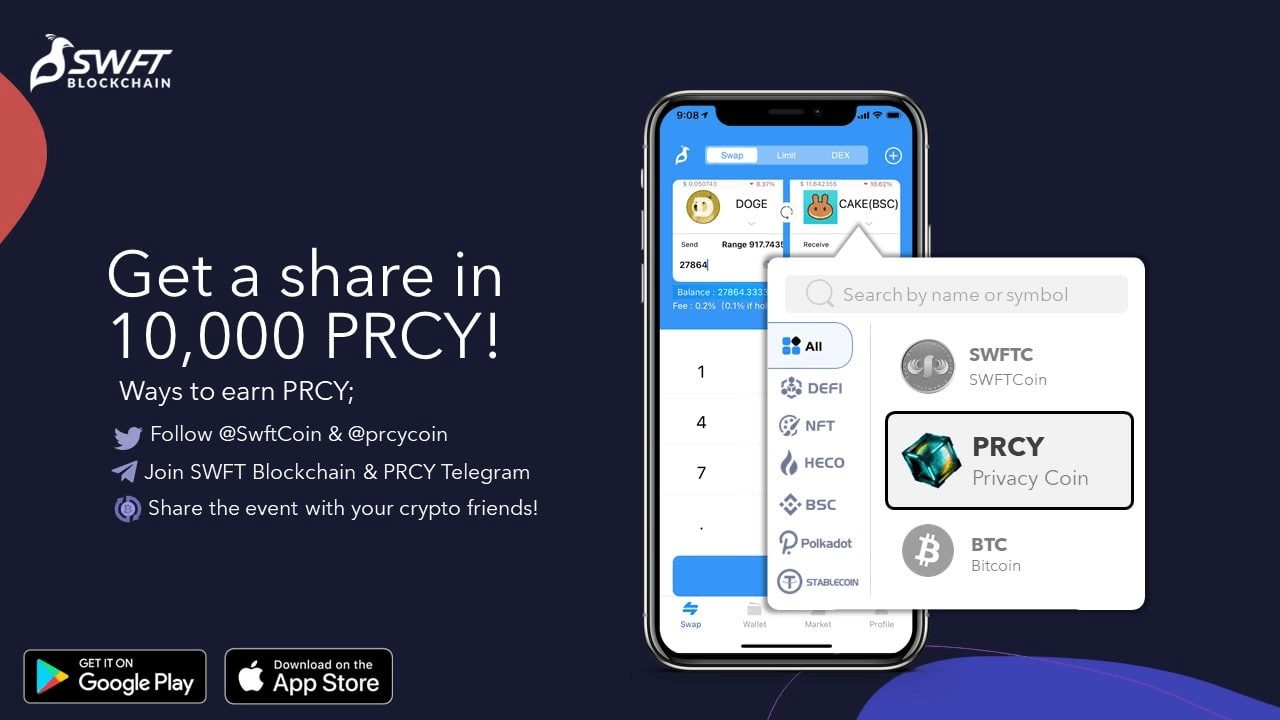 To celebrate $PRCY listing, SWFT Blockchain organises 10,000 $PRCY Giveaway, Apr 10-Apr 20.
Task:
Follow PRCY coin and SWFT Blockchain twitter
Like and Retweet the announcement with a quote, Tag 3 friends in comment section .
"Join @swftcoin and @prcycoin listing #celebration and you can win a share of 10,000 $PRCY"
Join PRCY and SWFT Blockchain telegram.
Fill this form.
Note: 20 selected winners will share 10,000 PRCY. Winners will be announced after event ends.
Rules
❗️Winners will be announced on Twitter when the event ends.
❗️Twitter winners will receive their rewards directly to your SWFT Blockchain account.
❗️All rewards will be distributed within 5 business days after the event.
❗️The SWFT Blockchain team reserves the final rights of explanation regarding all rules of this event.
❗️If we detect any cheating activities during the event, SWFT Blockchain is entitled to disqualify the participants involved from claiming their rewards.
What is SWFT Blockchain?

Founded in 2017, SWFT Blockchain is a next-generation, worldwide cross-chain swap protocol and payment network. SWFT Blockchain's technology combines blockchain, machine learning and big data to enable direct swaps between over 300 cryptocurrencies. Offering a fast, affordable, and secure experience, SWFT Blockchain's transfer protocol allows users to swap cryptocurrencies at the best rates, in record speeds and with super low fees. SWFT Blockchain is currently the go-to protocol for cross-chain swaps between DeFi and CeFi currencies, stablecoins, and more. Soon, SWFT Blockchain will launch a decentralized exchange aggregator that will combine SWFT Blockchain's swap experience with the advantages of decentralized and noncustodial swaps. SWFT Blockchain has received funding from top VCs, including Draper Dragon and was in the first cohort of startups at Berkeley Blockchain Xcelerator.
What is PRCY Coin?
PRCY is a privacy blockchain with a focus on security, scalability and total privacy. The PRCY protocol has built in a fully anonymous staking coin and payment system with a trustless governance structure, based upon the latest privacy technologies.

📰 INFO:
https://swftcoin.medium.com/prcy-coin-and-swft-blockchain-giveaway-9105596114ad