NFT Tuesdays by Binance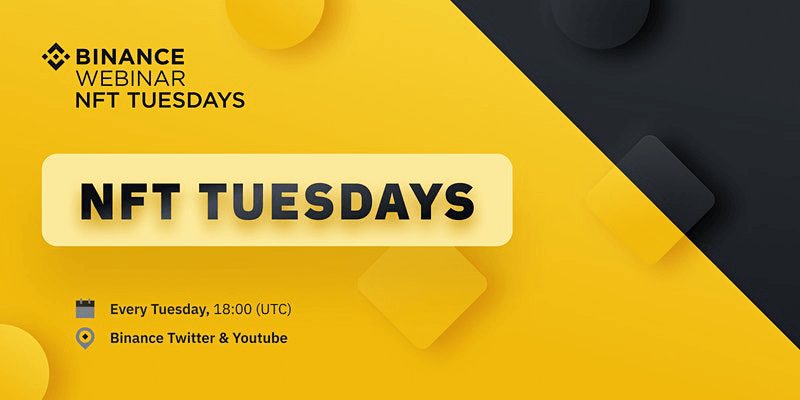 Binance introduced webinars about world of NFTs in a new six-part series called #NFT Tuesdays.
Find out what NFTs are, why they matter, and how you can participate. Get up to speed on the technology that's transforming the digital economy, and hear from experts, artists, crypto enthusiasts, and more with our series of webinars.
NFTs Explained: Everything You Need To Know- 13th April
NFTs are everywhere—and they're not just hype. Learn what NFTs are, how they work, and why people are so excited about them. We get down to basics with a demo that brings the technology to life, plus a live Q&A session hosted by NFT experts.
How NFTs are Transforming the Digital Economy- 20th April
NFT innovation is taking the digital world by storm. From collectible art and fan tokens to music and gaming, NFTs have the potential to create new economic opportunities and reshape entire industries. Discover the cutting-edge applications of this emerging technology and the opportunities you can seize today.
Buying NFTs: Bullish or Bearish Investment? – 27th April
Crypto enthusiasts, collectors and speculators are jumping into the NFT space. Interest is at an all-time high, with major artworks and releases selling out in minutes. Is now the right time to get started? Where do you buy NFTs, how do you buy them, and which platforms should you use?
NFTs for Artists: The Beginner's Guide- 4th May
NFTs are rewriting the rules when it comes to digital goods. Anyone has the ability to make their work more valuable, whether it's through digital art, music and games or memes and collectibles. Learn how you can create your own NFTs and sell them in an online marketplace. Join our live demo and Q&A and start your NFT journey.
Opportunity of a Lifetime: NFTs for Developers – 11th May
The NFT ecosystem is just getting started, with new marketplaces, platforms and technologies appearing on a near-daily basis. How can developers seize this powerful trend and build the NFT products and platforms of tomorrow?
NFTs in Gaming: Next Level Potential? – 18th May
Can NFTs transform the gaming industry as we know it? Gamers are already familiar with concepts like digital unlockables, in-game currency, virtual skins and more—making video games a prime candidate for NFT-related innovations.
What is Binance?
Binance is the World's Leading Cryptocurrency Exchange.
📰 INFO:
https://www.eventbrite.sg/e/nft-tuesdays-tickets-148911246547