Dear readers,
We are eager to help our community to discover new projects we think that have great potential and are beneficial to the overall Blockchain and crypto space.
SmartLiquidity, presents the "ThreeFold Navigation Guide."
ThreeFold is building a more private, secure, and sustainable Internet. The ThreeFold Grid (storage, compute, and network services) is live today with roughly 80 petabytes of capacity and 15k+ CPU cores – distributed in 25+ countries and constantly expanding across the edges. It is the largest peer-to-peer (P2P) Internet grid on the planet. ThreeFold's unique autonomous and P2P infrastructure allows a seamless transition towards a decentralized data economy.
ThreeFold is powering the decentralization movement with a collaborative and evolving ecosystem of technology partners such as CasperLabs, DigiByte, Polygon, HPE, Dash, Neo, TomoChain, Harmony, Presearch, WaykiChain, Dragonchain, and many others. A collective, incentivized, and global ecosystem of independent ThreeFold "Farmers" connect 3Nodes (servers) to the ThreeFold Grid to provide storage, compute and network capacity. Anyone with access to electricity and the Internet can buy a 3Node, plug it in, and start earning ThreeFold Tokens (TFT) – no technical knowledge required.
The TFT is the token of the new Internet, the payment mechanism for ThreeFold Grid and ThreeFold Cloud usage. The ThreeFold Grid acts as a low-level substrate to scale any type of technology, including blockchain, in a truly decentralized way. Its unique architecture was built from scratch from the operating system level on a Linux kernel and automated all the way up to the end-user level. A Smart Contract for IT creates and enables autonomous IT, and a dispersed storage algorithm splits the data across nodes instead of replicating them as on Web3 architectures. This allows for redundancy with significantly decreased overhead.
Individuals and organizations can now build, deploy, and maintain Web2 and Web3 applications in a completely peer-to-peer IT infrastructure. To support developers and communities, ThreeFold created P2P Cloud offerings (Edge Virtual Data Center, Quantum-Safe Filesystem), a P2P Marketplace, and the 3Bot SDK (which enables developers to create and scale IT workloads in a truly limitless way).
ThreeFold aims to empower a more fair and equal world through its many partnerships and by incentivizing growth in developing regions. Visit threefold.io or wiki.threefold.io to learn more.
ThreeFold Marketplace: Currently in test phase. The development team is inviting the public to join their community to start exploring its functionalities. The ThreeFold Marketplace is a collection of ready-made open-source peer-to-peer solutions that are built on top of the ThreeFold Grid – the largest and most advanced peer-to-peer cloud in the world, deployable via ThreeFold Edge Virtual Data Center (eVDC) Admin Panel. 
Here are decentralized apps you can deploy on the ThreeFold Marketplace:
Photo courtesy of ThreeFold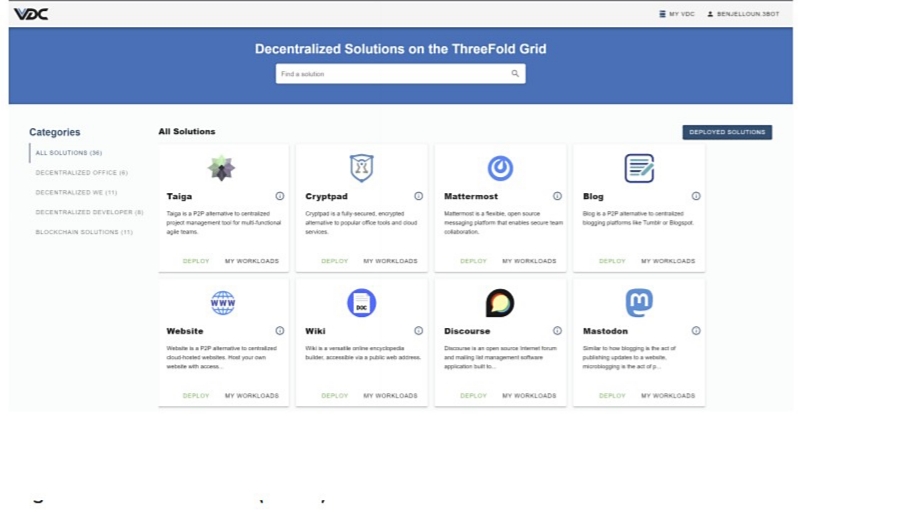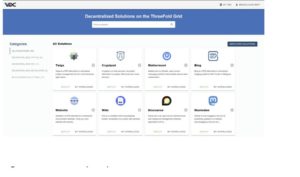 https://marketplace.threefold.io/apps
The eVDC is a private and scalable cloud solution on the ThreeFold Grid and is now available on TF 2.5 testnet. The eVDC is a virtual data center that provideseasy and standardized ways to deploy, scale, and manage workloads.
eVDC Offers The Tools For:
Deploying containerized Unix IT applications on grid
 Setting up Kubernetes clusters that are able to orchestrate and manage containers running on the ThreeFold and containers hosted in external clouds
Storing data in a very secure way and presenting this storage facility in the most used and understood interface
How to deploy a new eVDC?
eVDC Deployer is a platform where users can deploy a new eVDC – edge Virtual Data Center – and manage their deployed virtual data centers on top of the TF Grid.
To Deploy an eVDC , follow the steps on the documentation:
https://threefold.io/info/cloud#/cloud__evdc
Photo courtesy of ThreeFold 


Photo courtesy of ThreeFold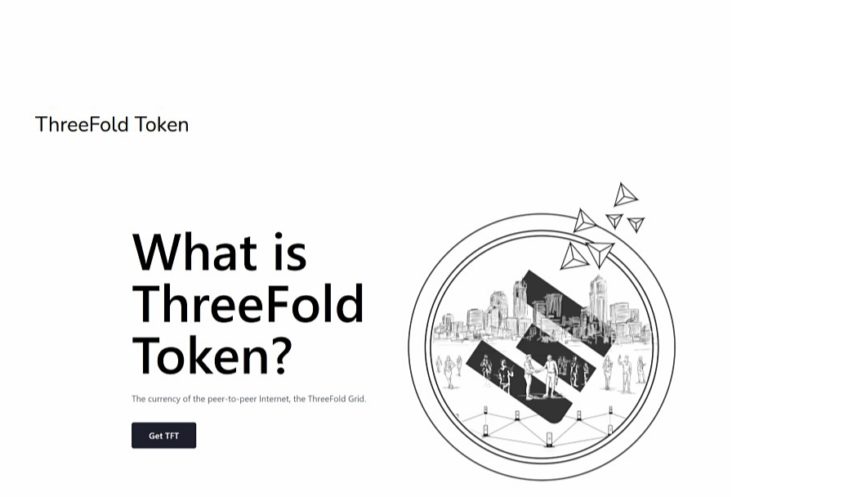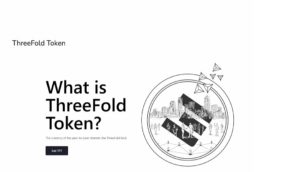 $TFT token is the centre of the ThreeFold ecosystem. It is the currency of the ThreeFold Grid, the new P2P internet. TFTs are created only when people and organizations (Farmers) add cloud capacity to the ThreeFold Grid. The token economy is limited at 4 billion TFT supply.
USE CASES OF TFT TOKEN
⇒ TFT is the currency of the new internet and is used to reserve decentralized cloud capacity on the ThreeFold Grid.
⇒ TFT can be swapped, exchanged with other currencies like Bitcoin, USDT, BUSD, and other tokens. TFT will be supporting multiple chains, it started with Stellar, and is now adding BSC
⇒ TFT can be use to purchase products and services on the ThreeFold Grid
In some cases people may wonder where the TFT token came from. The Internet currency, TFT, came from the farmers or what we call the "MINERS" that connect the 3Nodes to the ThreeFold Grid and in return, they are being rewarded with TFT. While the farmers keep on expanding the ThreeFold Grid, the token economy is limited to 4 billion tokens. This limit ensures the stability of value and incentivization for all stakeholders. TFT is only created by ThreeFold's open-source, and decentralized minting software as a result of Cloud capacity being added to the ThreeFold Grid
Recently, ThreeFold announced its plan to integrate with Binance Smart Chain, Ethereum, and Huobi's own DeFi platform, Heco Chain. These integrations will provide further ways to buy and sell TFT. A huge ecosystem like The ThreeFold Ecosystem, deserves some intellectual persons to drive the platform to be more user-friendly and user efficient for the entire community.
These are some of the people who are behind the success of The ThreeFold.
Ω Adnan Fatayerji—honoured to be a part of a team that has the potential to make a better world
Ω Andreas Hartl—passionate to change the internet
Ω Christopher Hutton—entrepreneur and technology fanatic
Ω Jan De Landtsheer—techie at heart
Ω Kristof de Spiegeleer—engineer, humanist, and motivated entrepreneur
Ω Rob Van Mieghem—technology council
Ω Sabrina Sadik—ThreeFold's jack of all trades
Ω Weynand Kuijpers—international entrepreneur
Ω Ahmed Thabet—wants to build a beautiful application
Ω Andrea Castiglione—ThreeFold Connector building a ThreeFold Grid as a global ecosystem
Ω Geert Machtelinckx—IT of Belgian Institution
Ω Jonas Delrue—technical led and founder with Jimber
Ω Karoline Zizka—coordinator
Ω Kristine Vilnite—building a sustainable foundation for the future
Ω Lee Smet—technology council
Ω Maxime Daniel—technology council
Ω Maximillian Rang—Audiovisual creative and Strategic Thinker
Ω Muhammed Azmy—Senior Software Engineer at ThreeFold Tech
Ω Nayer Sobhy—passionate about people's development
Ω Nickolay Babenko—Engineer, crypto entrepreneur
Ω Owen Kemp—Experienced manager, love doings differently
Ω Peter van Henst—HR-manager and Financial Advisor for TF Tech
Ω Pierre van Hoorebeke—business lawyer
Ω Rajinder Singh Grewal—financial service and operation manager
Ω Reem Khamis—Tech
Ω Roel van Sabben—Digital Marketing and Project Management
Ω Sam Taggart—Communication & Community
Ω Sacha Obeegadoo—Organizational and Ecosystem Strategy
Ω Sasha Astiadi—Product Manager
Ω Winston Wenyan Ma—Investor,Lawyer
Ω Abdelrahman Ghanem—Software Engineer
Ω Ahmed Hanafy—Automation Software Testing Engineer
Ω Abdul Rehman—planner,explorer
Ω Ahmed Siddique—explorer,tech
Ω Ahmed Samir—Passionate Engineer
Ω Alexandre Hannelas—Digital Twin
Ω Ashraf Fouda—Software Engineer
Ω Atef Nazmy—believes that TF Foundation drives the world to a better tomorrow
Ω Benjelloun Oussama—Blockchain Ecosystem Development Lead
Ω Bishoy Mikhaiel—Cloud System Engineer
Ω Medha Parlikar—CTO and CO-Founder at CasperLabs
RESOURCES:
FRIENDLY REMINDER:
"We deliver these news articles based on our own thorough research. We want to preserve some important information regarding the project that is presented in our column. We value our reader's opinion and appreciate your valued respect to us. The article above is not financial advice and as we always say "Invest at your own risk and only invest what you can afford to lose"