BSCLaunch Navigation Guide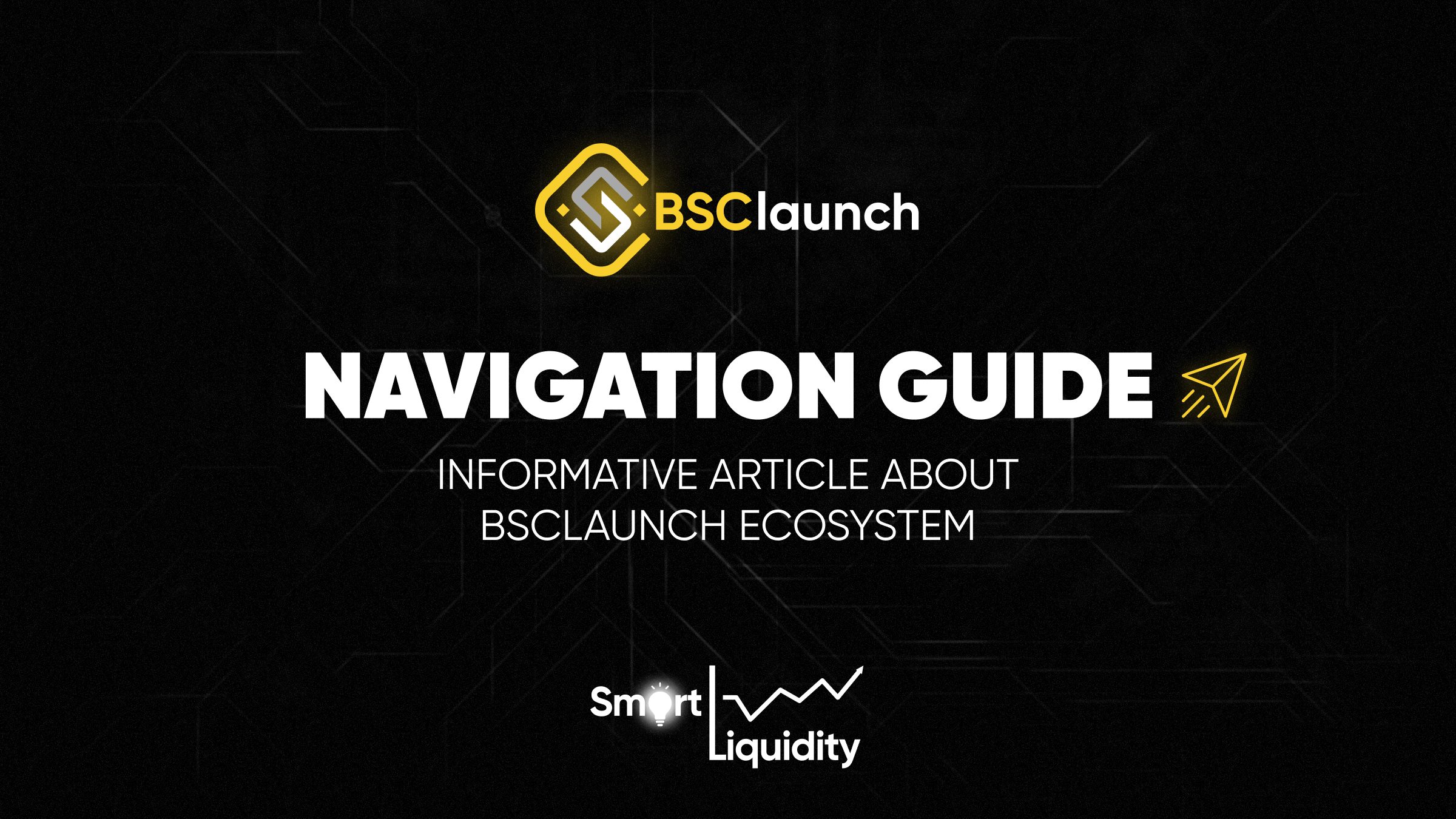 INTRODUCTION
Leveraging the boom of the cryptocurrency market that is growing at breakneck speeds, bearing much greater profit potential than any other financial market, we would like to present a game-changing solution that will help you capitalize most of the upside of these new volatile assets. As gate-keeping factors are eventually removed, presenting a low barrier to entry, anyone can invest in this new asset with their idle capital. However, high reward is not always guaranteed with the high risks the customers face, especially considering the tremendous pitfalls and difficulties and the ruthlessness of the crypto market. Remember, in the last bull run, only 1% of investors made it out alive, let alone be profitable.
With that in mind, "SmartLiquidity" would like to present a cutting edge solution BSCLaunch that makes investors feel more secure every time you try to explore your investment avenues.
---
OVERVIEW OF BSCLAUNCH PROJECT
BSCLaunch is a smart investment platform based on Binance Smart Chain, enabling projects to raise capital on a decentralized environment, and the community to invest with safety, freedom, and equal opportunity.
BSClaunch, which was launched in 2021, is a platform that is more than just a launchpad. Instead, as it builds a firm presence in the fastest-growing industry, it has evolved into a complete ecosystem for all types of crypto services.
---
WHAT ARE BSCLAUNCH'S USE CASES?
🔸B-Launch:
B-Launch was created with the desire to bring to the wider community the highest quality, safest, most transparent, and with the highest potential projects. The BSCLaunch's team is committed to having direct access to top VCs and advisors to curate the best projects for customers. Only when a project survives the exhaustive rigor of the internal reviewing and assessment process, will BSCLaunch allow the project to IDO on the B-Launch platform, effectively labeling it a safe asset and making it available for investing. Additionally, users can participate in bidding for the IDO and post their own reviews about the project through B-Launch, adding another layer of security and peace of mind.
FUNDRAISING INFO:
Low cap Raise $800k
Part of 5 Dapps Sequential IDOs
Token: BSL
🔸B-Insurance:
By raising capital through BSClaunch, the project will lock part or all of the raised capital into the liquidation pool. After a certain period, the market will have a say in deciding whether this capital can be returned to the project team or it will be permanently locked in the liquidity pool. The special mechanism allows projects to define flexible unlock conditions to meet the financial needs of the project.
FUNDRAISING INFO:
Low cap Raise – $750k
30% of the allocation only for B-Launch + B-Swap + B-Farm + B-Tool + B-NFT participants
Token: BSI
🔸B-Tools:
This state-of-the-art AI system will allow BSClaunchers to invest based on concrete data. It assures accurate IDO participant analysis by removing bots, spammers, and clones and provides a wealth of other information based on market conditions. Beyond these valuable features, it also enables the distribution of tokens in bulk orders, token locks, and LP locks in a significantly more economical way.
FUNDRAISING INFO:
Low cap Raise – $500k
30% of the allocation only for B-Launch + B-Swap + B-Farm participants
Token: BST
🔸B-Farm:
A profit optimizer that deposits winnings in the financial vault, promoting automated asset growth. It is designed to encourage long-term investing and provides long-term holders with incentives. Further, B-Farm introduces a burning mechanic to the overarching infrastructure of their tokenomics model. This burn structure will assist in maintaining the exclusivity of tiers and the overarching price action of $BSF.
FUNDRAISING INFO:
Low cap Raise – $750k
30% of the allocation only for B-Launch + B-Swap participants
Token: BSF
🔸B-Swap:
A decentralized exchange that allows traders to swap tokens before and after an IDO. Capital can be moved more easily between investment platforms, and this feature will automatically ban contracts with suspicious addresses or those with the same names but a lack of verification from third-party platforms.
FUNDRAISING INFO:
Low cap Raise – $1.2m
30% of the allocation only for B-Launch participants
Token: BSW
🔸B-NFT:
This feature solves the problem of uncontrollable reproduction of digital assets by creating non-replicable NFTs (Non-Fungible Tokens). Beyond this simple function, their protocol will facilitate the buying, selling and trading of NFTs, and even act as an INO (Initial NFT Offering) launchpad. This wildly expands the realm and scope of possibilities for projects that launch on the platform. Further enhancing the experience for both users and IDO's that take place on the BSCLaunch Ecosystem.
FUNDRAISING INFO:
Low cap Raise – $650k
30% of the allocation only for B-Launch + B-Swap + B-Farm + B-Tool participants
Token: BSN
---
TOKEN METRICS
Token Info:
Name: BSL
Total Supply: 100,000,000 tokens
Network: Binance Smart Chain (BSC)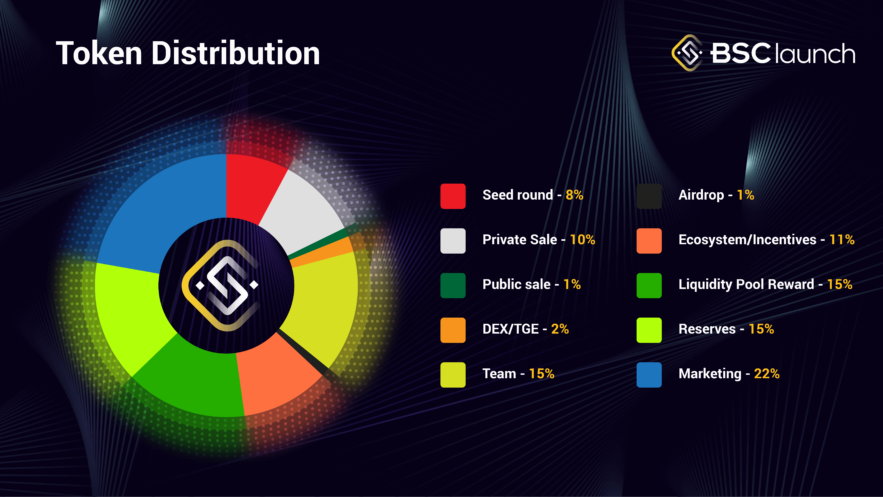 Use of Fund:
The plan to use the capital raised by BSClaunch is supplemented in turn as follows:
35% of the fund is for project developers (DEV), which would be really flawed if this process results in features that users cannot update and check on a daily basis. Technology is always in the direction of a new change, they always want their art products to be updated daily by the most professional team.
30% is used to drive the marketing strategy. Main activities will revolve around building community on mass media channels (Social Media), PR channels, branding (Crypto Markets Branding), recruiting expert ICOs (Supplying coins initially) to thoroughly test and fairly evaluate the whitepaper of a project run on BSClaunch, the in-house creative agency where BSClaunch will deposit its "data" and ask them to pass it on. News information that is most direct and easy to understand when it reaches users. A professional team is a collection of components to keep the project on track for growth.
20% for the machine to operate.
15% for job exchange listing.
ROADMAP OF BSCLAUNCH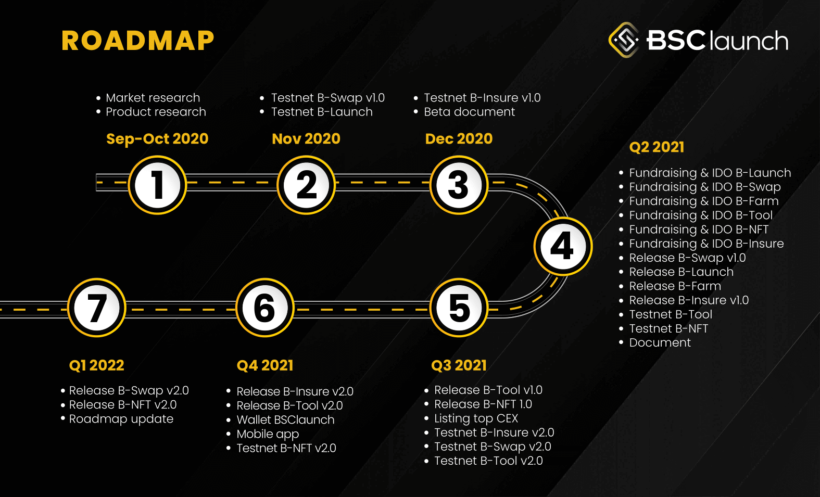 BSCLAUNCH SOCIALS
Website | Twitter | Telegram Channel | Telegram Chat | Documentation
---
FRIENDLY REMINDER:
We deliver these news articles based on our own thorough research. We want to preserve some important information regarding the project that is presented in our column. We value our readers' opinion and appreciate your valued respect to us. The article above is not financial advice and as we always say "Invest at your own risk and only invest what you can afford to lose".