Olive Cash Will List Wyvern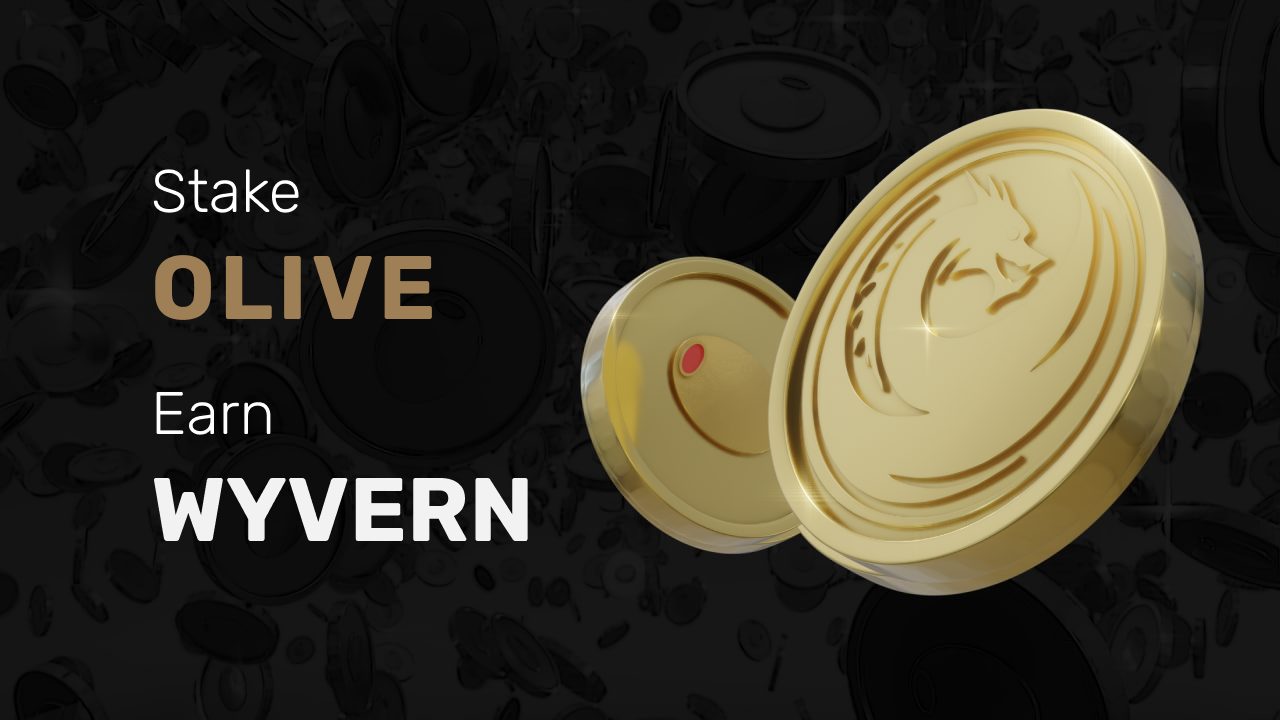 Olive Cash Will List WYVERN To Their Farm and Garden Olive Pool Binance Smart Chain Network.
How do you stake OLIVE to earn WYVERN rewards?
Visit this webpage: https://olive.cash/pools
Click "Approve OLIVE" on the WYVERN Olive Garden Pool. (Once it goes LIVE)
Click on the stake button.
Confirm the transaction
The Olive Garden WYVERN Pool:
Stake OLIVE tokens, to earn WYVERN tokens!
Total Tokens: 56,659,500 WYVERN
Distribution duration: 1,000,000 blocks, approx. 34 days
Start: July 2nd 14:00 UTC
Token rewards per block: 56,65 WYVERN
Token address: 0x470862af0cf8d27ebfe0ff77b0649779c29186db
Start block: 8807500
About Wyvern
Wyvern is a fully decentralized, frictionless, yield-producing, Artificially Intelligent token, on the Binance Smart Chain. Offering automated DeFi rewards to holders.
Wyvern token uses a fair system of taxing each token transaction with a constant percentage. Reducing circulating supply, and redistributing Wyvern rewards to holders to create further value for its users. It applies an automated, built-in regulatory mechanism, to mitigate the risks of price inflation, and gradually reduces total supply in proportion with transaction volume and frequency. At the base of the Wyvern Token, is a unique reflector algorithm that utilizes programmed intelligence to implement a fair and consistent passive accumulation of tokens directly to holders' wallets.
Wyvern Token is also a unit for measuring ownership in the Wyvern Decentralized Autonomous Organisation (DAO): it facilitates the fair operation of the Wyvern DAO, and enables the execution of non-hierarchical decentralized governance for propagation of decisions directed towards the achievement of the DAO's specified objectives. Finally, Wyvern will be required to access any future blockchain based decentralized applications and smart contracts deployed within the ecosystem.
About Olive Cash

Olive Cash is a yield farming and staking platform on Binance Smart Chain and on Avalanche.
Mission is to create the most Economically Sustainable and Accessible yield farming community on BSC and Avalanche by providing a simple user interface, facilitating access to DeFi, and creating a perpetual deflation token, the Olive token.
OliveCash has the goal of fostering AMM, Yeild Farming and DeFi market by facilitating the participation of traditional investors to the Crypto Ecosystem. Expanding the potential market reach requires simple and smooth interfaces as well as easier connections between Fiat and Crypto markets. To increase protocol economical sustainability, we aim at increasing burning fees and defining additional deflationary strategies benefitting holders.