Defi project is never ending, day by day we see it growing, people keep on embracing this ecosystem to gain more profit. From lending, borrowing, time framing, and staking as well as yield farming are the only example on how to earn money in a passive way.
INTRODUCTION
Here we have written various articles about different types of decentralized finance project and now we are thrilled to introduce PYE Token. Let's find out what this project is all about, how it works, and what it could offer to the DeFi ecosystem. Smartliquidity Presents "PYE Token Navigation Guide"
WHAT IS PYE TOKEN?
PYE Token was born to build the best decentralized technology available to the world while building mass adoption of cryptocurrency and making an equal impact on humanity at the same time. The company will develop an industry standard for many applications such as building a centralized and decentralized exchange which will disrupt any of the available options currently in the exchange space. The platform has the plan to be partners with the most powerful projects in the future to further develop the $PYE ecosystem as an industry standard protocol. PYE aims to revolutionize the decentralized finance space through its unique technology.
Like other decentralized finance projects, PYE also has unique features. Features that every user will surely enjoy. PYE has its own use cases and offerings to their customers so that they will have the confidence to use their platform.
PYE TOKEN FEATURES
Transparency — with PYE ecosystem, users and supporters are the most valuable asset. The platform is very open to any creative ideas and concepts, meaning the community can always contribute their principles and talent to further grow the $PYE ecosystem.
Community Focused — the platform is eager to build a healthy community, with active users or members who are the evolution of PYE. Everyone is is free to join this community and be the one to help the platform to reach its goal help charity institutions globally. With this movement, PYE and its community will joined forces to stop world hunger.
Growth—Driven Platform — PYE Protocol was created with growth, focusing on long term sustainability. The project plans to develop the best in class technology for each of the platform in the PYE ecosystem providing many future catalysts for holders. PYE will become the leading standard in mass adoption of cryptocurrency in community worldwide.
Oppsss! Wait there's more! PYE has more to offer in the future. Let's tackle about this offering they have and what menu are they preparing for their community. The PYE team of developers is not sleeping to make their project even better.
PYE FUTURE PLANS
🧿 PYEChart — offers functions and features the same as the other popular charting applications and tools. The PYEChart difference will be accurate data, charts, and user interface experience. PYEChart will be optimized mobile and desktop users as well as integrates with PYESwap in the near future. The initial release will be web based with iOS and android version to follow.
🧿 PYEWallet — this wallet will be build for all your crypto needs. Supporting all types of coins and tokens as well as incorporating functionality that most current wallet don't. The wallet can be compared to Venmo a Fintech app but it has an additional centralized exchange (CEX) and decentralized exchange (DEX) options when it was released.
🧿 Marketplace Mining — it is the function that will allow users who adopt the PYE tech develops to earn rewards for their engagement. 100 trillion $PYE will be set aside for the marketplace mining and will be distributed over a five-year period when the platform is released.
🧿 PYESwap CEX/DEX — PYE will develop and launch the PYESwap CEX/DEX exchange and offer a best in class experience for users and developers. With the added touches of Marketplace Mining, users will have an ability to earn $PYE Token Rewards each month for engaging with the exchange.
🧿 PYE NFT Marketplace — PYE will going to launch a full featured NFT Marketplace where engagement and experience will be the focus for all users. Providing creators and buyer more utility. Marketplace Mining will also be available to the buyers and sellers of the platform giving engaged users the ability to earn $PYE Tokens.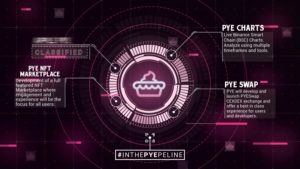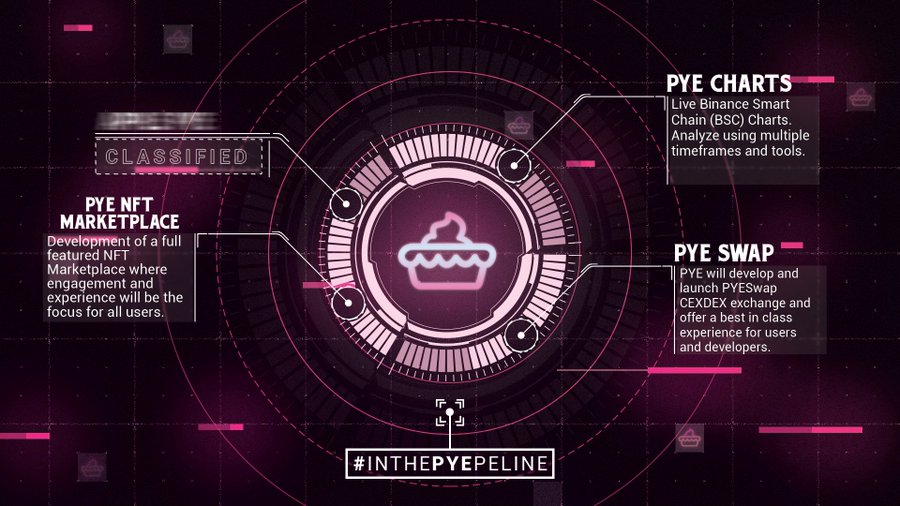 PYE has a very healthy ecosystem. It introduces lots of innovative structures that their users will get to enjoy with. Bringing all the passive way to give users generate profit and income. They have created some spectacular tools to make their project more secured.
PYE Token Ecosystem
Manual Burns — allow for true mitigation of possible offsets later in the development of the project. This really benefits the holders of PYE and allows the project to process burns as we achieve initiatives on our roadmap. All burns are transparent and are available for all to see and we will announce our strategy as we continue to develop at each phase of the PYE project.
Automatic Liquidity Pool — Automatic Liquidity staking is the one of the most valuable functions of the PYE protocol. As transactions happen on both the buy or sell side we are able to take a percentage of the tokens and stake them as liquidity for the exchange of PYE tokens. This will mitigate many issues other tokens experience such as price fluctuations, whales selling and causing excessive price drops and provide for confidence in the long term viability of the project as there will continue to be a foundation for the exchange pairs of PYE.
Static Rewards — allow the ability for all holders of PYE to participate on the upside of earning while they allow the project to develop and reach its potential. Each holder is rewarded based on their percentage of tokens held and proportionate to the transactions executed.
PYE FEE Structures
PYE processes with a 10% fee on every transaction and includes the following calculations:
Existing PYE Holders – 50% of the fee (5% of the transaction) is distributed to every wallet that holds PYE on a percentage basis. The more $PYE you hold the more you will receive.
Liquidity Pool Generation – 24.5% of the fee (2.45% of the transaction) collected in PYE is sold into BNB. That BNB is married up with the remaining 24.5% of PYE and deposited back into the PancakeSwap liquidity pool.
Charity Donation Transparency – .1% of all transactions are sent to a charity wallet for future donations to impact communities around the world.
The idea is to build a committed community who are in it for the long haul. $PYE stability grows with automatic liquidity generation on every transaction. This allows prices to have the least amount of slippage, less attractive to bots playing the arbitrage game and builds confidence in the long term viability of our communities project.
PYE Tokenomics
PYE Token was built with the idea of creating long term value while giving back to communities worldwide. They want to foster development in the culinary industry by providing donations to institutions who develop jobs for the food industry.
1,000,000,000,000,000 — total minted $PYE tokens
Fair Launch – 300 Trillion Team Tokens Burned before launch
Marketplace Mining Rewards – 100 Trillion Retained in Rewards Wallet for future deployment to PYE Platform users. Rewards will be distributed over a five year timeframe.
PancakeSwap Initial Pool – 600 Trillion staked with liquidity on PanCakeSwap DEX exchange.
Current Transaction Fees
5% of transactions will be distributed to all holders of PYE based upon percentage of holdings
4.9% of transactions will be put automatically into Liquidity Pool Generation where 60% will be extracted and go through our Charity Burn process weekly.
0.1% of transactions will go into a dedicated charity wallet
Of the extracted BNB:
60% – Donated to Charity (Charities will be presented and voted upon by the PYE Community)
20% – Marketing
20% – Business and Operating Fund
Of the Extracted PYE Tokens:
60% – Burned Tokens
40% – Community Giveaways
$PYE token can be purchased in PancakeSwap and can be hold using TrustWallet and Metamask. According to its roadmap the $PYE token will be soon listed on huge cryptocurrency exchange like Binance.
Here's the step by step video tutorial on how to buy $PYE Token

Aside from the reality that PYE is devoted to the decentralized finance world, the platform has also offers their PYE Shop. In the shop users worldwide are able to shop some merchandise such as hoodies, T-shirts, jackets, hats, accessories and even drink wares. PYE platform is a complete package for all users around the world
PYE is looking to fully disrupt the decentralized world. They have put together a team behind the PYE project to build better tech than what is currently available today. They are more than just a DeFi token, they are the future of Defi/Decentralization and CEXDEX
FRIENDLY ADVISE
"We deliver the news article base on our own thorough research. We want to preserved some important information regarding with the project that are presented in our column. We value our reader's opinion and we thank you for your valued respect to us. We also don't advice our readers to invest. As we always say " Invest at your own risk and only invest what you can afford to lose".