INTRODUCTION
$VANITY Token is the real revolution in the crypto addresses world. Why having a classic Address, when you can have a customised one?
Here $VANITY comes in help. "SmartLiquidity" would like to present the FIRST EVER Token to provide a Custom Wallet Address Marketplace.
---
OVERVIEW OF VANITY TOKEN
$VNY is the first token ever released on any blockchain to provide custom wallet addresses for Bitcoin, Ethereum, Binance Smart Chain, Litecoin and Dogecoin Chains.
CUSTOM WALLET ADDRESSES
A vanity address is a customisable non-proxy address. The addresses generated are the new ones visible in the block chain explorers. Supporting different blockchains such as $VNY that can generate Vanity wallet addresses in many shapes and block chains.
THE GOAL OF VANITY
$VNY aims to be the distribution leader of their product for companies accepting crypto, miners interested in sorting their rigs income, holders that want to instantly recognise their
wallet from a multitude of others, people looking to display their customised wallet, users feeling safer to send crypto to an address they recognise, and many more.
🔸🔸VANITY CONTRACT🔸🔸

Programming Language: Solidity

Solidity Version: 0.8.0

Chain: Binance Smart Chain (BEP20)

Audited by Solidity.Finance

🔸🔸TOKENOMICS🔸🔸

Total Initial Supply : 10.000.000.000 $VNY

Redistribution to $VNY Holders: 4%

Burn with Every TX: 2%

Reflection to Marketing/Vanity Wallet: 2%

Deposit in LP (Locked): 2%

TOTAL FEE ON TRANSACTIONS: 10%
---
VANITY FUNCTIONS
🔸LP AUTO-DEPOSIT
Every transaction made with $VNY is taxed for a total of 10%, where 2% is deposited inside the $VNY smart contract.
When a total of 500k $VNY has been deposited, the smart contract will wait for a sell to swap 50% of the tokens into BNB, depositing the pair in the Liquidity Pool, locked for 3 years.
🔸ANTI-WHALE SYSTEM
Every investor holding 0.15% or more of total supply is limited to one sell per day, for a maximum amount of 10% of their holdings. Once the sell has been done, a block will be applied for 24 hours. The % will be lowered in the future to prevent holders below 0.15% to dump while the price action raises.
🔸DEFLATIONARY SYSTEM
The $VNY tax includes a 2% tax on every $VNY transaction, where this fee is directly sent to the burn address, reducing circulatin supply.
🔸REWARD SYSTEM
Included in the $VNY tax is a 4% redistribution to holders. The amount each holder recieves is proportional to the percentage of $VNY they hold. Holding $VNY gives you passive income in the form of redistrubuted tokens!
🔸MARKETING/VANITY WALLET
Included in the $VNY tax is 2% that is sent to the marketing wallet, recognizable as the OxFEEOFEEO address. This is used for marketing purposes and for $VNY server management. Creating a custom $VNY address requires machines able to combine high computing power from
dedicated GPUs.
---
HOW DOES $VANITY ADDRESS WORK?
The generation of the wallet is very simple and SAFE.
In order to generate a $VANITY Address, you need to follow three simple steps:
1️⃣ Generate a normal address using Tools, you will get:
– A Public Key (HEX).
– Your Normal Address.
– Your Private Key.
SAVE EVERYTHING IN A SAFE PLACE.
2️⃣ Send your Public Key (HEX) to the $VANITY Team.
– Yes, only the Public Key (HEX) is needed in order to create your wallet, this is why $VANITY is so safe.
– Request your customised Prefix for your Wallet..
3️⃣ Combine the Partial Private key with your Private Key:
The $VANITY Team is going to give you only a Partial Private Key.
This key does not permit anyone to access your wallet, because it's only partial and not correlated to
any wallet.
– Using the $VANITY Tool, combine the Partial Private Key with your original Private Key:
It's done! Now you have your Custom Wallet Address provided by $VANITY!
---
ROADMAP OF VANITY TOKEN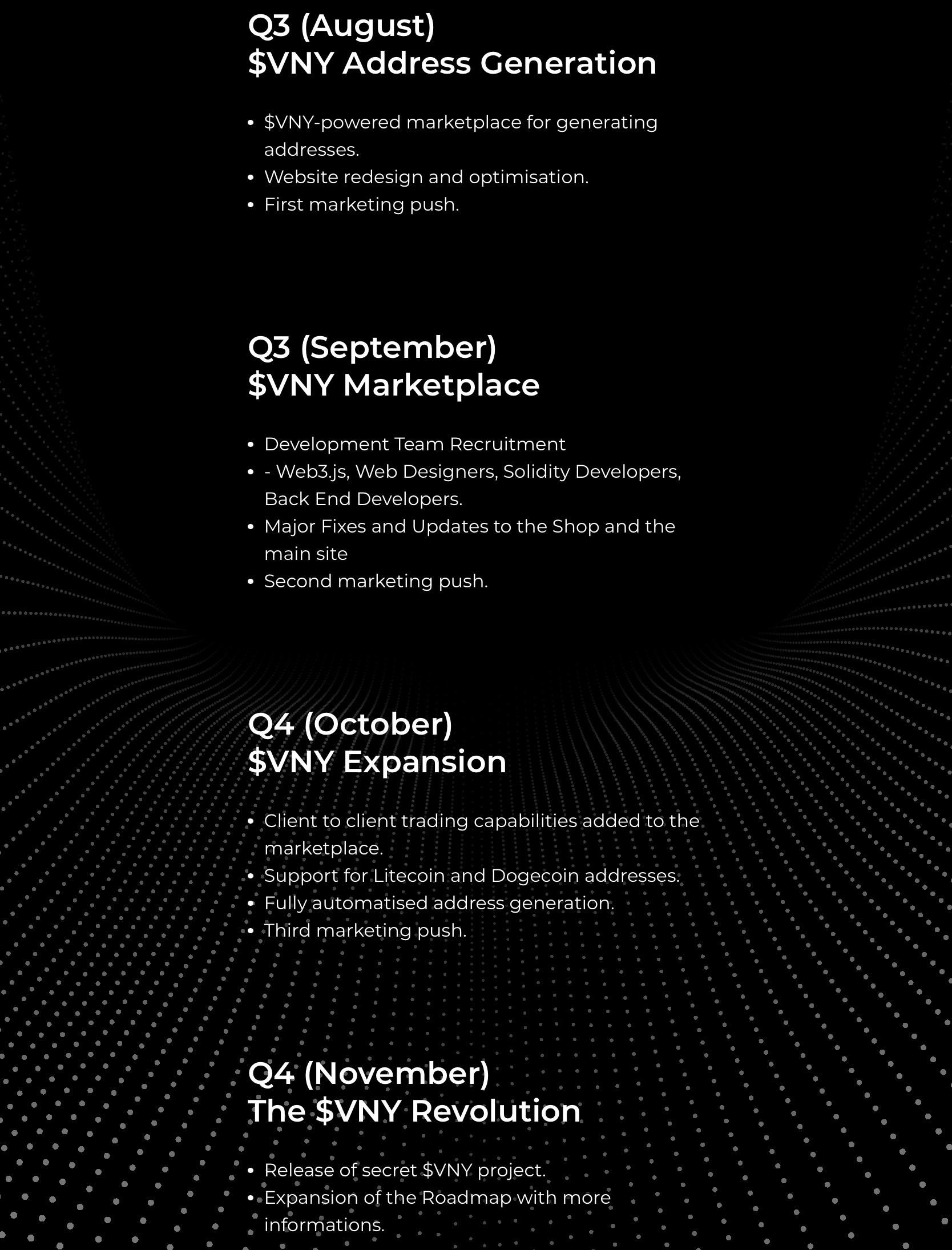 VANITY SOCIALS
Website | Twitter | Telegram | Discord | Litepaper | Instagram | Reddit | YouTube
---
FRIENDLY REMINDER:
We deliver these news articles based on our own thorough research. We want to preserve some important information regarding the project that is presented in our column. We value our readers' opinion and appreciate your valued respect to us. The article above is not financial advice and as we always say "Invest at your own risk and only invest what you can afford to lose".