Dark Frontiers Upcoming Token Sale On DAO Maker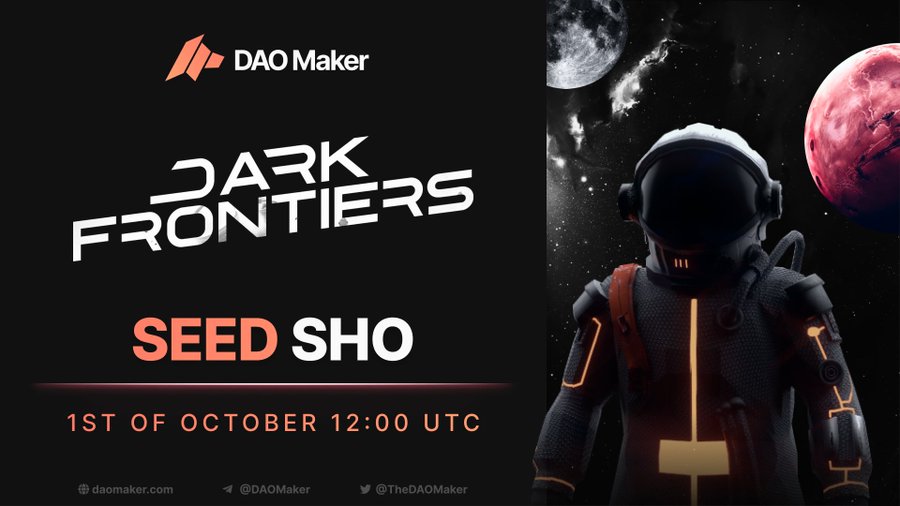 Dark Frontiers is the newest, gamified space realm governed by a Gamestarter produced DAO. As NFT standards and values are shifting towards promoting use-cases, Dark Frontiers' goal is to drive mainstream adoption by enhancing the usability of NFTs through staking, item ownership, and the creation of real-world value through in-game items.
Key Metrics
Ticker: DARK

Blockchain Network: BSC

Token Supply: 250,000,000

Project Valuation: $15,000,000

Initial Token Circulation: 20,000,000

Initial Market Cap: $1,000,000

Platform Raise: $120,000 + $5,000 Community Round

Individual Allocation: $25
The $DARK token in Dark Frontiers will cover an array of opportunities. For players interested in dominating entire sections of a universe, say, by owning a moon, or a planet, they can use this digital plot of land to earn interest on their $DARK. The token will not only be used for staking, but players can also purchase and upgrade their starship Galactica's using $DARK. After upgrading your ship for universal domination, you are prepared to stand head-to-head with other opponents that are in your way. The platform will be having a SEED SHO in DAO Maker launchpad this coming 1st October 2021.
Merit Round Details:
Start: 1st of October 12:00 UTC
Deadline: 4th of October 12:00 UTC
Raise: $120,000
Ticket Size: $250
$DARK will correspond with the energy unit of the game. So $DARK will be very much like the heart and the blood of the game. The more users will play this game and find it engaging the higher $DARK will soar. As Dark Frontiers is designed to be updated over time, it's not a one-time release, $DARK value will go up gradually. One of the main benefits of holding $DARK is that players will be able to claim land, which will freeze a certain amount of $DARK. But it will also mine energy / resources for the players which you will be able to exchange to $DARK or NFTs
ABOUT Dark Frontiers
Dark Frontiers is a DAO virtual world governed by the players. The goal is to bring quality blockchain gaming to mass adoption and introduce a unique approach of utilizing NFTs and yield farming.
ABOUT DAO Maker
DAO Maker creates growth technologies and funding frameworks for startups, while simultaneously reducing risks for investors.