Larix — The Ultimate Lending Gateway of Solana | Navigation Guide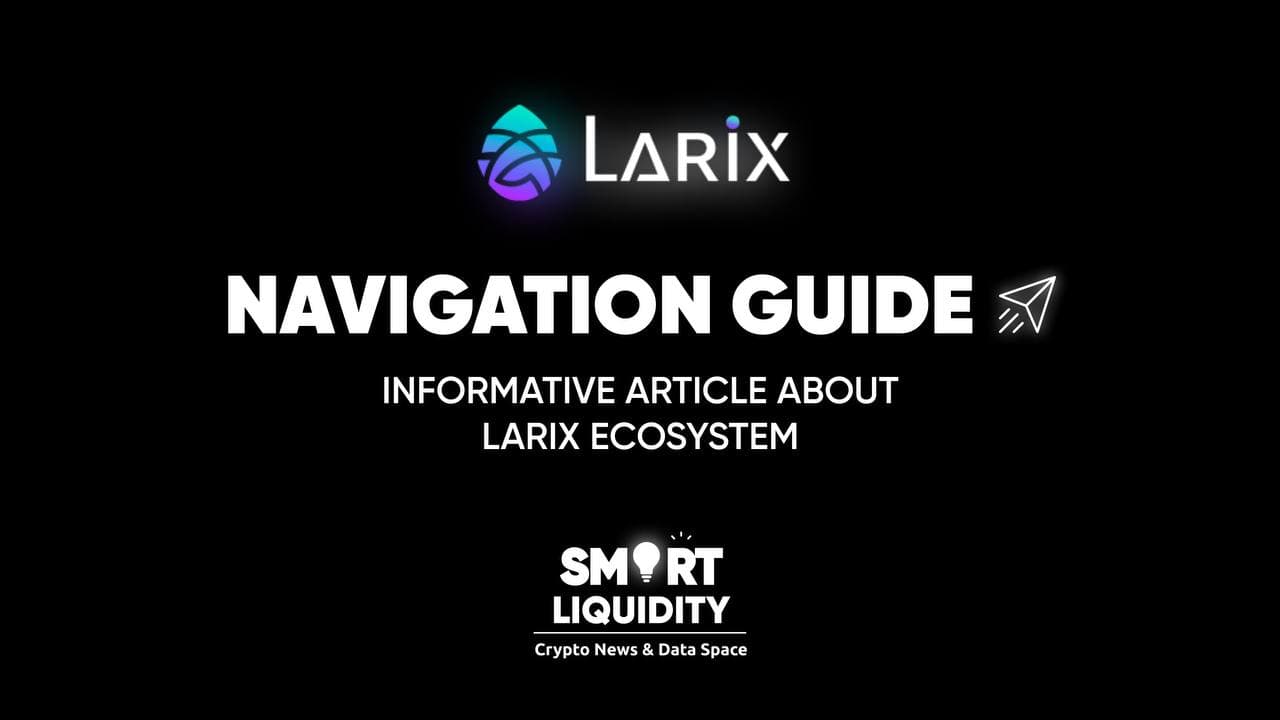 Cryptocurrency lending has become one of decentralized finance's most favorable use applications, paving the way for an invasion of dozens of platforms, tools, applications, and participants all claiming to revolutionize how tokens are loaned and borrowed. SmartLiquidity Team is thrilled to introduce Larix — the borrowing and lending protocol on the Solana blockchain. 
What is Larix
Larix is the ultimate lending gateway on Solana, adopted a dynamic interest rate model, and created more capital-efficient risk management pools, such a broad selection of collateral types, crypto tokens, stablecoins, synthetic assets, NFTs, and other kinds of assets can be fully utilized in a safe way. Larix is also considered to be the most secured platform among users.
The reward system is based on a delicately designed token economy that enables continuous incentive allocation to boost real demands. The combination of upgraded "Compound" and "MakerDAO" in the ecosystem will accept a broad selection of collateral types. Conventional banking business originated from the deposit and loan model to reward excessive capital with interest.
The lending protocol serves as an essential cornerstone of any Defi ecosystem. Defi lending platforms provide loans to borrowers with no intermediaries, usually enabling participants from both sides to earn stablecoins or cryptocurrencies. Effective decentralized applications (DApps) have the highest TVL growth rate in the lending space and are the most prevalent contributors to locking crypto assets via smart contracts.
Larix is the first lending protocol on Solana that maintains basic SPL lending needs and aims to bridge new types of tokens like synthetic assets and NFTs. Therefore, lending/borrowing is an infrastructure for determined token holders who have great confidence in the token value and want to get APY interests in the long-term besides value growth. 
Larix Strength:
The first lending protocol with live mining functionality

The first lending protocol Audited on Solana

The first lending protocol partially Open-Sourced on Solana
Encouraged and inspired by the Solana team, they are determined to take the challenge and the opportunity to build Larix – the lending gateway of Solana, Raydium, and Serum. Larix leverages pool-based collaterals and a dynamic ratio optimizer to enable instant loans.
Roadmap
🔸 Phase 1: Jun-Dec 2021
Larix starts by meeting the essential need of automated cryptocurrency-lending on Solana. At this stage, crypto tokens, stablecoins, and synthetic assets are used as collaterals.
🔸 Phase 2: Late 2021 to 2022
Partnering with PYTH network to connect high-fidelity (HiFi) financial markets to the world of decentralized finance (Defi), which enables higher capital utilization of a wider range of conventional financial assets.

🔸 Phase 3: 2022 onwards
The protocol extends the collateral base to accept Non-Fungible Tokens (NFTs) via peer-to-peer lending across all asset classes. Larix will work with multiple partners to provide secure, customizable, and almost instant liquidity to the real economy.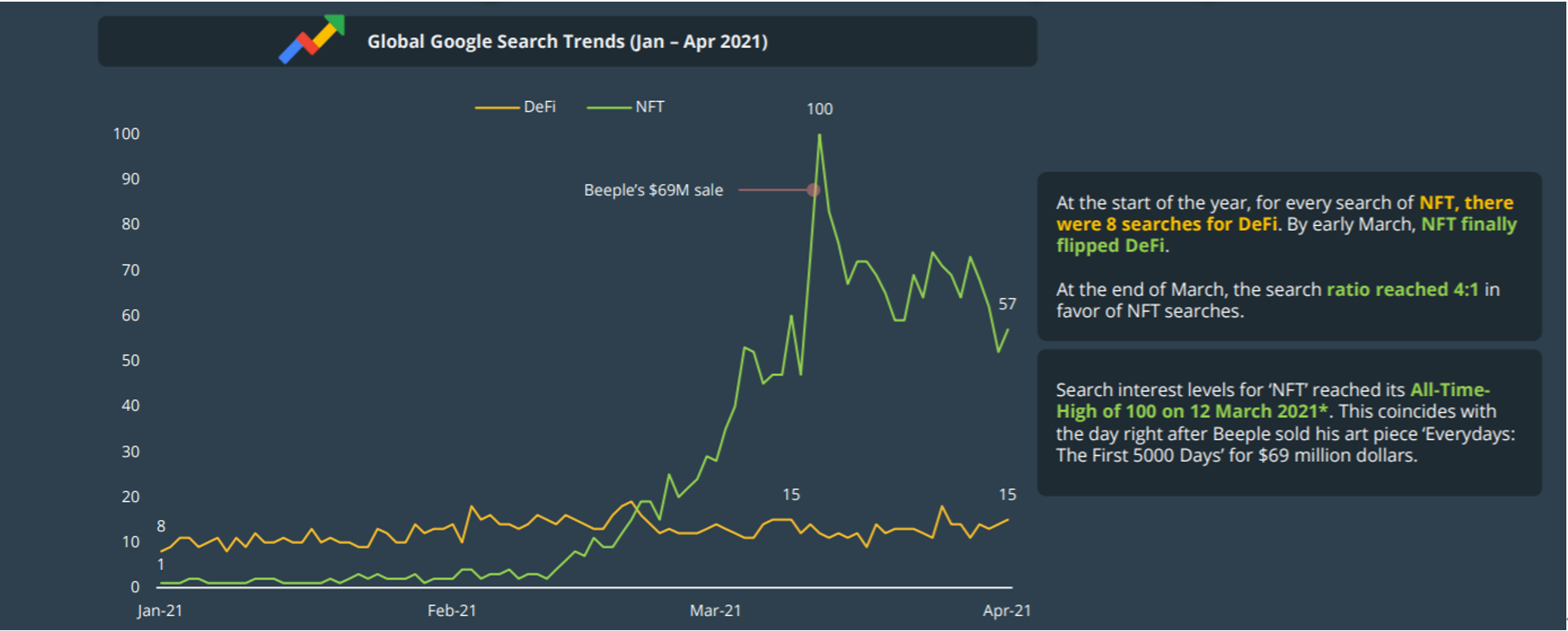 Tokenomics
🔸🔸 LARIX is the token economy for DAO and long-term investment.
 Larix has a maximum supply of 10,000,000,000 (10 billion) tokens, which are allocated to mining and platform users, foundation and treasure function, team, and investors.
[Mining & Pool Reserve] is the part reserve for users to mining and enjoy liquidity pool.
[Treasury & Eco-Build] facilitates the eco-system build-up, necessary incubation investment, and partnership.
[Marketing & Ops] covers operational events, marketing campaigns, Initial Lending Offering (ILO) participation, etc.
[Investors & Team] are eligible for 1/36 of the total assigned tokens on the first day of each month after the 12-month cliff period.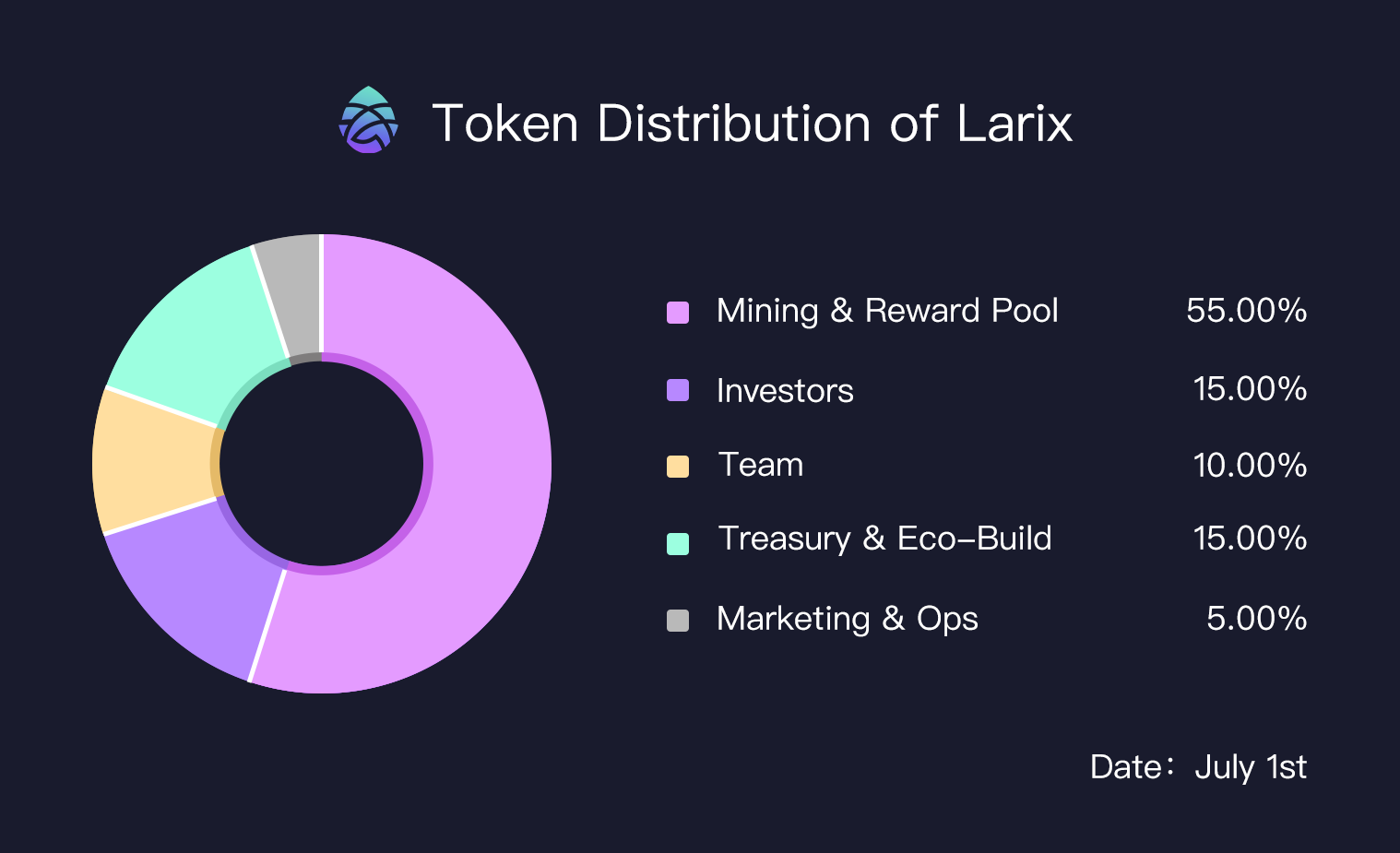 Larix Investors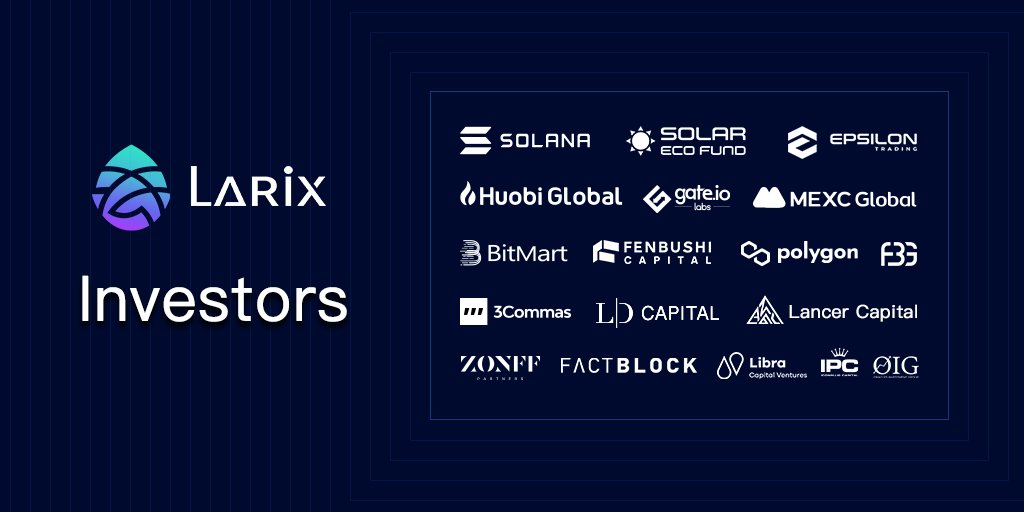 The seed and private round investments were closed in mid-Sept with support from Solana Capital, SolarEcoFund, Epsilon, Huobi Venture, Gate.io, MEXC, BitMart, Fenbushi, Polygon, FBG, 3Commas, LD Capital, Zonff Partners, FACT Block, Libra Capital, IconPlus Capital, OIG Capital, and IPC. 
Partnership
📌 Pyth Network
Pyth is the oracle that connects high-fidelity market data from the world's largest professional exchanges to any smart contract. Hence, partnering with Pyth for the price oracle will add substantial value to the project's growth.
📌 Plutos Network
Plutos is a multi-chain Defi synthetic hub built on Solana, Polkadot, and BSC. Partnering with Plutos will ensure the launch of synthetic asset lending services.
Why should you use Larix on Solana?
✔️ The fees of trading in Larix Crypto are much lower than Ethereum, Bitcoin, BSC, etc.
✔️ It is a scalable, affordable, decentralized network that allows quick transactions and healthy cryptocurrency market growth. Solana can perform 50,000 transactions per second.
✔️ It is the ultimate protocol for secure transactions and efficient capital utilization.
✔️ It also has many other benefits like DAO Management, multi-collateral model, and Audited Smart Contract.
AUDIT
Putting security as the first priority, Larix is the only lending protocol that gets reviewed by a reputable smart contract auditor in Aug 2021 – SlowMist. 
Conclusion:
LARIX has an extraordinary ecosystem, which shows how fast the platform is growing. As the industry grows, space will be enough for digital assets like LARIX. The team aims to incorporate NFT lease/lending, margin loan, and more into its model in the future. With numerous ongoing developments and collaborations happening with the Larix ecosystem, LARIX can reach new heights soon.
FRIENDLY ADVICE
"We deliver the news article based on our thorough research. We want to preserve some important information regarding the project that is presented in our column. We value our reader's opinions and we thank you for your valued respect for us. We also don't advise our readers to invest. As we always say " Invest at your own risk and only invest what you can afford to lose ".