Crosswise – The Revolution of DEX Trading Experience | Navigation Guide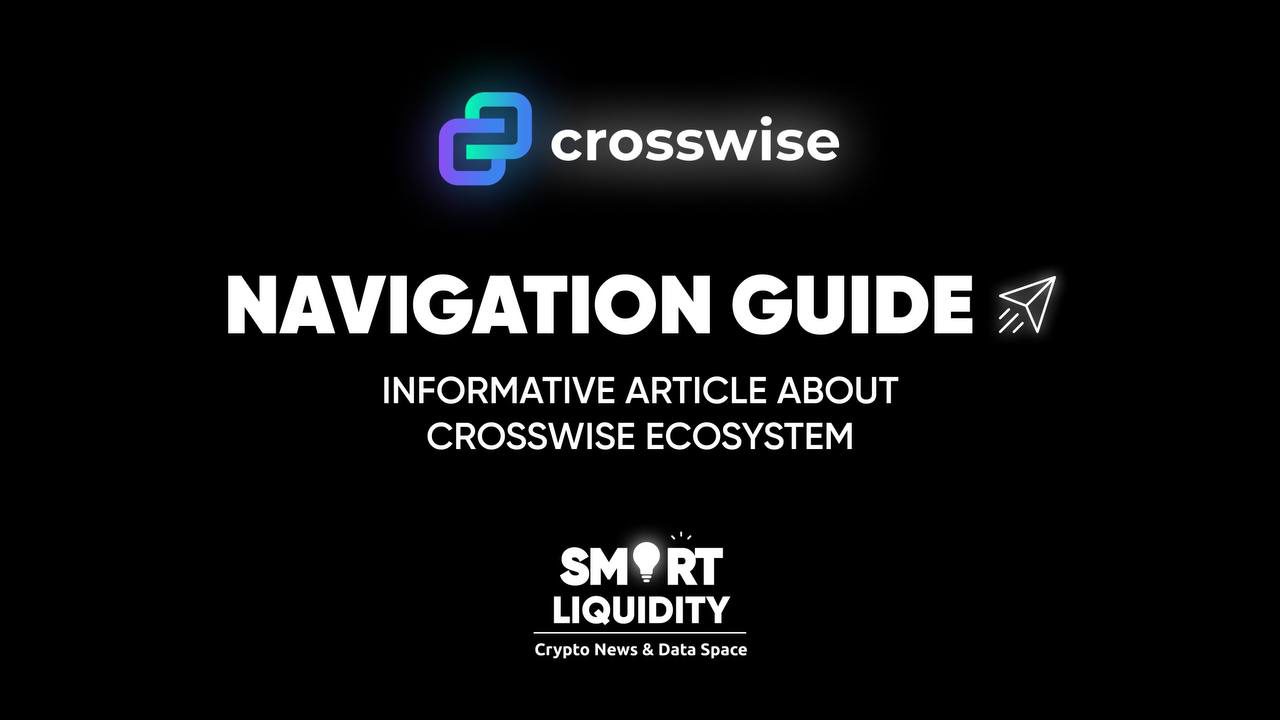 INTRODUCTION
The blockchain & crypto world today constitutes thousands of disparate platforms that can't interact with each other. Blockchain innovation is currently in a disorder of fragmented, insecure, difficult to scale and synchronize blockchains and crypto-assets.
The Internet boomed after the barriers for entry were significantly reduced, from domain names to hosting to payment processors key technologies became more accessible to the creative kind & techies alike.
"SmartLiquidity" would like to present Crosswise that intends to unify multiple chains, internet technologies & trading tools to give users, enterprises, and organizations the seamless capacity to 'plug-and-play' on an open internet.
---
OVERVIEW OF CROSSWISE
Crosswise is a next-generation, multi-chain decentralized exchange platform designed with in-built trading tools and rewards for users. The platform undoubtedly takes the trading experience to an entirely new level. Crosswise is a cross-blockchain Automated Market Maker (AMM) and Decentralized Application DApp, focusing on building a decentralized exchange (DEX) on the Binance Smart Chain.
Crosswise bridges the gap between centralized and decentralized exchanges, aiming to bring together the best of both worlds. Crosswise is committed to it's users and brings back customers service and support to the DeFi space.
---
PLATFORM FEATURES 
🔹Spot Swap Exchange
Crosswise DEX features an easy-to-use simple swap exchange to immediately execute token swaps with the lowest fees & slippages. Swap is powered by automated liquidity pools, which are incentivized by farms. The user can see the value of the coins they want to swap to in the dashboard and seamlessly swap one for another.
🔹Advanced Exchange
Crosswise users can toggle to an advanced exchange to use trading tools like limit buy/ sell orders. Users can set the preferred rate to trade & the time limit of execution to minutes, days, up to a year. When the market rate matches with the preferred rate the buy/ sell order is automatically executed.
🔹DEX- Book
The DEX-Book shows all pending & executed orders for Quickswap & Advanced exchange. The data shows the token details, amount of tokens, date of trade, fees, and block explorer link of the particular token that has been swapped/ exchanged by the user. These features enable users on the crosswise platform to seamlessly trade and track their trades thus helping them in making better financial decisions.
🔹Analytics
To make better financial decisions Crosswise will help all users with a personal analytics dashboard to help them keep track of their interests in an organized and data-driven manner. The Analytics page shows all data globally of the DEX. Trade volume, liquidity of tokens or LP pairs, etc.
🔹Price Charts
The Crosswise platform will make it easy for the users to make financial decisions by showing them relevant price data.
The Price chart lets users track and monitor the prices of all coins/tokens traded on the DEX. All users will have a personal dashboard to see price data that interests them.
🔹Account Statistics
The Crosswise platform users will have a personal dashboard for keeping all stats under sight to see their performance & make better decisions.
🔹Lifetime Referral Commissions
Crosswise has its Referral/ Ambassador Program.
Referral Program- Interested users of the crosswise platform can generate a unique link/ code to invite new users to the Crosswise ecosystem. The affiliate partner can earn 1% of the referred user's earnings for a lifetime.
🔹Gasless Feature
Crosswise platform users can enable the gasless feature to initiate trades in a feeless environment. This will enable platform users to do numerous trades on the platform without worrying about the gas transaction fees.
🔹Voting
Crosswise will have a platform to support the voice of the community. Users can add proposals and vote on proposals submitted on various matters that may concern the ecosystem & users. The voting power is determined by the number of coins the user holds in the wallet.
🔹Anti Bot Protection (Front Running Deterrents)
Bots are not wanted for inflation & other manipulative activities, to keep the platform fair for users the Crosswise platform will use technical measures to stop such activities, such as front running deterrents to make use of virtual rates to keep the frontrunning unprofitable. This will ensure that the platform is fair to the users and the market as well.
---
TOKENOMICS

Dual Coins (XCRSS/ CRSS)
The Crosswise platform is powered by 2 tokens CRSS & XCRSS. CRSS is what drives the platform and is used as a fee for transactions. XCRSS is used to farm rewards/ pools for incentivizing users to stake in the Crosswise platform.
---
VESTING & AUTO COMPOUND FEATURES
Users can take advantage of the Crosswise Vesting program to earn rewards. Users can select the best option depending on their trading strategy and goals.

---
ROADMAP OF CROSSWISE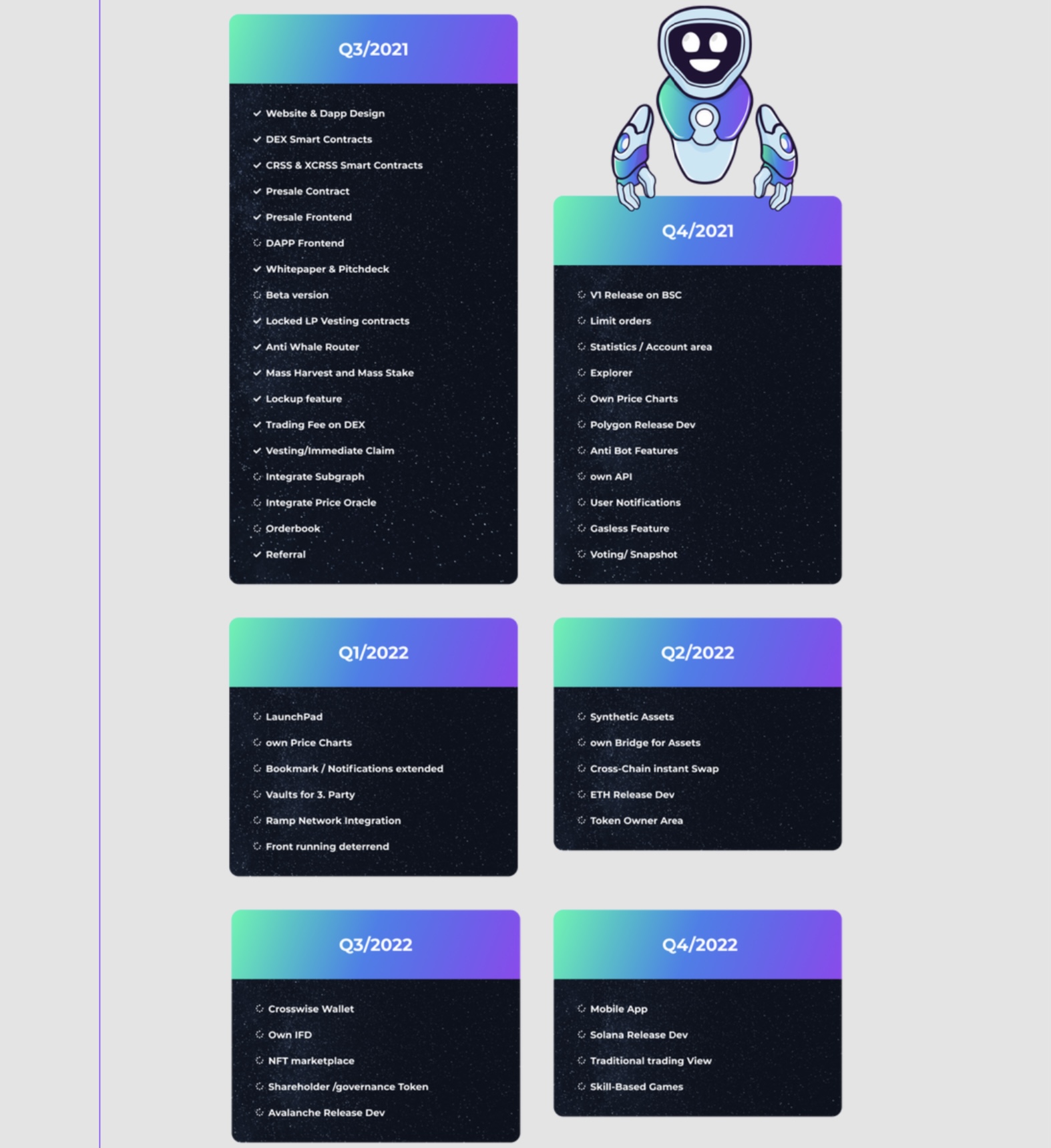 CROSSWISE SOCIALS
Website | Twitter | Telegram General Group | Telegram Announcements | Litepaper | Instagram | Discord | Medium
---
FRIENDLY REMINDER:
We deliver these news articles based on our own thorough research. We want to preserve some important information regarding the project that is presented in our column. We value our readers' opinion and appreciate your valued respect to us. The article above is not financial advice and as we always say "Invest at your own risk and only invest what you can afford to lose".