Hector DAO Navigation Guide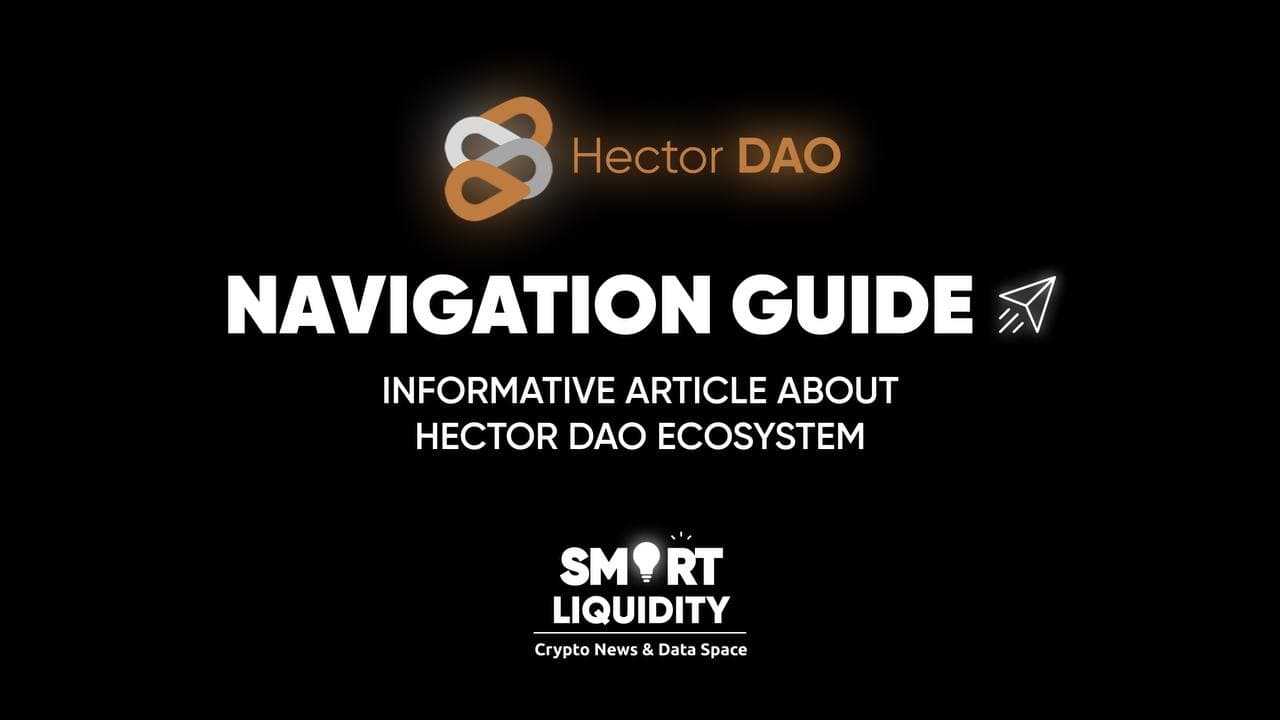 Hector DAO Navigation GUIDE. A decentralized autonomous organization (DAO), sometimes called a decentralized autonomous corporation (DAC), is an organization represented by rules encoded as a computer program that is transparent, controlled by the organization members, and not influenced by a central government.
INTRODUCTION
Another exciting topic we will discuss today regarding the immense ecosystem of the blockchain industry. Join us on the deep exploration of the Hector DAO project.
WHAT IS HECTOR DAO?
Hector is a decentralized protocol base on the HEC token, collateralized and backed by HectorDAO. $HEC will be the reserve currency on Fantom Opera Chain. In order to maintain price stability, Hector will use the Algorithmic Reserve Currency algorithm and will also be supported by another decentralized asset.
Hector is the first fork of Ohm to introduce USDC and wFTM bonds. As the protocol builds more liquidity and reserves, the backing per HEC token increases, creating a steadily rising price floor, below which HEC cannot fall. This satisfies the requirement of a store of value to have a steady or rising price, meaning that there is a significant opportunity for HEC to become a major player in the Fantom Opera Chain. The supply of HEC is dynamic, meaning that a supply-induced price limit can be mitigated, allowing HEC to continue growing.
HOW DOES HECTOR DAO WORK?
LP FEES AND BONDS — Liquidity pools as well as Bond Sales increase Hector's treasury revenue. They also lock in liquidity and help to control the $HEC supply.
HECTOR'S TREASURY — Treasury inflow is increasing the Treasury Balance and backs outstanding $HEC tokens and regulates staking APY.
HEC TOKEN — Compound yields automatically to a treasury back token with intrinsic value.
Let's further explore and study the Hector DAO Ecosystem. Let's take a look at the benefits it can provide to its users, adopters, and investors.
The Hector DAO protocol generates value through Bonds and Staking.
Bonding
Bonding is one of the ways in which Hector DAO generates profits. The protocol will sell bonds of other tokens like DAI for discounted HEC tokens, which will then be vested for gradual release to the bonding party. This allows full-time investors to actively manage their HEC portfolio and generate significant rewards over time whilst also supporting the growth of the Hector DAO by financing its liquidity and facilitating more upwards price movement.
Staking
Staking is an integral part of the Hector DAO. Investors will stake their $HEC, locking it into the ecosystem and receiving compounding rewards in $sHEC (which will always be exchangeable for HEC at a 1:1 ratio) generated by bond sales. Over time, the amount of HEC owned by stakers will increase, bringing more profit and reducing exposure risk. Staking HEC becomes less risky and more profitable over time since an increasing share of HEC will protect investors from negative price action, and given that the protocol ensures a price floor of 1 HEC per DAI, staking for long enough will guarantee profit.
Staking locks your HEC and gives you an equal balance of sHEC, which compounds automatically. To unstake, sHEC is burned for an equal balance of HEC.
Hector DAO strives to be the number one Ohm fork on Fantom. Taking the value of Ohm (Ethereum) and TIME (AVAX) into consideration, the upside is clear. Hector choose Fantom Opera Chain for the reason that Fantom is the fastest blockchain network and is always upgrading. Transactions are confirmed in 1–2 seconds. Way faster than other blockchain solutions. Additionally, transactions on the Fantom blockchain cost a fraction of a cent. With its speed and low transaction costs, Fantom is way ahead of its predecessors and other blockchains in the industry.
Hector DAO introduce 4,4 Bonding called "HYPERSTAKING". The 4,4 Bonds are very similar to 1,1 bonds and are purchased in the same way as 1,1 Bonds. However, the 4,4 Bonding has few differences from 1,1 Bonds.
$FTM is the future 👻$HEC is the future 🍉
4,4 is the future 💰

Don't wait, and join the future!

—$SPELL $KLIMA $GYRO $OHM #Fantom #FTM #cryptocurrency #CryptocurrencyNews #CryptoNews #investing #investment #MondayMotivation #MONEY pic.twitter.com/6aildm0qyU

— Hector Network (@Hector_Network) November 23, 2021
Here are some differences between 4,4 Bonding and 1,1 Bonding
4,4 Bond rewards are paid in sHEC instead of HEC

— This means that your bond rewards will compound as they are vested, meaning that you won't need to stake them after you claim them.
4,4 Bonds have a single 4-day vesting period —

This means that 4,4 bonds can only be claimed in their totality after a 4-day vesting period.

4,4 Bonds are in shorter supply than 1,1 Bonds

— This is because they are generally more profitable and as such, we need to control the dilution that they would cause if left unchecked.

4,4 Bonds usually have a smaller discount than 1,1 Bonds

—

This is because, in addition to the discount at purchase, people who buy 4,4 Bonds also benefit from the compounding APY rewards applied to their sHEC reward. So whilst immediate discounts are lower, it can often be more profitable to purchase a 4,4 Bond than a 1,1 Bond.
How To Buy 4,4 Bonds?
The buying process for 4,4 Bonds is identical to the process for 1,1 Bonds except for the fact that you'll need to select a 4,4 bond. This guide and instruction will make your transactions go seamless when buying 4,4 Bonds.
REMINDER: Bond rewards are vested for 5 days from the point of purchase. Vesting periods are linear, meaning that you can claim ~20% per day at any time.
NOTE: Make sure you're purchasing the right type of Bond! All bonds are labelled 1,1 or 4,4.
Hector DAO users can purchase multiple bonds but vesting period will reset to 5 days after the most recent purchase.
Hector DAO Features In Development
Farming
HectorBank
Hector PRO
Hector Lend
Hector Borrow
The Hector DAO token can be purchased on the following decentralized exchange
Security is the top priority in every platform to ensure users' and investors safety so Hector DAO has signed an auditing deal with Certik, one of the most respected Blockchain Auditing Firm in the Crypto world to thoroughly audit their smart contracts.
Hectorians!$HEC signed an auditing deal with Certik, one of the most respected Audit teams in the Crypto world to thoroughly audit our contracts. The security deposit has been paid and work will commence on December 12th and will take approximately 2-3 weeks. pic.twitter.com/Pnb5l0kEHM

— Hector Network (@Hector_Network) November 25, 2021
The team
The team of Hector consists of 8 highly talented and dedicated individuals, each with different backgrounds and skill sets. For now, the team is anonymous. They are mainly based in the EU, but in China and Australia as well. Part of the Hector Team is 2 experienced developers, 1 PR specialist, 3 marketing operatives, 2 strategists, 1 community manager, and 1 external relationships manager. Its whitepaper will contain each of their profiles. They are dedicated to turning Hector DAO into a self-fueling, organic-growth hype machine.
HECTOR DAO SOCIAL CHANNELS
Website | Discord | Twitter | Github | Reddit | Youtube | Instagram | Medium | Linktree

FRIENDLY REMINDER
"We deliver the news article base on our own thorough research. We want to preserve some important information regarding the project that is presented in our column. Furthermore, we value our reader's opinions and we thank you for your valued respect for us. We also don't advise our readers to invest. As we always say " Invest at your own risk and only invest what you can afford to lose ".