ChargeDeFi Navigation Guide
INTRODUCTION
In today's era it is difficult to find a trustworthy project. It is hard to say that this project is legitimate, so here we are, thoroughly researching and studying every project we publish in this column.
SmartLiquidity Network is proud to introduce to you the "ChargeDeFi Navigation Guide."
WHAT IS CHARGEDEFI?
ChargeDeFi is a combination of an Algorithmic Stablecoin with rebase mechanics. As long as the value of $$STATIC is above $1.01 the ecosystem expands, minting more $STATIC. Investors who stake $CHARGE or $STATIC-BUSD LP tokens will receive part of this expansion.
ChargeDefi aims to become the number #1 Algorithmic Stablecoin on the BSC network, featuring sustainable high APRs.
TOKENOMICS
The core ecosystem consists of the following three tokens. ChargeDeFi have plans to launch more tokens in the future for specific use-cases but this will be expanded upon when these use-cases are implemented.
$CHARGE —the share or the seigniorage token in the new ecosystem
$STATIC — a rebasing 'stable' token that will be the main value asset
$PULSE — a bond type token with specific dynamics and staking options

The main change from traditional algorithmic stablecoins to $STATIC is the introduction of rebasing mechanics below peg and the modular/configurable setup of the contracts. Almost every aspect of $CHARGE, $STATIC and $PULSE can be tweaked or can be adjusted, allowing for a modular protocol. This gives the protocol the flexibility to adapt to changing market conditions within the constantly shifting DeFi environment.
Of course, these changes won't be done without consulting with the community/investors. At the moment most votes are done through the ChargeDeFi Telegram and Discord channel. But in the future, a more reliable voting mechanism will be set up.
INTRODUCING CHARGE BOARDROOM
Charge boardroom, allows users to own a portion of the Charge DeFi project. They can stake tokens here and receive expansion rewards. As long as the time-weighted average price (TWAP) of $STATIC is $1.01 or higher, new tokens will be minted when an epoch passes. Investors will receive part of that expansion as a reward for staking in the boardroom.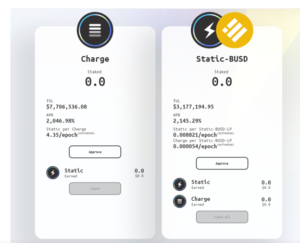 They have 2 options to do this:
Stake $CHARGE and receive $STATIC.
Stake $STATIC-$BUSD LP's and receive $STATIC and $CHARGE.
The tokens that investors stake will be locked up for 48 hours (6 epochs) after every deposit or claim. The rewards will be locked up for 24 hours (3 epochs).
ALL ABOUT PULSE TOKEN
$PULSE is one of the measures to help bring $STATIC back to peg. When the TWAP (time-weighted average price) of $STATIC is under $1.00, $PULSE can be purchased with $STATIC.

$PULSE can be staked in an automated pool and will yield $BUSD when $STATIC is below peg, and autoredeem $Pulse for $Static when $Static is above $1.01. 
CHARGE FARMING
Stake your tokens to farm Charge Defi tokens. There are no entry fees and no exit fees. Re-stake earned $Static or $Charge for extra rewards up to 156x.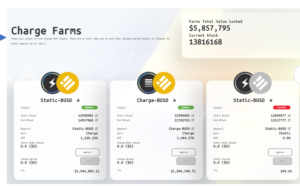 Multichain
ChargeDeFi will be launched on BSC initially but the team have plans to expand it into other chains. Rebasing tokens can't be bridged into other chains but there are several strategies to circumvent this. After the project launches successfully the team will implement these measures and launch on other chains as well (FTM, Polygon, etc).
USE CASE
ChargeDeFi is building the fundamentals of their ecosystem with the current setup. Parallel to the further development of ChargeDeFi a second team has started on a "Money legos" project that will be added to ChargeDeFi.

Money Legos are a way to stack complex DeFi transactions and create your own personal (and secure) investment strategies, automating the entire process. Through a flexible user interface, a user can drag and drop different components building a chain of commands.

An example will probably make this easier to understand:
Imagine automatically claiming the yield in a project you're farming. Then selling half, buying $Cake with it. Then automatically staking that $Cake in a yield farm. And using the profits of that farm to buy another token.

A user can create those complex strategies and just hit "execute" to start them.

CHARGEDEFI OTHER UNIQUE FEATURES
Multiple token farming options.
Rebase mechanisms to protect the peg.
Automated smart bond pools that yield below peg.
LP zapper, allows LP breakup/creation from our site.
Smart Static Swap, allows swapping $Static for $Charge to prevent price impact.
ChargeDeFi introduces bond pools that allow a user to stake their $Pulse tokens when $Static is below peg and yield BUSD. As soon as $Static is above peg again and the expansions start these pools autoredeem the staked tokens for $Static. We came up with this solution as we noticed other projects having serious issues with bots playing that redemption process. By automating it we're giving every investor a fair chance.— Denan, ChargeDeFi Team Representative
Are ChargeDeFi Smart Contracts Audited?
ChargeDeFi smart contract have passed the audits conducted by the most used and trusted blockchain security auditing firm Certik. Dive into this link to find more details about ChargeDeFi/Certik smart contract audit.
Where To Buy ChargeDeFi Tokens?
If you want to buy ChargeDeFi products, you can head up to ChargeDefi.fi or the PancakeSwap  platform and purchase $CHARGE, $PULSE, and $STATIC tokens.
ChargeDeFi Team Consists of the following:
2 highly skilled solidity developers with a ton of BSC experience. Both complete projects and audits/consultancy for others.

 2 front-end developers who have deployed projects that are used by fortune 500 companies

 1 business developer / CTO who is active in the tech/ai space

1 UX designer who has worked for several big brands

1 technical product manager with over 20 years of experience in IT/Telecom

3 marketers who are responsible for socials, graphics and contacts.

A group of moderators that manage its discord and telegram
ChargeDeFi tokens can be tracked on CoinMarketcap, Coingecko, and LunarCrush
RESOURCES
Website | Twitter | Discord | Telegram | Medium
COIN TRACKER
CoinMarketcap | Coingecko | LunarCrush
FRIENDLY REMINDER
"We deliver the news article base on our own thorough research. We want to preserved some important information regarding with the project that are presented in our column. We value our reader's opinion and we thank you for your valued respect to us. We also don't advice our readers to invest. As we always say " Invest at your own risk and only invest what you can afford to lose ".