Introducing DeFi Artificial Intelligent (DeFiAi)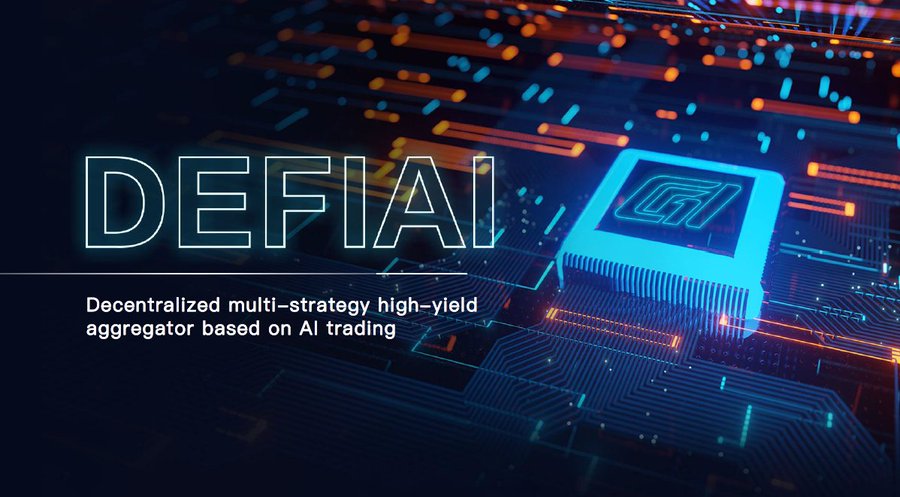 Artificial intelligence is a technological advancement that involves programming technology to problem solve. Artificial intelligence is often talked about in conjunction with machine learning or deep learning and big data. 
Today we are glad to present to our readers this awesome project that we are diving in to know more about their ecosystem, how their platform works, and how they use AI technology to connect to there business.
INTRODUCING DEFIAI
(DeFi Artificial Intelligent)
DEFIAI is a decentralized, multi-strategy, high-yield aggregator that can help users intelligently complete DEFI lending, leverage mining, capture high-yield mining pools from time to time, automatically complete compound interest, and generate ultra-high returns. As a revenue aggregator, DEFIAI opens up the DEFI protocol at the bottom layer, so that users can obtain the highest revenue DEFI products on the market. DEFIAI invests the pooled funds into major DEFI head platforms and obtains the maximum return through automatic position adjustment.
What Are The Advantages Of DeFiAi?
Each project has its own disadvantages and advantages. But let's not look at the negative things that are destroying our advocacy so that we can improve whatever project we are embarking on and this is what we will look at on the DEFIAI Platform.
Here are some advantages that DeFiAi Brings To The Cryptocurrency Space:
Safety Advantage — Token is open and transparent through the authoritative third-party auditing report.
Yield Advantage — High yield, with maximum annualized compound returns of 530%
Community Advantage — Strong governance, DAO community autonomy, without project party
DEFIAI aggregation yield deems "professionalization, efficiency, simplification and transparency of digital asset AI" as long-term mission, builds perfect and strict risk control system within three years to furthest provide safe and convenient strategy service for users, and devotes to construct the ecological win-win strategy through data, engine, AI, etc.
MAIN ADVANTAGE OF DEFIAI
One-Click Mining — Allocation of funds to the preferred DEFI protocol, screening of high-yield and high-liquidity protocols, participating in liquidity mining, and novice users can easily get started
Low Handling Fee — Switch between different protocols and mining pools to screen for the highest profit. The gas fee for invoking these contracts is centrally operated by AI, and users share the gas fee together, effectively reducing costs
Ultra High Liquidity — Store and take anytime, flexible and convenient
Automatic Reinvestment — DEFIAI puts the income earned by the stable strategy pool into the high-yield compound interest strategy pool, and automatically compound interest in each high-yield pool, and then automatically transfers the income to the stable strategy pool every week, continuously compounding arbitrage, and continuing to ensure the safety of users' funds
Security of DEFIAI — DEFIAI is a smart contract deployed on the BSC chain. It has passed the security audit. Only the user can manage the assets deposited in the smart contract through the key. No other person or organization (including DEFIAI) can access or change the personal account permissions.
DEFIAI KEY FEATURES
One-key deposit
Automatic continuous re-investment
Lower gas
Strategy quickly switched
Aiming at the headmine with high yield
🌌
DEFIAI Profit Logic

🌌
DEFI INCOME

— DEFIAI has various yield strategies which can be used to earn the incomes of crypto assets  including the lend, DEX liquidity and interest arbitrage.

MATCHING STRATEGY

— DEFIAI makes users match the most suitable capital scale strategy in a fully intelligent manner, and then automatically distributes the capital to maximize the yield.
MONITOR RATES and OPTIMIZE ALLOCATION — DEFIAI AI continuously calculates the optimal asset distribution and monitors the rate change. The prediction model based on supply and demand of liquidity can be used to confirm potential impact of capital flow on available interest rate.
DETAILED REPORT EASILY — DEFIAI fully utilizes the traceability of blockchain, and the detailed investment report can be inquired and downloaded through platform to track all principal value, earned interest, token balance, absolute return, annualized returns, benchmark interest rate, etc.
HOW TO GET DEFIAI TOKENS?
To give value to their supporters, DEFIAI will conduct an airdrop program. All early adopters will get abundant of $DEFIAI tokens first quarter of the year 2021. Existing users will be eligible to enjoy a large amount of free DeFiAi token. Alongside with this event DEFIAI smart contract will audited by Certik, the most trusted blockchain auditing firm.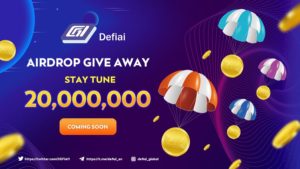 On genesis stage of DEFIAI, there are only 40 million of $DEFIAI token will be issued. There was no dumping at the early stage, No private sales, no presales, and no whitelist. Airdrops are only available to pioneer DeFiAI users. All updates and information can be found on DEFIAI official Telegram group.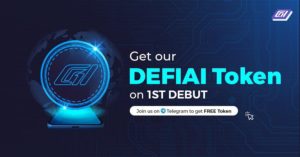 The DEFIAI platform uses the AI intelligent system to screen safe and stable DeFi pools that have been audited by security audit institutions. In addition to ultra-high compound interest income, it also has the following advantages:
Control — DEFIAI transfers asset control authority to users, staking is non-custodial. You are always in complete control of your private keys and funds throughout the staking and lending processes. You are free to un-delegate or withdraw your funds at any time, subject to the lock-up requirements for each
protocol.
Cooperation Matrix — It has reached strategic cooperation with PancakeSwap, MDEX and other leading DEXs. Due to its unique business model, the DEFIAI project has developed rapidly in a short period of time.
DeFi Pool — DEFIAI will set up a DeFi pool in the top lending project of the public chain to provide financing for leveraged mining users. Deposit users only need to deposit their assets in the DeFi pool to receive rewards. In the future, DEFIAI will share depth with multiple top lenders to maximize user deposit and borrowing needs.
AI — AI refers to systems and machines that can imitate human intelligence to perform tasks and iteratively improve themselves based on the collected information. AI has many forms, DEFIAI artificial intelligence automatic intelligent investment, collective trading, automatic compound interest,
risk management and other applications.
Stable Strategy Pool — DEFIAI will screen stable and secure fund pools to help users earn profits. DEFIAI will also screen more
types of fund pools and platforms, such as Three-party valut
aggregate asset platform, etc.
Compound interest strategy pool — DEFIAI has its own independent data engine, public opinion analysis, and intelligent monitoring to prevent users from missing high-yield information, and obtain real-time access to the latest online top mines in the market, pledge lending, pledge mining, leverage mining and other ultra-high-yield pools, which will earn money from the stable pool.
The DEFIAI team hopes that the stable asset aggregate platform DEFIAI will become the DeFi aggregate platform with the most users in the world.
DEFIAI PARTNERS
💎 AutoFarm
💎 Certik
💎 Huobi Wallet
💎 MDEX.Com
💎 PancakeSwap
💎 Token Pocket
💎 Tranchess
💎 CoinMercenary
💎 Quantstamp
💎 BscScan
DEFIAI SOCIAL MEDIA PLATFORM