Staking NFTs is Here!
Staking is one of crypto's most popular passive income opportunities. It is possible to stake most of the big coins and tokens that are available. This contributes to making them more and more scarce as less supply is in circulation.
During the second half of 2021, Non-Fungible Tokens (NFTs) gained a lot of popularity. NFT volume surged by almost 500% in comparison to the first half – so why not capitalize on this by making it possible to join staking pools with NFTs? Thats why ChampInu appeared, they will soon offer NFT-staking pools on Binance Smart Chain (BSC) to make this a reality!

How does the platform works?
By being a Champ NFT holder, you get exclusive access to an NFT-Only staking pool, ChampInu will add more compatibility and also include additional NFT collections.
Below is an example of a ChampInu NFT: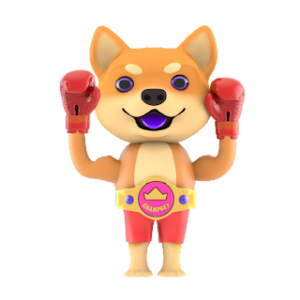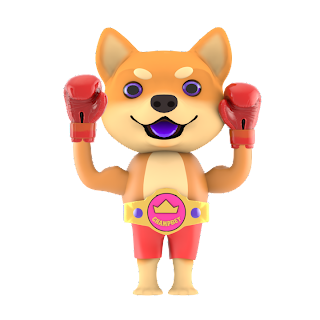 The Greatest
Supply: 20
Rarity:  Legendary
Utility: P2E Game, Exclusive staking pool, Champbet VIP Club.
Revenue-Generating Product
Champinu is building a community driven and owned Casino. Champinu guarantees full transparency along each phase of the project according to their team, starting by working under open-source accounting, and releasing monthly statements which include but are not limited to: registered users; first time depositors; total deposited; total withdrawn; total wagered; total NET profit. (50% of all Champbet generated profits will be spent on buyback and burn events of $CHAMPINU. The buyback will be bought directly from the PancakeSwap)
The Champbet Roulette Game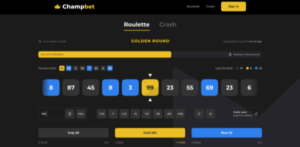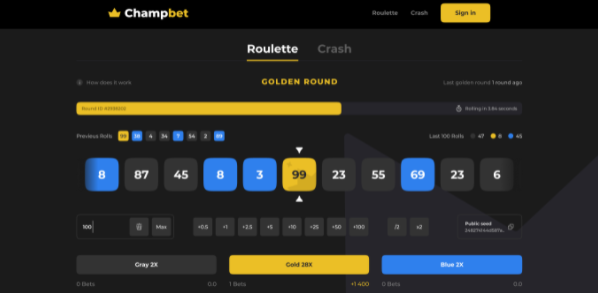 Unlike the traditional Roulette table game, the Champbet Roulette game will have 3 options to bet on:
Gray (2x payout)
Blue (2x payout
Gold (14x payout)
The number range is 1 to 100, with there being a 7% chance of hitting Gold and 46.5% for it to hit Gray or Blue.
On every round there is a 2% chance that the round turns into a Golden Round. Multipliers are increased from 2x to 4x for gray and blue, and from 14x to 28x for gold.
The traditional Roulette table game has a house edge of 2.7%, whereas our Roulette game will have a house edge of just 1%.
Crash Game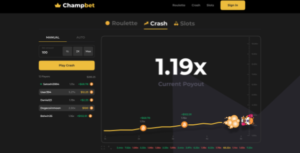 The Crash Game has gained massive popularity over the last few years, the rules are simple:
The player will choose a bet and a winning goal. For example, $10 to win $25 (2.5x multiplier)
If the graph exceeds the players goal, the bet will automatically be closed at a profit
If the player selects "0" as winning goal, he will be able to press the Withdraw button whenever
If the graph "crashes" before the winning goal or a Withdraw takes place, the player loses the bet
The chance of the graph crashing at 1.00x is at 1% which also means that the house edge of the Crash game is 1%.
All bets will be placed in USD. It will be possible to deposit $CHAMPINU, Bitcoin, Ethereum, Solana, BNB, XRP and Dogecoin initially. More tokens will follow as developmental upgrades are initiated.
50% of ALL Champbet generated profits, will be spent in buyback and burn events of $CHAMPINU, the casino will underlie open source accounting.
The ChampInu token contract has been audited by SpyWolf, you can see the audit here. ChampInu has also published and verified its token contract on BSCScan.
For more information about ChampInu, visit the following links: