Sentre Protocol Navigation Guide, A dApps store and universal protocol for liquidity.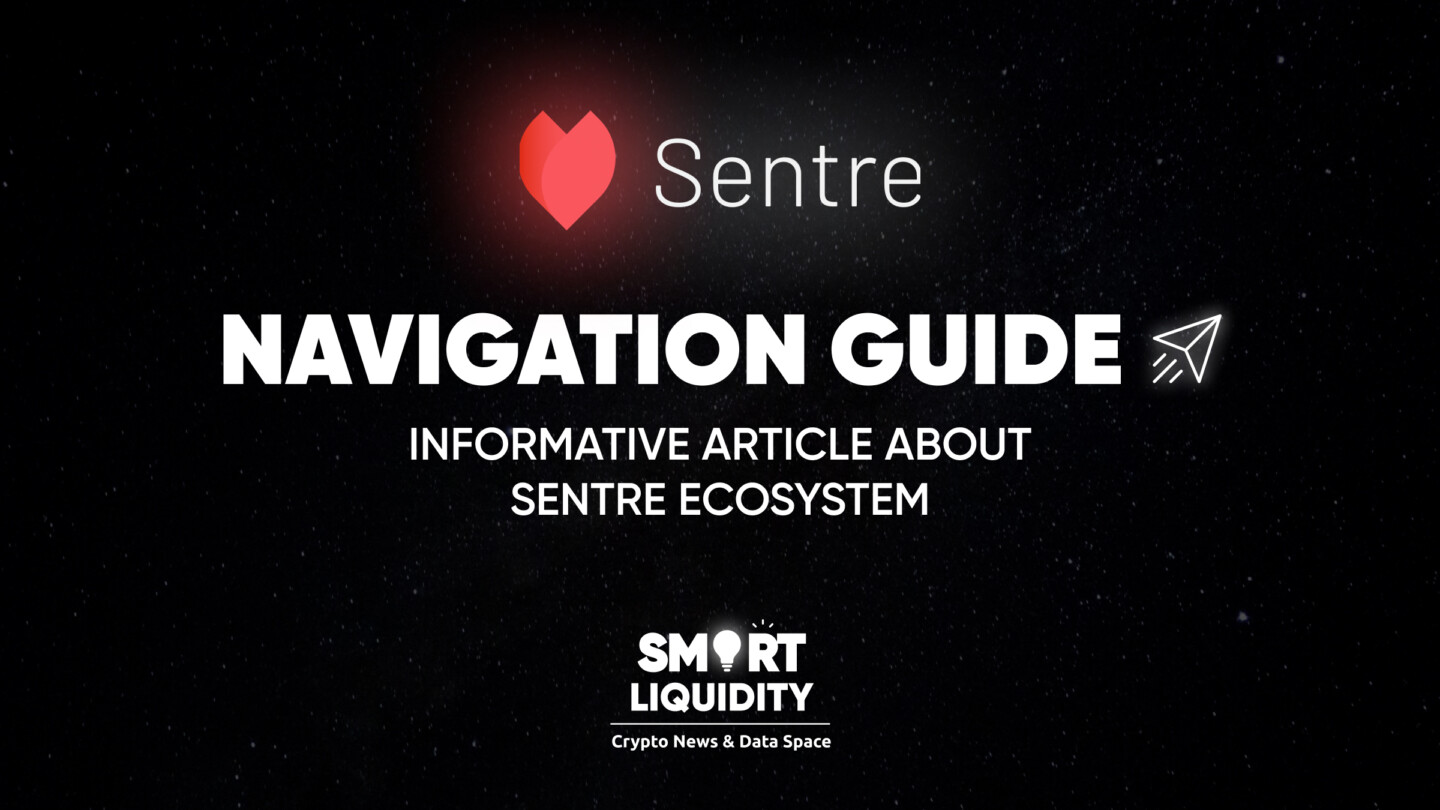 INTRODUCTION
To our avid readers, we inform you that this article is not advice for an investment. This column is designed to discover potential projects that we think will bring goodness and service to its consumers.
Smartliquidity Network Proudly Present "

Sentre Protocol Navigation Guide

"
WHAT IS SENTRE PROTOCOL?
Sentre is an all-in-one Solana open platform with dApps store and universal protocol for liquidity. Sentre's Mega Launch for Mainnet and Tokens, takes place last Dec 17, 2021. This event offers a Triple Earning method that can ensure a concrete source of income for participants, amidst an unstable environment like the current DeFi market.
Sentre is created for users to experience the DeFi world on a single Open Platform, and for developers to focus on their innovative ideas without being affected by liquidity source shortage, weak marketing or failed kick-funding.
The Sentre Protocol is unique to other projects. It has a solid foundation and above all has a variety of services offered to their followers. What exactly is the difference between the Sentre Protocol and other decentralized finance ecosystems? Let's go and explore them!
The Team information:
Sentre's strength is the Developers Team led by Mr. Tu Phan (Founder), they all have 5+ years of hands-on blockchain dev experience from world-class environments like Infinity Blockchain Labs and Binance, and have all been passionate with DeFi.
There are some achievements of the Founder and Team:
1. The Second Prize Solana's Inaugural Hackathon, 2020.
2. The Second Prize Tomochain Hackathon, 2019.
3. The First Runner-up State of Chain Hackathon, 2018.
4. Mentor KO (Kambria Online) Hackathon, 2021
5. Examiner Kambria Quiz/Code Challenge Series, 2020.
6. Mentor #1 Vietnam Blockathon, 2017.
Sentre Protocol Empowering DeFi Users & Developers
SenSwap — The liquidity accumulator with many outstanding features
• Adaptive Fee Model: Minimize impermanent loss for liquidity providers
• Sen Booster: Allow Liquidity Provider can sell their LP token to buy SNTR with a discount price.
• Asymmetric Deposit: Offer liquidity even with one-sided token pooling
• DAO: Allow appropriate control on liquidity
• Optional triad-token pools: Swap any and every pair with lower exchange fees
• Cross-chain liquidity, non-correlated pools, and exotic pools
• Sen OTC: P2P market build on Smart Contract
• Triad Pool allows LPs to concentrate the token in a single pool with 3 tokens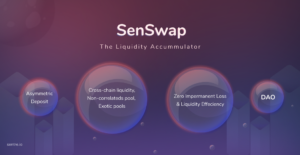 Sen Hub

(Sen OS) – The Open Platform for DApps: A complete solution for dApp development allows Developers and Partners to deliver DApps through Sen Store, fully use available resources and contribute to the platform with no restrictions. Sentre's strategy is to expand the ecosystem through Senhub, not only building new Dapps, Sentre also promoting bringing other DApps from Developers and Partners to Senstore.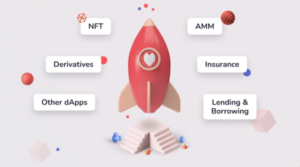 Being the first ever to provide a true Open Platform for dApps, Sen OS thrives to become the "dApp Store" system where dApp developers and users get together in one quality, trustworthy space.
For the best user experience, Sen OS allows users to customize Sen Store's UI by:
Easy Drag and Drop: Choose and put your favorite dApps on top
Tailored to your Needs: Show or hide system functions
Professional mode: Organize functions for an optimal workflow
ROAD MAP 2022: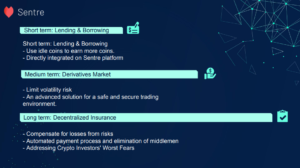 Sentre Change Its Token Name To SNTR
Sentre Protocol change its token name from $SEN to $SNTR to avoid confusions in the market era. The name being changed,  its doesn't affect any part of Sentre's future plans. However, do remember the name SNTR when you search for their tokens.
Sentre Protocol launched version 2.0 – The supper DApp version
Sentre Protocol V2.0 has been released on January 7. After the release of Sentre Version 2.0, the project received many insightful comments and feedback from its users. Here is the update on Sentre V2.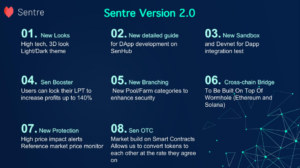 Sentre V2.0 is almost an all-new release. The release comes with an updated security, several advanced features and fresh concepts. From Sen OS — a.k.a. Sentre Version 1.0, Sentre team decided to do a full upgrade and release Sen Hub — a.k.a. Sentre Version 2.0.
However, this movement does not affect the way Sen OS, or now Sen Hub, works. Sen Hub is still the operating system that allows developers to deliver their DApps through Sen Store, fully make use of its available resources and contribute to the Platform with no restrictions.
Sen Hub is going for high tech, 3D look. We enable the Light/Dark theme options:
Those who wish to experience smooth graphics transitions should go with the Light theme
While those who care to reduce their eye strains and battery life can switch to the Dark theme
Furthermore, if you are a developer or an ordinary user who wants to test the functionality of the Sentre V2.0 you can check  docs.sentre.io  for more guidelines and information.
Sentre Mainnet V2.0 is a lot different from its predecessor, V1.0. To further aid developers, the team at Sentre created a Sandbox exclusively for the DApp integration tests.
HERE'S HOW IT WORKS:
Simply head to Sen Hub, sign in, then click on the three dashes icon at the top right corner of the screen
Then, go to the Settings tab. You can open the drop-down list to choose between Mainnet, Testnet and Devnet. You can also see the Sandbox, where your DApp's manifest can be dropped to test its integration performance.
After choosing, refresh the page, and you're done.
New Sen LP Feature: Sen Booster
To bring more attractive and risk-proof investing strategies to Sentizens, Sentre team  decided to release an all-new feature called Sen Booster. Sen Booster widget can be accessible through the Sen LP feature.
As the name suggests, with Sen Booster, users can lock their LPTs up for a profit boost.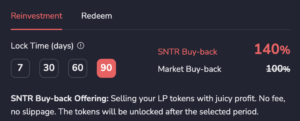 The longer you keep your LPTs locked, the bigger boost your profit gets afterwards. You can choose to lock your LPTs from 7 up to 90 days, and get a boost of up to 140% of SNTR.
What makes SEN Booster more attractive than other investment options?
You pay no fee, and there is zero slippage.
You get exactly the promised amount, with exactly what you have.
The first Booster

SNTR

–

ETH

will be released on January 21.
Meanwhile, Sentre Protocol launched Sentre Golden Month, a once in a lifetime opportunity for visionary investors to multiply their assets.
Every three days, Sentizens will be introduced to a different event, including:
New pool releases with JUICY APY
Thrilling activities with BOUNTIFUL REWARDS
Advanced features to release with SENTRE V2.0
The campaign will take place from January 12 to January 27, 2022.
SENTRE PROTOCOL PARTNERS
Solana — a decentralized blockchain built to enable scalable, user-friendly apps for the world.
Coin98 — the leading multi-chain wallet and DeFi gateway, designed to seamlessly connect users to the crypto world in a safe and secure manner.

Gate.io

— a one-stop-shop trading services with institutional-grade security and proven reliabilities.
SENTRE SOCIAL MEDIA CHANNEL
Website | Twitter | Medium | Telegram | Discord
COIN TRACKER
FRIENDLY REMINDERS:
"We deliver the news article base on our own thorough research. We want to preserved some important information regarding with the project that are presented in our column. We value our reader's opinion and we thank you for your valued respect to us. We also don't advice our readers to invest. As we always say " Invest at your own risk and only invest what you can afford to lose."