Ideamarket: The literal marketplace of ideas | Navigation Guide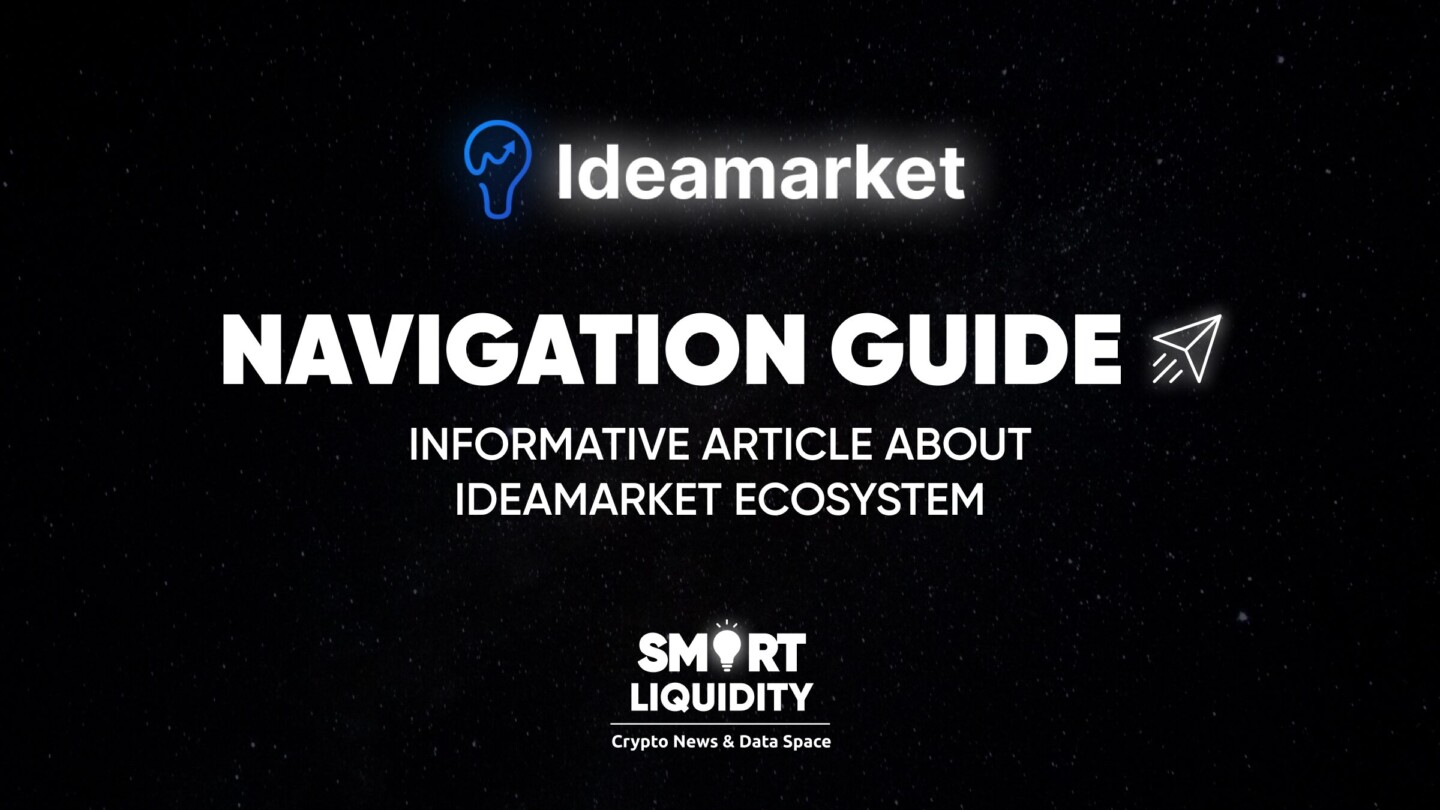 INTRODUCTION
Media corporations are central banks of narrative. In the same way that fiat currencies are valuable only because governments say they are, fiat narratives are true only because media corporations say they are.
If Bitcoin is money without banks, Ideamarket is credibility without corporations."SmartLiquidity" is delighted to present Ideamarket, a dapp for creating public narratives without trusted third parties.
Idea Market is a crowd-sourced marketplace that matches entrepreneurs with pre-funded concepts to create companies. It brings together ideas, talent, and money to build successful companies.
HOW IDEAMARKET WORKS
First, there's a market for ranking URLs.
Think of it like "marketized Reddit."
The URL market is where the world's information competes to prove its value.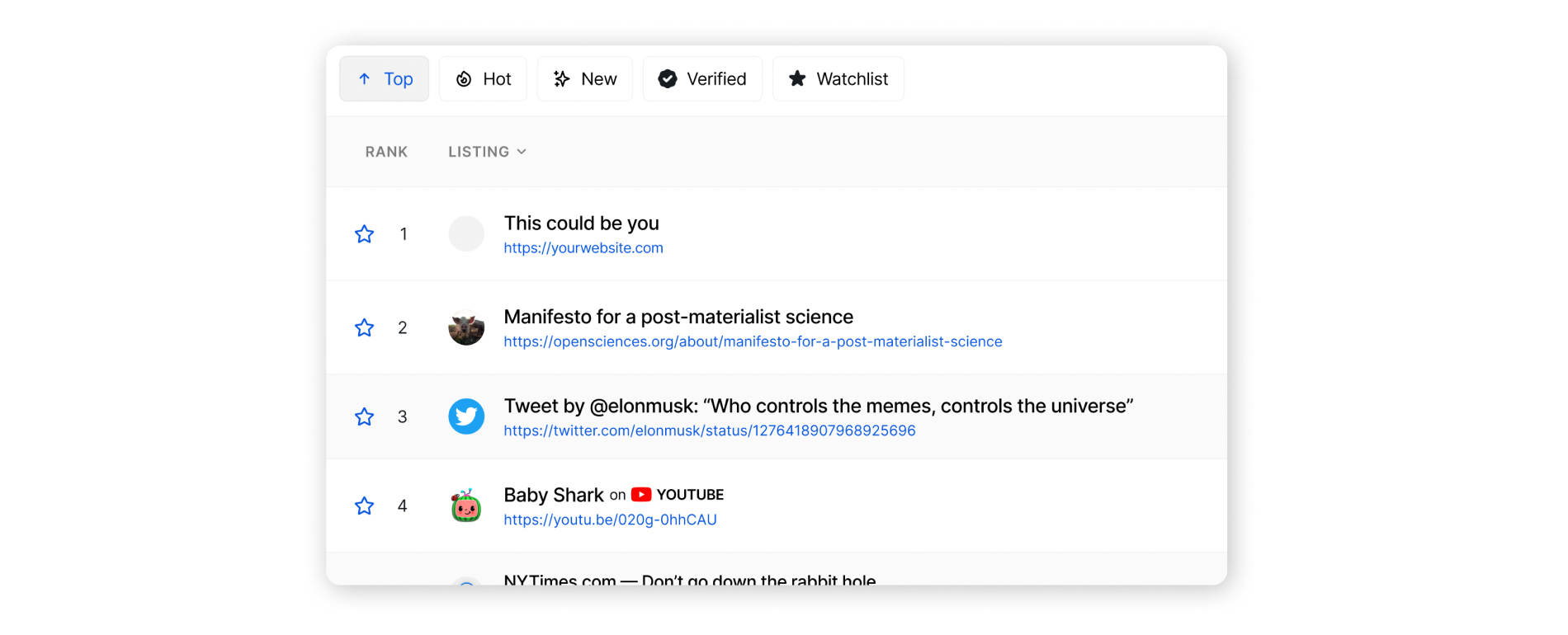 Then, there are User Accounts — and soon, a market for ranking users too (Q1 2022).
The User market is where users compete to be accurate and trustworthy — true "thought leaders."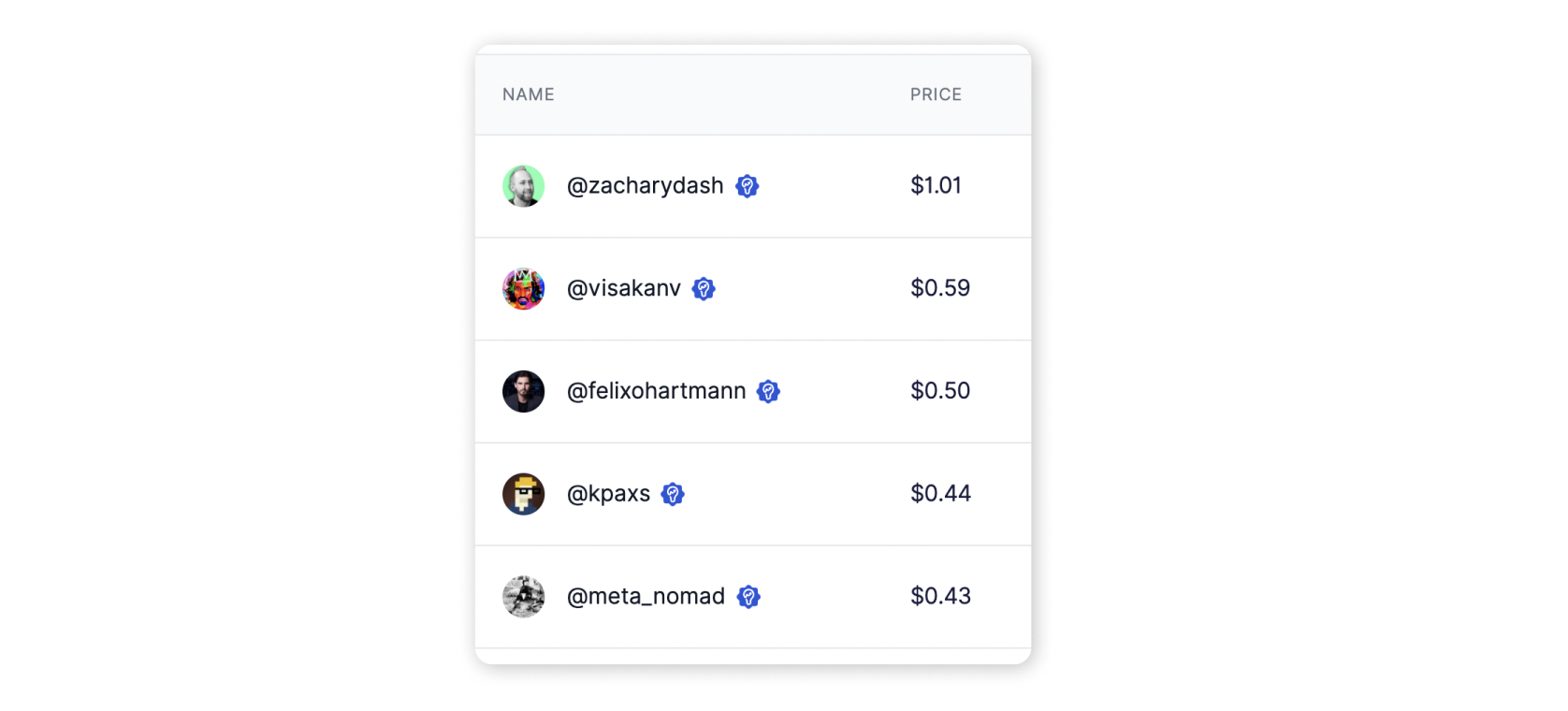 To recap:

both URLs and Users get ranked on a market

.
Users are also invited to rate URLs on a scale of 1-100, based on their confidence in the value of the information at that URL. (launching Q1 2022)

In the end, the URLs with the highest average rating according to the top-ranked Users
comprise "consensus reality" — an Alternative Public Narrative that is
🔹provably fair
🔹credibly neutral, and
🔹backed by skin-in-the-game.
On Ideamarket, both the world's most valuable information, and its most trusted voices, are under constant scrutiny by the due diligence of a global marketplace — from which no person, and no information, can be excluded.
HOW TO MAKE MONEY ON IDEAMARKET
There are 2 ways to make money on Ideamarket:
🔸The first is to use your unique insight to find undervalued information on the URL market, or an undervalued voice on the User market to "buy low, sell high."
🔸The second is to become a high-ranked User.
All the money people spend to back your account on the User market, will soon earn interest on a decentralized lending protocol. That interest all gets paid to you. If others spend $1,000,000 on your account, you could get $50,000-$100,000 per year in interest income.
In short: The more confidence you inspire in market participants, the more money you make.
IdeaMarket Native Token $IMO
IMO stands for "in my opinion," which, in my opinion, all human knowledge inevitably is.
$IMO is Ideamarket's token for governance, which you can use to create and provide feedback on proposals in their Commonwealth.im forum. They will gradually introduce more governance features into the Ideamarket ecosystem, beginning with Snapshot governance and a multisig. In upcoming releases, $IMO will also be used to reduce trading fees and to pay bounties.
$IMO goes live on Wednesday, 2/2/2022 at 9am PT. The token contract address will be provided at launch.
🔹Distribution, Airdrops, and Rewards🔹
Early investors — 10%
Team (present & future) — 18%
Strategic partnerships — 10%
Retroactive Airdrop — 5%
Ecosystem & Treasury — 25%
Community rewards — 32%

Listing Token staking — 5%
$IMO staking — 3%
Sushiswap LP rewards — 5%
Future rewards programs: 13%
Community airdrops — 4%
Verification rewards — 2%
All $IMO allocated to Ideamarket team members are subject to a 2-year vesting schedule — a 1-year lockup, plus a 1-year linear unlock. 85% of investor tokens are subject to the same schedule, with 15% unlocked immediately to provide liquidity on Sushiswap.
Ideamarekt Retroactive Airdrop
Ideamarket have reserved 5 million $IMO (5%) to reward our early users with an airdrop. If you used Ideamarket before noon PT January 17, you should be eligible. Eligible users were given a point score based on whether you performed these actions:
Listing
Buying
Locking
Verifying
If you used Ideamarket before our Arbitrum launch, your score will be doubled!
Ideamarket will distribute 5 million $IMO over the next 3 months to users who buy listing tokens on the URL market and lock them. You can lock listing tokens for either 1 month or 3 months. The 3-month lock will increase your rewards by 25%. Staking rewards will be distributed monthly.
3 million $IMO over the next 6 months to users who stake $IMO tokens.
Sushiswap liquidity provider rewards
5 million $IMO over the next 12 months to Sushiswap LPs on the ETH-IMO pair.
Twitter users with over 2,000 followers can claim an airdrop by creating and verifying an Ideamarket User Account, which involves sending a Tweet and leaving it up for at least 24 hours.
IDEAMARKET ROADMAP
2022 is a huge year for Ideamarket. They'll be releasing multiple products that help measure the value of the world's information, including several on $IMO launch day (2/2/2022):
The URL Market (2/2/2022)
Ghost Market (2/2/2022)
User accounts (2/2/2022)
Blockchain of Opinions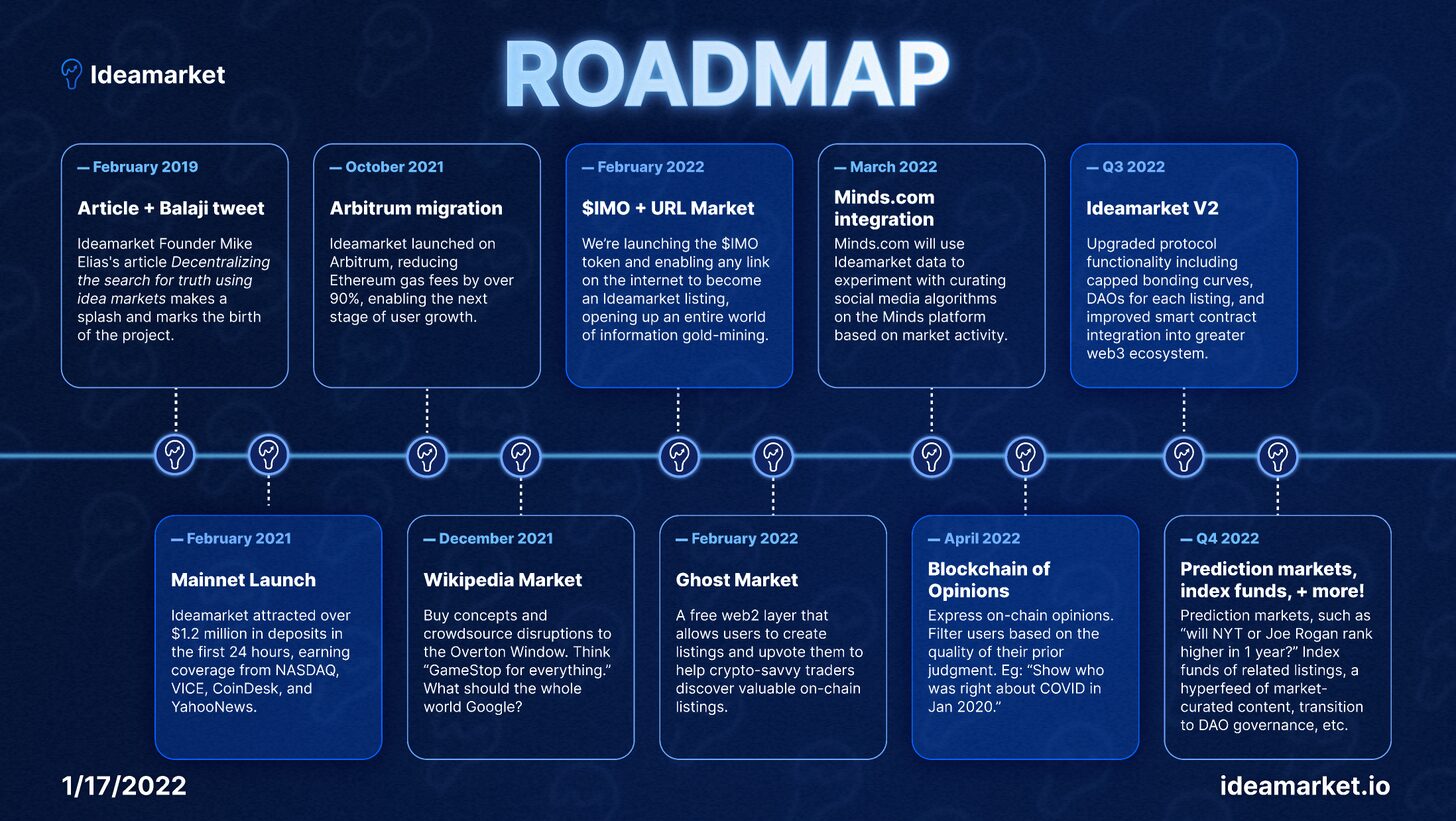 IDEAMARKET SOCIALS
Website I Whitepaper I Twitter IDiscord
FRIENDLY REMINDER:
We deliver these news articles based on our own thorough research. We want to preserve some important information regarding the project that is presented in our column. We value our readers' opinion and appreciate your valued respect to us. The article above is not financial advice and as we always say "Invest at your own risk and only invest what you can afford to lose".