Peermoon Wallet Navigation Guide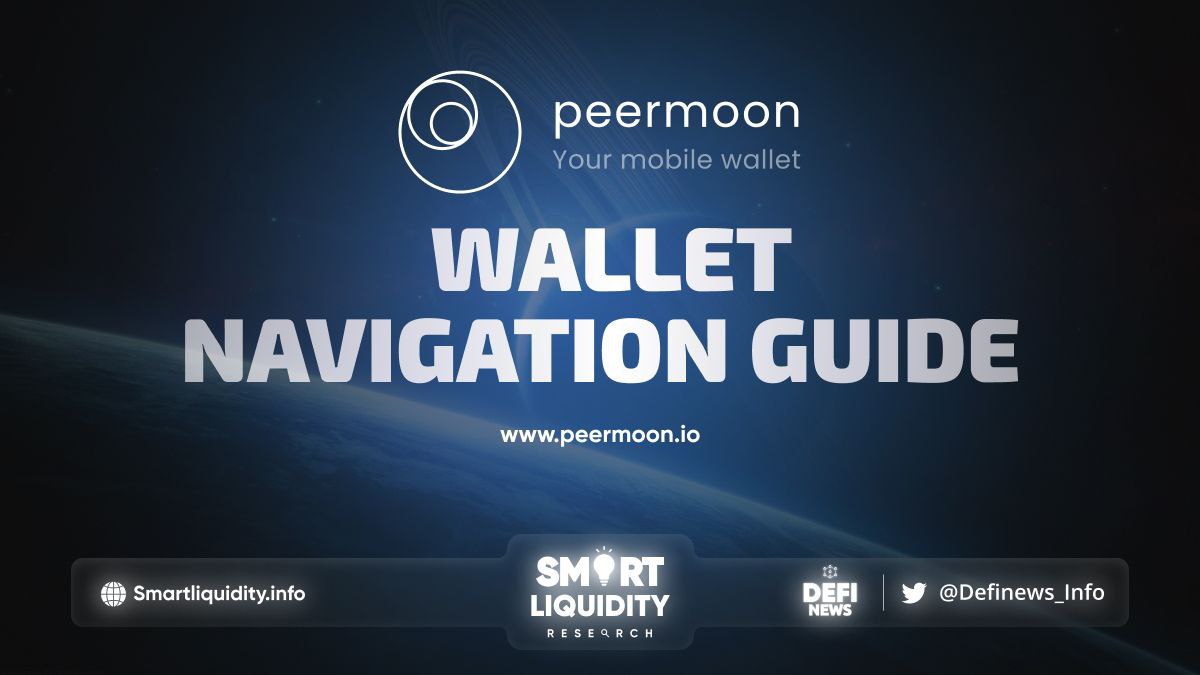 Peermoon is a new generation decentralized mobile wallet.
I've been surfing around the web and social media to find some interesting content and projects that I can share directly to my audience. As a writer, I want to find an interesting project as well I want to share a topic that my readers can relate to it. Upon diving on social media, surfing on the web, in short when I was doing a research I came across to this platform that caught up my attention. So I decided to deep dive into its platform, finding out how this ecosystem works.
INTRODUCING PEERMOON WALLET
Peermoon is a decentralized finance (DeFi) mobile wallet that allows you to manage your finance conveniently in one app. Through Peermoon app you can invest in different asset classes, like cryptocurrencies, stocks, ETFs, loans, commodities, real estate, etc. Peermoon is a one-click solution to reach all financial services, you may require.
Moon is a technology – a one app solution that brings together different types of financial services/products including a wide range of asset classes for investments.
Who can use the Peermoon Wallet?
Peermoon wallet users can be anyone from 18 years old from all over the world. The platform doesn't accept any fees while using their product. Peermoon wallet revenue is earnings from intermediation (commission fees).
The Peermoon wallet will be launch for a mass audience before the end of the second quarter of 2022.
The core components of most DeFi wallets include:
Non-Custodial – Users can send and transfer funds knowing they are the only one who has access to those funds.
Key-based – Underneath the hood, all DeFi wallets have a unique key pair. This is
different from centralized wallets as users are responsible for the safekeeping of their private keys, often introduced through a 12-word seed phrase.
Accessible – Virtually all non-custodial wallets can handle a suite of assets, with
Ethereum-specific DeFi wallets allowing users to deposit ETH in tandem with
stablecoins like Dai, ERC20 tokens like KNC, and ERC721 tokens like Axies.
Compatible – As stated above, virtually all DeFi wallets are accessed by connecting a web3 wallet. Mobile wallets have begun to integrate dApps browsers to make it easy to connect with DeFi applications without having to ever leave the app.
With the Peermoon Wallet, users have access to a wide range of decentralized innovations, including buying and storing Bitcoin, Ether, ERC-20 tokens, and other crypto assets, collecting rare digital collectibles, and accessing emerging web3 applications.
SUPPORTED ASSETS
Peermoon Wallet supports an expansive list of digital assets. Peermoon Wallet in the first phase will allow users to store, send, and receive the following assets:
• Bitcoin (BTC)
• Ether (ETH)
• Bitcoin Cash (BCH)
• Ether Classic (ETC)
• Litecoin (LTC)
• Ripple (XRP)
• Stellar Lumens (XLM)
• Ethereum-based ERC-20 tokens
• Ethereum-based ERC-721 tokens
What makes a DeFi wallet different from a regular wallet?
With DeFi wallets, there is no need to complete KYC or provide any background information. While there are largely no fiat onramps when using DeFi wallets, they come with the flexibility of integrating across a wide variety of applications in the DeFi ecosystem, rather than being fragmented to only one exchange like most legacy wallets.
Peermoon Raised $11 Million
Since the launch of the Peermoon project, Peermoon has already raised $ 11 million. VCs invested $ 960 000 in Peermoon project. $ 4,17 million has been raised during Private sale A and $5,88 has been raised during Private sale B round.
April 19th 2022, the Peermoon Public sale round starts – one day later than previously announced. Peermoon development team took one extra day for testing the system to ensure smooth automated processes during the Public sale round. The public sale round will last one month – till May 19th.
What is important to know about the Public sale round?
The Peermoon tokens (PM) Public sale round starts on April 19th and ends on May 19th, 2022.
 During the Public sale round, the Peermoon Token (PM) is available to buy for $ 0.01.
The minimum amount to buy a PM token is $ 10.
Accepted currencies to buy PM tokens: ETH, LTC, BCH, ERC20, BNB, USDT.
In total, 600 000 000 PM tokens will be offered to investors during the Public sale round.
After the public sale round, PM tokens will be listed on the exchange (Pancakeswap) from May 20th for trading. Few more exchange platforms are under the consideration now.
ABOUT Peermoon Wallet
Peermoon is a DeFi mobile wallet that allows investing, managing, and tracking your investment portfolio and finance conveniently in one app. Through the Peermoon app, you can invest in different asset classes, like cryptocurrencies, stocks, ETFs, loans, commodities, real estate, etc.
Website | Twitter | Medium | Discord
FRIENDLY REMINDER
"We deliver the news article base on our own thorough research. We want to preserved some important information regarding with the project that are presented in our column. We value our reader's opinion and we thank you for your valued respect to us. We also don't advice our readers to invest. As we always say " Invest at your own risk and only invest what you can afford to lose ".