Ethernity Partners with MoonPay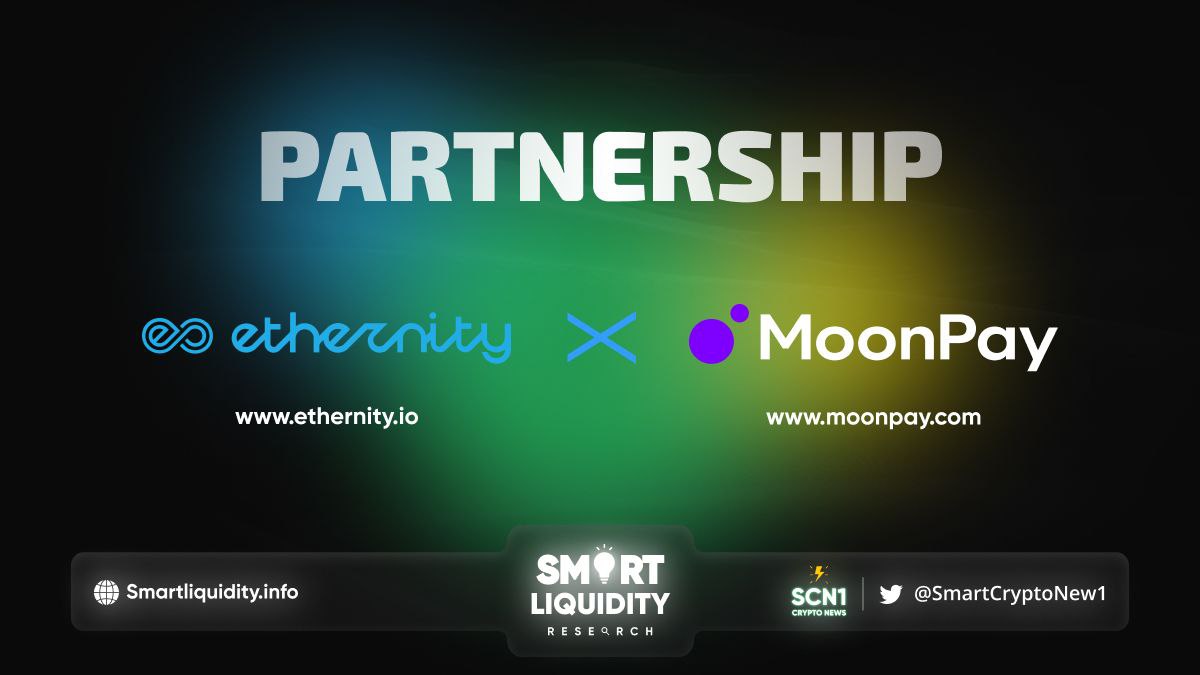 Ethernity Partners with MoonPay To IntegrateCredit Card Payments
 As part of expanding product offering to its community, Ethernity are pleased to announce that it has partners with, and successfully integrated credit card processing platform Moonpay onto the Ethernity platform.
Ethernity  and Moonpay Partnership Highlights
​​Increased accessibility to its marketplace for non-crypto users.
Multiple options to purchase NFTs for all users
Transparent, simple and easy to use.
Credit card payments will be available for the Mystery Drop on Saturday, April 23. As a result, users will be able to purchase the Epic and Common Mystery Boxes with their credit card, where theyu can find a surprise selection of Ethernity NFTs, the groundbreaking Ethernity Genesis: Satoshi card, or a highly coveted Exorians CM21 Mint Pass.
Important to Know:
All Mystery Boxes, including the Legendary Box, are still available for purchase using ERN tokens, no credit card needed
To access this feature, US citizens will need to perform a simple KYC Identity Verification to ensure the highest standards of security.
The total cost of the Mystery Boxes consists of: NFT Price + Minting Fee + Moonpay Processing Fee.
If you are using an iPhone: additional pop-ups may delay your purchase, to avoid this problem, be sure to clear cookies and cache in your Metamask app.
MoonPay accepts Visa, MasterCard, and Maestro, but not American Express. For a full list of supported payment methods click here.
Mystery Boxes purchased by Credit Card will be delivered directly to your wallet.
The following steps to follow:
 Log into your account on ethernity.io. On the Ethernity home page, under Mystery Boxes. Find the three choices for mystery boxes: each with an image of the box, its name, and its price.
Select either the Common Box or the Epic Box. Choose the Buy with Card button .
Agree to the gas fees, in an instance gas fees will change depending on network traffic, by checking the box agreeing to Ethernity's Terms of Service. However this fee will ensure the Mystery Box gets minted directly to your wallet and press continue.
A summary of the price of the Mystery Box and the Minting Fees will appear. Press Continue.
 Confirm the Wallet Address, then input your email address. Enter the 6 digit verification code sent to your email. Agree to Moonpay's Terms of Use and Privacy Policy by clicking the box. Press Continue
 Enter your first and last name, date of birth, and nationality. Press Continue. Enter your billing address. Press Continue. Wait about 60 seconds for your documents to be verified.
 Next, enter your credit card details: CC Number, expiration date, and the security code. Press Continue.
Firstly confirm by checking the Terms of Service box and clicking the Buy Now button. Secondly wait for processing. At this point, you may need to Confirm the Transaction in your mobile banking app. Thirdly and most importantly keep the Ethernity/MoonPay window open while you do so! Lastly wait while Moonpay processes your payment. This may take a few minutes or up to a few hours, in other words you need to wait more depending on the current traffic.
Once the processing goes through you have your Mystery Box in your wallet! Enter My Profile to reveal your Mystery Box now!
About Ethernity
Ethernity is the groundbreaking authenticated NFT project. Produces verified artwork featuring the top artists and stars from sports, music, film, gaming, tech, history, and entertainment. Each digital artwork is represented as a non-fungible token (NFT). The pieces feature well-known public figures, rights, licenses, and IPs.
ABOUT MoonPay
MoonPay launched in 2019 with a simple aims increase cryptocurrency adoption and  company set out to create a simple and secure software solution. Enable people from all over the world to participate in the biggest digital revolution since the internet.