DareNFT and Ookeenga Partnership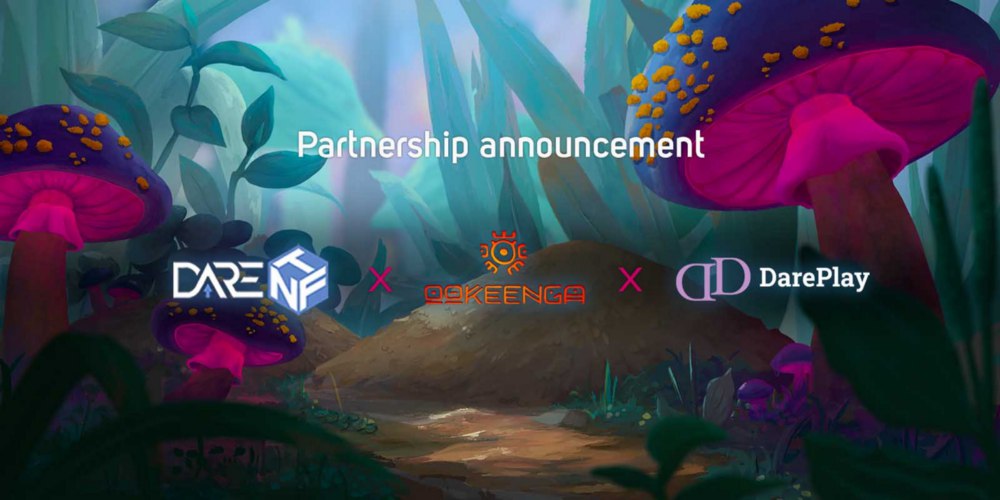 DareNFT has announced a partnership with Ookeenga, which is an on-chain 3D NFT P2E game with breathtaking graphics, appealing world-building, and addictive gameplay. Okeenga creates a uniquely immersive P2E experience built on the Binance Smart Chain.
Ookeenga and DareNFT are collaborating in various aspects. DarePlay — DareNFT's GameFi platform, including Rent-to-Earn and Lease-to-Earn marketplaces, alongside IGO and INO launching services, is ready to onboard Ookeenga, offering its full-packaged services when it is needed. With technical expertise and insight into the blockchain industry, DareNFT is also willing to support Ookeenga by implementing cross-marketing plans, spreading up-to-date news on the project in the coming time.
Both projects plan to feature Ookeenga in DarePlay Game, particularly in DarePlay Game & Guild Listing site and DareCity 3D.
Duke Nguyen, DareNFT's CEO, also shared his view on the partnership:
"'We're more than happy to onboard such a potential gaming partner, Ookeenga. Both parties are more than ready to commence the journey together. Plans and activities are all set and well arranged. Look forward to tightening our relationship a lot more in the future!"

"We're excited to have DareNFT onboard to support the Ookeenga journey, offering their full-packaged services. We expect to see tremendous tractions and growth for Ookeenga as we welcome the DareNFT community." — Trong Bach, Ookeenga CMO
About Ookeenga
Ookeenga (OKG) is a 3D NFT gaming project which combines blockchain technology with breath-taking graphics, appealing world-building, and addictive gameplay to create a uniquely immersive play-to-earn experience developed by CROS Gamestudio and published by SPORES Network.
OKG is set in a world where insects have evolved and built a massive civilization in an ancient forest called Glaik (The Sacred Forest), which is divided into 2 factions: the Akhah (Pureblood) and the Ahika (Mixedblood).
In this chaotic fantasy world, players will be able to build forces, develop their own tribes, and engage in fierce battles to hold dominion over the Forest.
About DareNFT
DareNFT is the universal NFT 2.0 protocol for Digital Assets. The mainstream adoption of NFTs depends on their ability to wholly reflect the benefits of digital assets. DareNFT has developed a suite of products that solve the current problems of NFT 1.0, which are: Unrecognized benefits between NFTs, Unrecognized relationship between NFT owners, and hidden risks of NFT Ownership. Our first product is DarePlay, the GameFi platform offering INO & IGO launchpad for NFT games, Rent-to-Earn and Lease-to-Earn marketplaces for in-game items NFT, and an NFTifying service for non-NFT games, so-called NFT-as-a-Service. We have plans to move further with the derivative NFT content platform after our first product has been completely built and well-positioned in the market.
SOURCE: https://medium.com/darenft/darenft-to-partner-with-ookeenga-an-emerging-nft-gaming-project-bc7de9dc0d58