Ferrum Staking On Algorand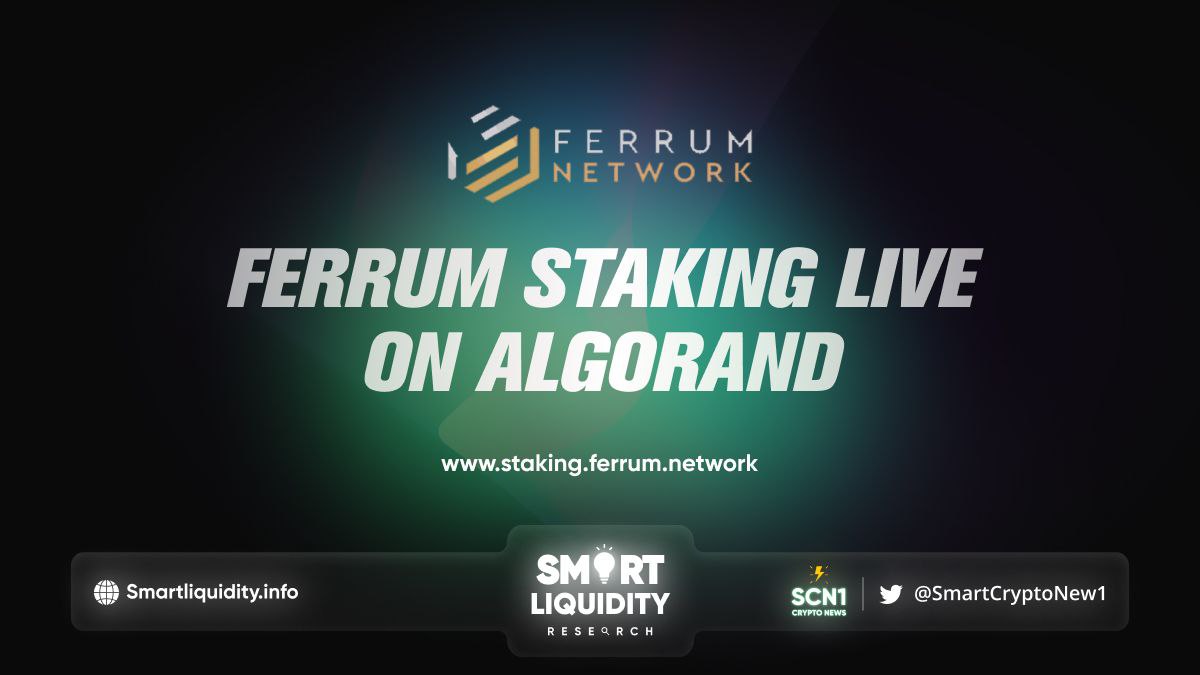 Ferrum staking on Algorand went live. Ferrum has completed a major milestone in their grant from the Algorand Foundation. Ferrum's Staking as a Service solutions are now available to projects building on Algorand.
Ferrum Network recently received a grant from the Algorand Foundation to integrate their suite of products with the Algorand network. These products included, Staking as a Service solutions and the Ferrum Multi-Chain Token Bridge. As a result Ferrum Network is proud to say that they have successfully integrated its Staking as a Service solutions with the Algorand network!
What Does This Mean For the Algorand Ecosystem?
Until now, a true Staking as a Service provider has not existed in the Algorand ecosystem. By completing this integration Ferrum has made one of the most widely utilized suite of Blockchain as a Service (BaaS) products available to any project using an ASA token standard.
"We're excited for Ferrum's go-live on Algorand, this release allows users to select a staking pool based on their time preference and acquire juicy rewards." — Daniel Oon, Head of DeFi, Algorand Foundation.
Not only does this commemorate the first of its kind in the ecosystem, but Ferrum comes with quite the reputation in the BaaS sector of the industry. With over 150 clients, a lifetime TVL of a half billion USD, and an impeccable track record when it comes to security of smart contracts, Ferrum aims to replicate their success in the Algorand ecosystem and make their presence known.
What Does This Mean for Ferrum?
"This integration signifies a major steppingstone in Ferrum's quest toward Interoperability 2.0. This is the first of many integrations that Ferrum has completed with a non EVM compatible network and we're honored to have Algorand by our side for it." — Nick Odio EVP Partnerships and Growth at Ferrum Network
Algorand uses a coding language called TEAL and supports SDKs for Rust. Ferrum therefore needed to scale its engineering team with developers who understood these languages. This is both extremely exciting and is also a crucial component in Ferrum's immediate and long term goals.
What's Next?
The next product that Ferrum is due to integrate with the Algorand network is the Ferrum Multi-Chain Token Bridge. The integration is set to be complete in Q2 of 2022 and will serve as a breakthrough advancement for not only Ferrum but interoperability as a whole!
ABOUT Ferrum Network
Ferrum Network is a pioneer in ushering in the era of Interoperability 2.0. Powered by the Quantum Portal, Ferrum Network's mainnet nodes and related infrastructure will bring value, data, and functional interoperability to every chain in the industry. Utilizing the Ferrum Network, anyone can build and deploy solutions on one network and instantly enable multi-chain functionality without the burden or technical debt that comes with managing a multi-chain infrastructure for their dApps, and projects.
ABOUT Algorand
Algorand created the world's first pure proof-of-stake foundational blockchain designed for the future of finance. Beyond the elementary requirement of an open, public network, Algorand's technology enables a set of high performing Layer-1 blockchains that provide security, scalability, complete transaction finality, built in privacy, Co-Chains, and advanced smart contracts.
ABOUT Algorand Foundation
The Algorand Foundation is dedicated to fulfilling the global promise of blockchain technology by leveraging the Algorand protocol and open source software, which was initially designed by Silvio Micali and a team of leading scientists. With core beliefs in the establishment of an open, public and permissionless blockchain, the Algorand Foundation has a vision for an inclusive ecosystem that provides an opportunity for everyone to harness the potential of an equitable and truly borderless economy.
RESOURCES
Medium