Bold Point — MMORPG Play To Earn NFT| Navigation Guide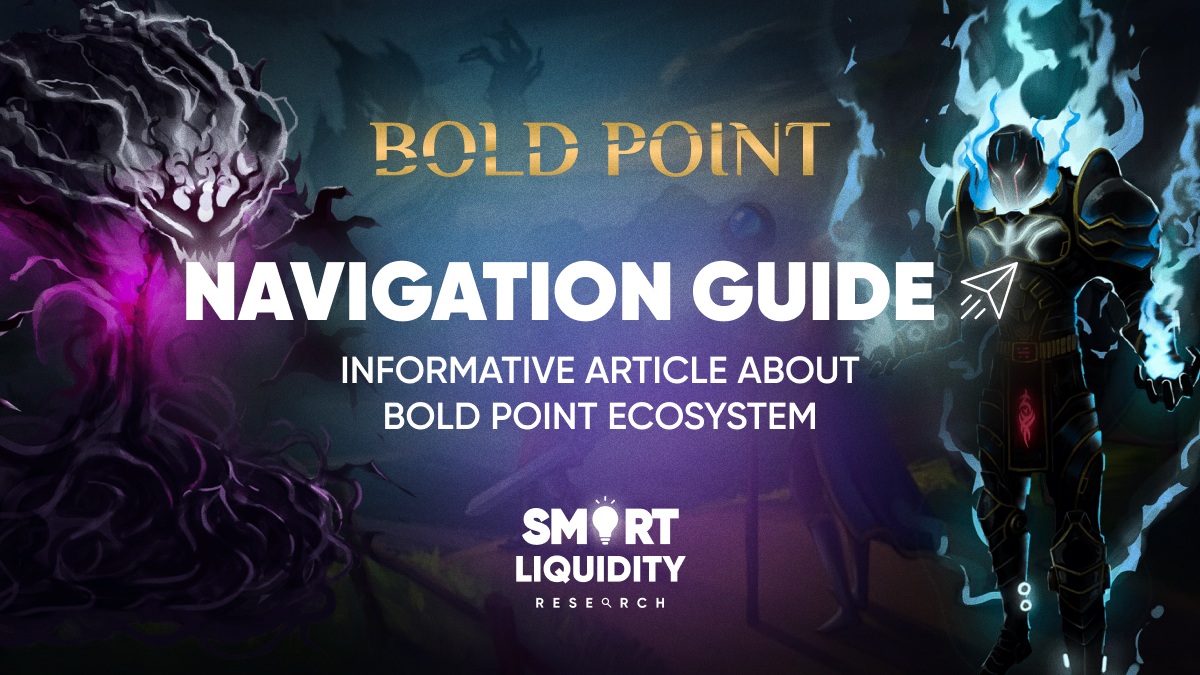 INTORDUCTION 
During pandemic, the only way that people survive their daily needs is through playing blockchain based games like, Axie Infinity, Crypto Blades, Dragonary and a whole lot more. With this kind of games, people tend to earn for their living. The Bold Point Navigation Guide will give you more information about the project.
Today here comes another platform that we have discovered that will definitely make everyone get to enjoy while playing as well as earning on the other side.
SmartLiquidity Presents "Bold Point" Navigation Guide
WHAT IS BOLD POINT?
Bold Point is an NFT-based role-playing game built exclusively on Avalanche that offers a fun and competitive experience. Its free-to-earn approach combined with easy-to-learn principle lowers the entry-barrier for gamers, while advanced earning mechanics and hard-to-master gameplay make Bold Point appealing for well-known gaming guilds and crypto-savvy enthusiasts.
Bold Point was created by a team of over 20 veteran game developers and it's the first high-value production from the in-house studios of Yay Games, a GameFi protocol that features its own library of games, NFT marketplace, launchpad, and incubator. Designed to offer one of the most compelling play-to-earn experiences, Bold Point counts with an intricate battle system alongside customizable 3D character models and uncharted maps to explore.  
Players can win rewards by fighting their way through hordes of monsters inside dungeons in PvE mode and craft new NFT along the way. 
There are several classes available, ranging from Tanks, Pikemans, and Mages. These characters need to be positioned and moved correctly on the battlefield to ensure the highest chances of victory. Those with the highest win percentage will make the most out of Bold Point's play-to-earn model.
Outside the battle mode, players will be free to roam around the map looking for opportunities to challenge enemies and level up their characters and equipment. Every item and character is represented by its own unique NFT, which can easily be bought, sold, or traded on YAY Games' marketplace, Loot.
Value Proposition
Easy to learn, hard to master

— an addictive and competitive gameplay principle

Free to Earn general approach

— extremely low entrance barrier for P2E type of in-game economy

YAY Ecosystem support

— native integration with LOOT Marketplace and YAY Loyalty Program
DAO-based principle behind classes, skills, and items characteristics balance. $BPT holders can affect core gameplay.
Advanced earning mechanics make the game attractive for well-known gaming Guilds and communities.
Token Utility
Bold Points' economy is built on the principle of income ~ expenses, not to cause excessive accumulation of resources for players, and enabling the prediction of players' financial status. Game currencies are divided into soft and hard, this ensures that it is possible to compensate for mistakes made in one of the economies at the expense of the other, being one of the major economic mechanics of the Cyclic Deficit.
Cyclic Deficit: As multiple currencies circulate in the game, a player always has one currency in abundance, for active spending, and one in deficit. After certain points in-game, the team swaps the currency places. Thus, the player will simultaneously feel both abundance and scarcity, which will incline players to farm more. 
But for a player not to fall into complete frustration, this mechanism will be cautiously balanced. Gradually combining the points of deficit, followed by an increase in income, again a deficit, again an income increase.
Sooner or later, game currencies will lose its value. Players will farm more and more, goods become rapidly cheaper, while the black market is blooming violently. To control this issue, the developers behind Bold Point use a variant of a "living economy", in which it is possible to both add and withdraw real money. 
BPT and YAY will be used in game for premium purchases, and will be stored in players wallets. BPT can mainly be used for accelerating progress, premium consumables and equipment, offers and restriction removal. As for YAY, it will only fit for epic consumables epic outfits, mounts, effigies and Buildings. BPT can be mined through daily achievements in the arena, resource extraction, item drops, journeys or dungeons. As on the other hand, YAY can only be mined on Territorial Battles, Global events and Legendary achievements. 
Bold Point – Market Overview
The GameFi industry keeps growing at a staggering rate, mostly due to the growing popularity of non-fungible tokens (NFTs) and the revolutionary potential of the play-to-earn (P2E) model. 
Throughout 2021, the number of active blockchain games doubled and the community grew from a mere player base of 28,000 gamers to now more than 1.3 million. While crypto markets continue to struggle in terms of price action, the GameFi industry appears to be less impacted by macroeconomic trends.
Bold Point is one of the newest blockchain games that aim to be responsible for the mass adoption of GameFi. Described as an auto-battle chess game with role-playing elements, Bold Point is one of the first play-to-earn titles to combine open-world exploration with strategic turn-based battles. 
The team behind Bold Point has made its mission to create a fun and competitive experience where players can monetize their time spent playing. The Bold Point ecosystem is designed to host thousands of gamers worldwide thanks to its proprietary sidechain technology.
Tokenomics & Vesting Schedule


Seed round: 4%
Strategic round: 12%
YAY Holders Round: 2%
Initial DEX Offering (IDO): 8,57%
Initial liquidity: 5%
Farming rewards: 5%
Game mining: 20%
BP Labs: 11,43%
Marketing: 8%
Ecosystem Growth: 14%
Team Members: 9%
Donation: 1%
Vesting Schedule
Seed round: 3 Month Cliff, 7,5% unlock, then 1% weekly linear vesting
Strategic round: 1,5 Months Cliff, 8% unlock then 1,15% weekly linear vesting
YAY Holders Round:
Initial DEX Offering (IDO): 30% at TGE then 1,75% weekly linear vesting
Initial liquidity: Fully Unlocked
Farming rewards: 2,5% monthly linear vesting starting month three
Game mining: 2,5% monthly linear vesting
BP Labs: 2,5% monthly linear vesting starting month four
Marketing: 3.2% linear vesting starting from month two
Ecosystem Growth: 2,5% monthly linear vesting starting month four
Team Members: 4% monthly linear vesting starting month 7
Donation: 4% monthly linear vesting starting month four
BOLD POINT ROADMAP


Following the creation of LOOT, and the deployment of the first Battle Demo for Bold Point, 2022 is poised to become the year of the full first release of the game.
🧿 Q2 2022 🧿
3rd release of the Ingame NFT packages

$BPT IDO on Avalaunch

Centralized and Decentralized Exchange Listing

Play to Earn Mechanics incorporated and released
🧿 Q3 2022 🧿
4th ingame NFT Package release
🧿

Q4 2022

🧿
First quarter content package release

In-game NFT items 5th package release

Bold Point Android version release

1.0 Release
Last April 14, 2022 Bold Point native token $BPT listed on Trader Joe, a one-stop decentralized trading platform on the Avalanche network.
Upon writing, Bold Point also thrilled to present Art Station Gallery, Bold Point NFT Collection. 11 digital creators were inspired by Bold Point and want to showcase their vision. Explore the NFT collection of 39 works of art in various editions, expand your collection and earn bold rewards.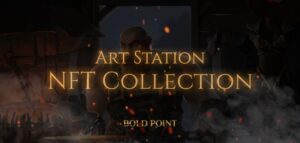 In honor of the long-awaited Bold Point release, the platform are dropping an exclusive collection of digital art! They will introduce you to eleven digital artists who have created a Non-Fungible-Tokens (NFTs) collection inspired by the game's lore.
Combining GameFi with digital artistry, each artist will present their vision of the Bold Point's universe, and two to five unique artworks will be created, each belonging to separate editions. Bold Point will be revealing one NFT Artist every three days, publishing the entire collection taking during one month. Gamers, investors, and collectors can track the publication of its artist's on the collection's website, VR gallery, and its OpenSea profile.
Bold Point invite everyone to cooperate and take part as art collectors. Unique mechanics for collectors include:
1. Every three days, Bold Point will publish the work of one artist. Before the next artist is published, you can purchase the work of the previous one and receive $BPT in-game currency as a gift. If you did not have time to buy the art within three days from the date of publication, you can purchase it at any time convenient for you, but without receiving gift tokens. All art will be divided into levels depending on the circulation. There will be unique works with a single copy and others with a circulation of up to 9 copies.
When buying one copy of art within three days from the date of publication, you will receive gift tokens depending on the level:
art in 1 copy — $45 in $BPT
art in 3 copies — $30 in $BPT
art in 5 copies — $25 in $BPT
art in 7 copies — $15 in $BPT
art in 9 copies — $5 in $BPT
2. In addition to $BPT gift tokens, you can participate in an additional draw. If within a month, users buy art and fill out the form, they will get the opportunity to participate in the prize draw from the Bold Point team. The prize draw will take place after the publication of the entire collection.
Bold Point is an NFT-based role-playing game built exclusively on Avalanche that offers a fun and competitive experience. Supported by YAY Ecosystem, Bold Point offers to its audience native integration with LOOT Marketplace and YAY Loyalty Program. Moreover, the project gives power back to the community implementing DAO and allowing $BPT holders to affect core gameplay.