CryptoNezo Orion's Swap Widget First Partner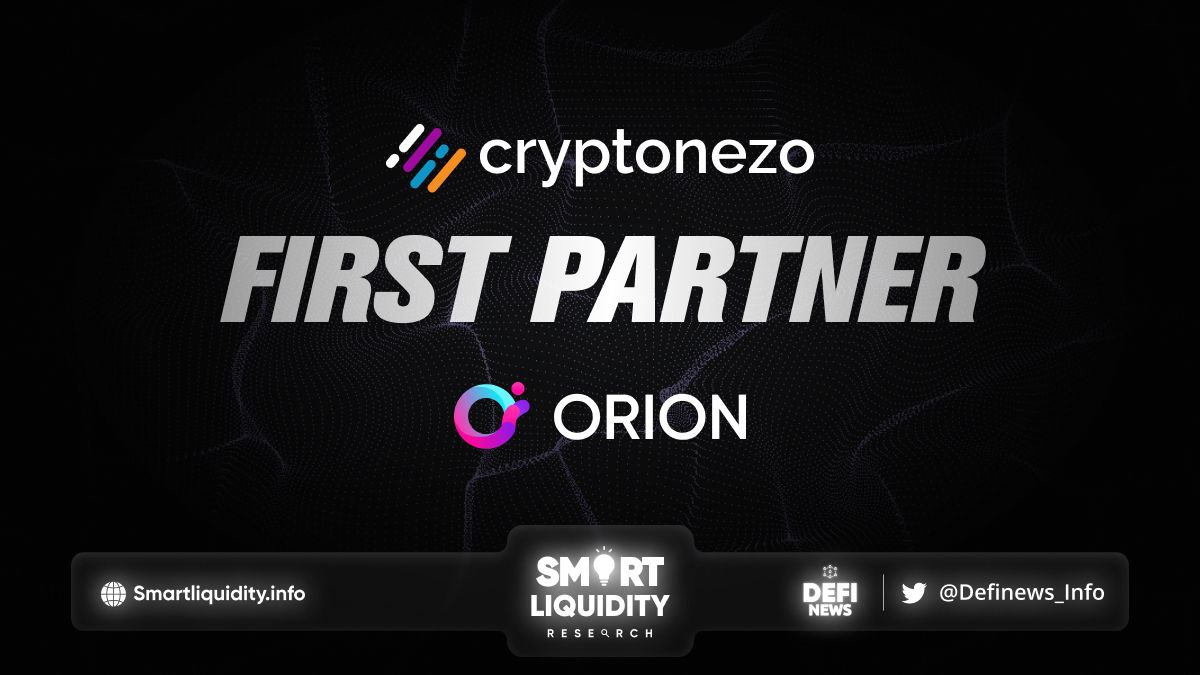 CryptoNezo, Orion's Swap Widget first partner. Orion Protocol announces Crypto Nezo, a cryptocurrency news outlet, as the first official partner to use Orion Swap Widget on their website. The integration will provide substantial liquidity and easy access to trade crypto assets directly from the Crypto Nezo site with the user's own wallet via Orion Swap Widget.
Orion Protocol aggregates the liquidity of CEXs, DEXs and swap pools into one decentralized platform, providing a decentralized gateway to the crypto market. Its enterprise solutions for crypto projects, blockchains, websites, and exchanges built on the protocol include Orion Swap Widget: providing Orion Protocol liquidity to trade crypto assets onto any website.
Crypto Nezo is part of Nezo Global, a company providing solutions within the crypto space. As well as the Crypto Nezo news outlet, Nezo Global also plans to release Nezo Hub, a DeFi project for staking, yields and swapping crypto along with trading NFTs on a dedicated marketplace.
Nezo Hub also aims to launch:
• Nezo Pad – a launchpad for upcoming projects to hold a token sale
• Lending + borrowing – a standout feature for Nezo Global
• Nezo Token – native token in the Nezo ecosystem
• Nezo Travel App – travel app using crypto currency as payment
• Nezo Market – marketplace for NFTs and more
The integration with Orion Protocol offers Crypto Nezo a unique opportunity in the space for providing CEX liquidity in a decentralized way using Orion Swap Widget. Visitors to the crypto news platform now have the option of trading their preferred crypto assets directly from the website using the Orion Swap Widget, tapping into seamless access of Orion's deep liquidity. The installation of Orion Swap Widget provides a quick and easy way of launching the product on the website in under 15 minutes.
"We chose Orion as it offers a unique opportunity in the space and that is the CEX liquidity available on a DEX including the new swap widget which we'll proudly integrate on our news platform. With this new functionality we'll serve our visitors with a quality product and a very smooth user experience." – Gabriel C. | CEO of Nezo Global
Orion Protocol's partnership with Crypto Nezo is the first official integration with a third-party website. Implementing Orion Swap Widget gives Orion growing exposure and usability of potential traders seeking to use Orion's deep aggregated liquidity; quickly, conveniently and efficiently. Each new addition of users drives further volume through Orion, as well as several avenues for marketing and scaling the awareness within the blockchain industry, and beyond.
"Launching Orion Swap Widget is an exciting time for Orion's product development as we look to provide Orion liquidity on a greater scale. Having Crypto Nezo as our first Orion Swap Widget partner, we are thrilled to see the news platform making Orion's liquidity available from their site and look forward to the team adopting more of our solutions in the future." – Alexey Koloskov | CEO of Orion Protocol
Each of Orion's Swap Widget partners have one big thing in common: the need for a decentralized trading solution conveniently placed on their website for ultra easy access. With Orion Protocol, that Swap Widget solution uniquely combines CEXs, DEXs, and swap pools in one place.
The user only needs to connect their own wallet to access this deep liquidity. Every transaction using Orion liquidity will result in a transaction on the Protocol met with regular fees, adding to Daily Protocol Volume. ORN staking rewards for Main Net Staking are generated via transactions on the protocol, and will therefore increase through B2B partnerships in the future.
ABOUT Crypto Nezo
Crypto Nezo is part of Nezo Global, a company whose aim is to add value to the Crypto world via a suite of solutions that will integrate blockchain technology into everyday life. In addition to the news outlet, we plan to release our own DeFi Project – Nezo Hub. This will allow users to stake, yield and swap crypto coins along with trading NFTs on a dedicated marketplace.
ABOUT Orion Protocol
OrionProtocolis the first gateway to the entire crypto market: aggregating every CEX, DEX, and swap pool into one decentralized platform.

RESOURCES
Orion Blog