Defina partners with GEMS Esports 3.0 Platform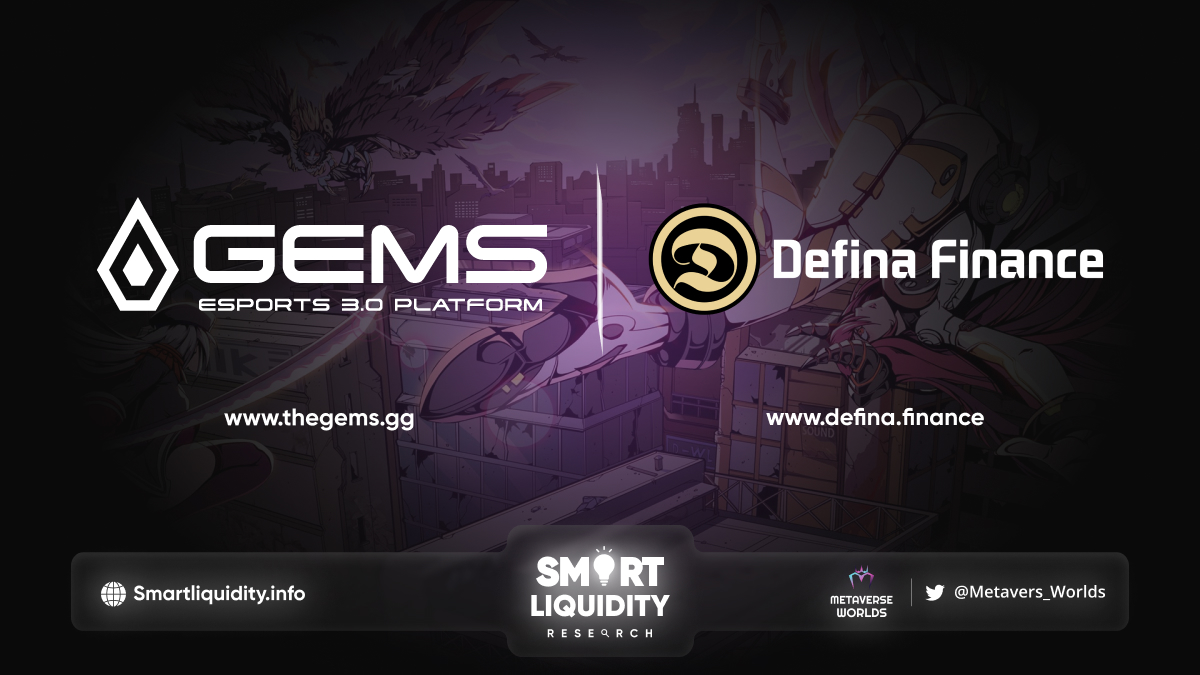 Defina has a partnership with GEMS, an Esports 3.0 aggregator platform designed to be the ultimate, one-stop GameFi destination, connecting crypto gamers both online and offline.
Defina and GEMS Esports partnership will accelerate the next step in building a blockchain ecosystem that transforms the gaming industry and brings people together through their Metaverse. Also, it will focus on technological improvements and marketing advancement, with the goal of raising brand recognition. There will be a variety of technological improvements, such as cross-platform and metaverse integration.
As a whole, they are excited and confident about this long-term partnership both Defina and GEMS established to generate substantial gains for both sides.
GEMS is an Esports, NFT, social sharing portal and O2O ecosystem designed to connect worldwide crypto-gamers and turn GameFi into the next generation of esports. GEMS has adopted the GameFi philosophy, which is basically a combination of Gaming and Finance. It is focused on leveraging all the opportunities offered by breakthrough, play-to-earn crypto games.
About GEMS
GEMS stands for GameFi, Esports, Metaverse and SocialFi.
Proudly presenting Esports 3.0, GEMS is an Esports 3.0 Aggregator Platform within a unique O2O (online-to-offline) Ecosystem. Our one-of-a-kind ecosystem is designed to be the ultimate, one-stop GameFi destination, allowing crypto and Esports gamers to learn, connect, and immerse themselves in different metaverses and GameFi worlds via online and offline touchpoints.
About Defina
Defina is an innovative blockchain gacha game that embraces NFT technology that allows true ownership of acquired game assets in the game. Players can open Mystery Boxes, collect their favourite Hero NFTs and trade them in the marketplace. Level up your Heroes, Build amazing teams, Combat in PVP Arena and Battle Vrykos to save humanity from the brink of destruction! Defina's vision is to bring blockchain to millions of players, allowing them to explore a new form of gaming through blockchain technology. Come join us as we build the Defina Metaverse together!
SOURCE: https://defina-finance.medium.com/defina-partners-with-gems-esports-3-0-platform-5a6aa4057e20