Lisk Desktop Wallet v2.3.0 Released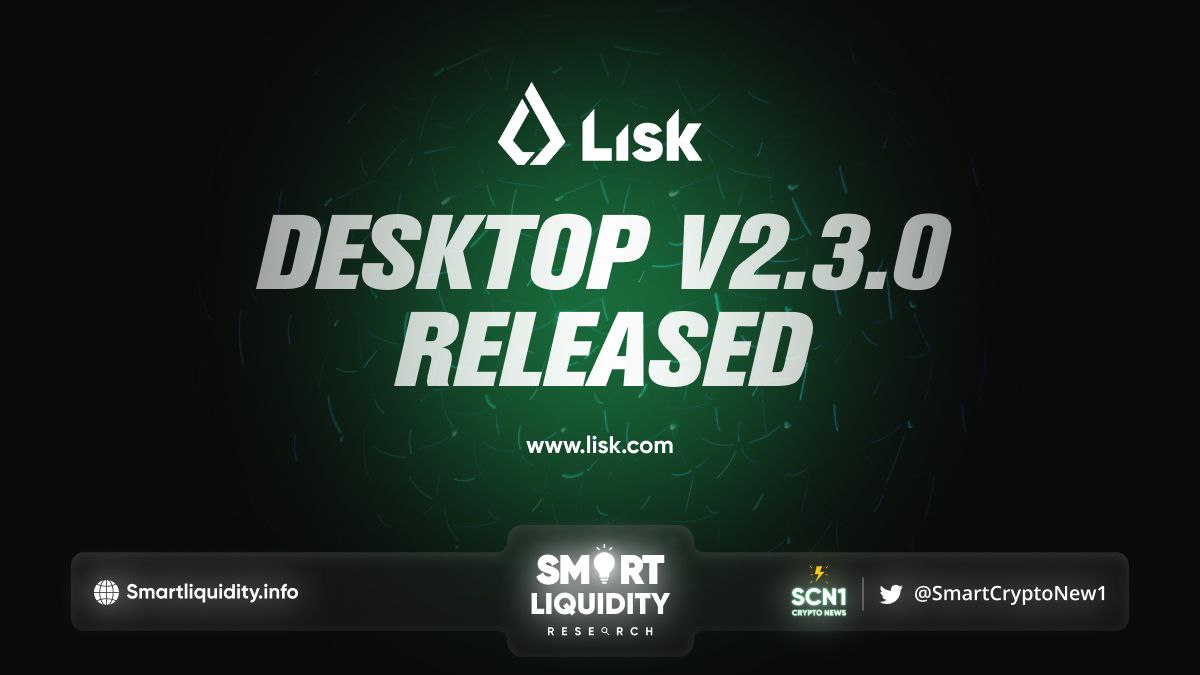 Lisk desktop wallet v2.3.0 released with enhance features. Lisk is available on desktop and mobile, focusing both on best user experience and security. Creating a Lisk account is your first step in benefiting from blockchain technology. With your account, you can securely hold LSK tokens as well as send, request, and receive them.
Fully featured Lisk blockchain explorer has been added into the desktop version of Lisk. You can explore the decentralized network, monitor any wallet, block or transaction and inspect delegates.
LISK DESKTOP WALLET FEATURES:
Manage your account
LSK support
Send and receive transactions
Create bookmarks
Hardware wallet support
Participate in voting
Monitor the network
This version introduces multiple design improvements, and fixes certain issues identified in v2.2.0. In addition, it also enables users to send zero LSK.
FEW UPDATES INSIDE LISK ECOSYSTEM
Proof of Authority Consensus for Sidechains
In preparation for Lisk SDK v6, the research team published an article titled Proof-of-Authority Consensus for Sidechains. The Proof-of-Authority (PoA) consensus will be a second option for sidechains to utilize alongside Delegated-Proof-of-Stake (DPoS).
PoA works similarly to DPos where block slots are grouped in rounds, and at the beginning of each round, the block generators are selected. However, unlike DPoS, where block generators are chosen by vote weight, PoA blockchains maintain a set of authorities eligible to generate blocks. Each active authority will be assigned one block slot in which they can then generate a block.
New Lisk Improvement Proposals (LIPs)
This month the research team proposed two new LIPs on the Lisk Research Forum, which are Disallow Non-required Properties in Lisk Codec, and Define Mainnet Configuration and Migration for Lisk Core v4.
Disallow Non-required Properties in Lisk Codec – Defines a stricter version of Lisk codec by requiring that every schema property be marked as required. This simplifies the rules significantly and makes the serialization method much less error-prone without implying any change in the current Lisk SDK implementation.
Define Mainnet Configuration and Migration for Lisk Core 4 – Defines the configuration of Lisk Core v4, including the selection of modules and the choice of some configurable constants. Moreover, it defines the migration process from Lisk Core v3 to Lisk Core v4.
New Grant Program Participants
With the conclusion of Wave 3 of the Lisk Grant Program, Lisk is pleased to announce 4 new blockchain applications entering the ecosystem:
The Lisk Marketing team attended the Paris Blockchain Week Summit (PBWS), which was held from April 12th to the 14th. The event had over 3,000 attendees and more than 250 speakers.
New Exchange Listing
In April, the LSKisk token was listed on the Onus exchange. LSK trading pairs on Onus include both USDT and VNDC. You can read more about this listing in the Onus Press Release.
In addition to this listing, we were pleased to announce that BitPanda resumed operations of deposits and withdrawals for LSK as well.
ABOUT Lisk
Lisk is a blockchain application platform with an SDK providing developers with a set of tools making the process of creating blockchain applications easy. Lisk enables developers to build applications as well as deploy a side-chain linked to the Lisk network that includes a custom token. Lisk empowers developers with a software development kit for blockchain applications and is working on an interoperability solution that will in turn let everyone seamlessly use it on the platform.
RESOURCES
Lisk Announcements