Moon Rabbit and Polygon Studios Partnership For Longevity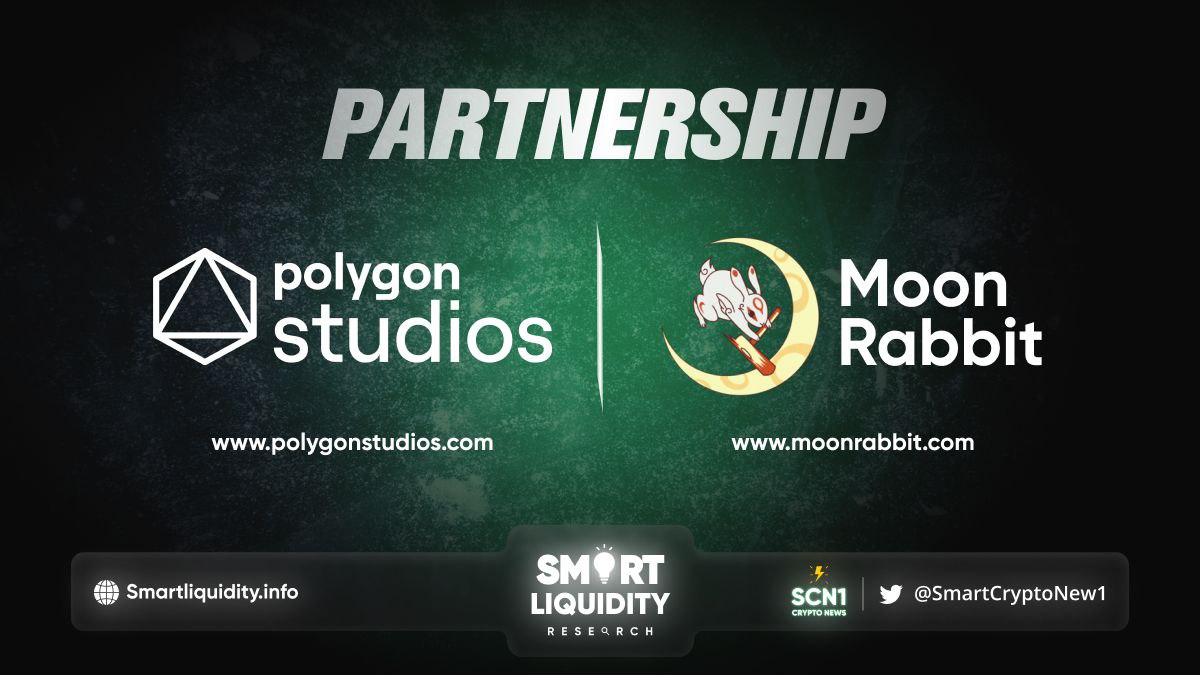 Moon Rabbit and Polygon Studios partnership for Longevity has been created. Polygon Studios, is the metaverse, NFT, and crypto gaming hub of the L2 blockchain, based on Polygon Network. Originally launched to connect and grow Ethereum projects and blockchains, Polygon uses a modified proof-of-stake consensus mechanism to efficiently operate the platform.
Polygon Studios is working to build strong Web3 communities inside of the Polygon ecosystem by highlighting great new upcoming projects. Moon Rabbit is working with Polygon Studios to position its platform in front of Polygon's community of Web3 enthusiasts. 
Furthermore, Moon Rabbit has connected the main net and Moon Rabbit's own EMV to this blockchain framework. As a result, Moon Rabbit creates more pairs within the Polygon network the amount of cross-chain token transfers without third-party risks or market liquidity limitations will grow exponentially.
Upon writing, Moon Rabbit has already begun actively using Polygon and has created Polygon pairs in both USDT and USDC. As a result, Polygon is now strengthening the Moon Rabbit network and acts as an entry portal for the Polygon network to integrate with Moon Rabbit.
Actually, Polygon adds a massive amount of reach to the Moon Rabbit ecosystem. Operating on top of the Ethereum network, Polygon gives Ethereum-based projects access to more flexibility, scalability, security, and sovereignty without losing the interoperability, and structural benefits of Ethereum.
Any Polygon-connected project has automatic integration into OpenSea and some may not know this, but like Moon Rabbit, Polygon has full Chainlink integration allowing the connection of pre-existing infrastructure and data of the outside world offering even further real-world and cross-chain interoperability. Polygon is able to fully utilize the Ethereum network while being inherently more secure, open, and powerful.
Moon Rabbit and Polygon are alike advancing the Web3 space by supporting ventures, developers, and projects. Through "Polygon Studios", Polygon is doing an excellent job of establishing itself as a leading technology provider for decentralized gaming and NFTs having already partnered with Ubisoft, EA, and Atari.
BRIEF INFORMATION ABOUT LONGEVITY DAO
Moon Rabbit's flagship project is Longevity DAO which aims to build a robust Longevity ecosystem using best practices of crypto and web3 technologies. The project's identity is deeply rooted in the Asian folklore of the Moon Rabbit. It deals with the long-standing captivating search for eternal life. Moon Rabbit intends to incentivize researchers and entrepreneurs in the longevity space to spur R&D that could unlock the secret to immortality.
Longevity DAO has a thesis that aging is a disease. It can only be beaten by developing areas of longevity that are currently viewed as experimental and radical. Radical aging prevention is currently an overlooked niche, yet it offers the biggest potential for life extension. Longevity DAO will be providing various resources and acceleration to these startups. In exchange, they will only be using $AAA as the exclusive cryptocurrency for the sale of their goods and services.
 Moon Rabbit offers the following benefits to longevity startups:
Crowdfunding — provides the technical framework for white label blockchain launch as one of Moon Rabbit's Jurisdictions.
Crowdsourcing — providing instant incentive model rewarding quality data or model submissions.
WEB3 Database — scalable, secure distributed networks for sharing, processing, and storing data with sovereign ownership, meta-jurisdictional exchange, privacy preservation, and immutability.
Foresight Institute, the world's leading Longevity research institution. Works closely with top scientists in the world of longevity. Foresight Institute is welcoming Web 3 with open arms. In this case, Moon Rabbit is expecting an influx of longevity professionals who want to maximize their potential. By utilizing the longevity DAO and the rapidly growing Moon Rabbit ecosystem will unlock the full potential of crowdfunding, crowdsourcing, and web3 data processing and storage.
As a matter of fact, Moon Rabbit has built the world's first Metachain. A system connecting all blockchains and distributed protocols, permitting seamless transfers of any digital assets or data. Its mother chain is powered by Temples that secure and validate multiple Jurisdictions, unique distributed ledgers, and protocols in parallel, allowing specialization and massive scalability.
Moon Rabbit operates a mother chain Mount Olympus that consistently interfaces with unique blockchains and networks called Jurisdictions, serving as their central communications and security hub. Additional connections are made via Portals
Not to mention, Moon Rabbit's Defi arm is a decentralized space. It facilitates the transfer of data and scientific cooperation like never seen before. Combined with Foresight Institute's thirty years of life extension research, Moon Rabbit is creating a space for these technologies to freely grow. As Moon Rabbit's ecosystem grows so does Foresight Institute's ability to connect with and support leading young scientists, engineers, and innovators working on emerging new technologies.
Falling perfectly in line with the Foresight Institute partnership, Chainlink integration, and Moon Rabbit's own EVM, Polygon gives access to even more routes for connecting the multi-chain world of Defi and Web 3.
In addition, the Moon Rabbit network continues to grow in partnerships and integrations. Enabling the Longevity DAO and creating a robust MetaChain. In short, is a chain of chains or systems of systems. This is where all blockchains and distributed protocols can seamlessly connect and interact. Therefore, Web 3 infrastructure is the future of AI, big data, machine learning, and blockchain development. Integrating further into daily lives, Web 3 continues to disrupt the authorities by providing equal access to decentralized trustless platforms. In other words, built on top of Web 3, Moon Rabbit prominently places itself as the central substrate interconnecting all.
ABOUT Moon Rabbit
Moon Rabbit is a distributed crypto-conglomerate. Constituting a system of systems. Uniting all distributed ledgers and cryptocurrencies in the ultimate cross-chain protocol, a Metachain.
ABOUT Polygon Studios
Polygon Studios is the Gaming and NFT arm of Polygon. Focused on growing the global Blockchain Gaming and NFT industry. Bridging the gap between Web 2 and Web 3 through investment, marketing, as well as developer support.
RESOURCES
Moon Rabbit