Curve Finance Integrates Aurora Network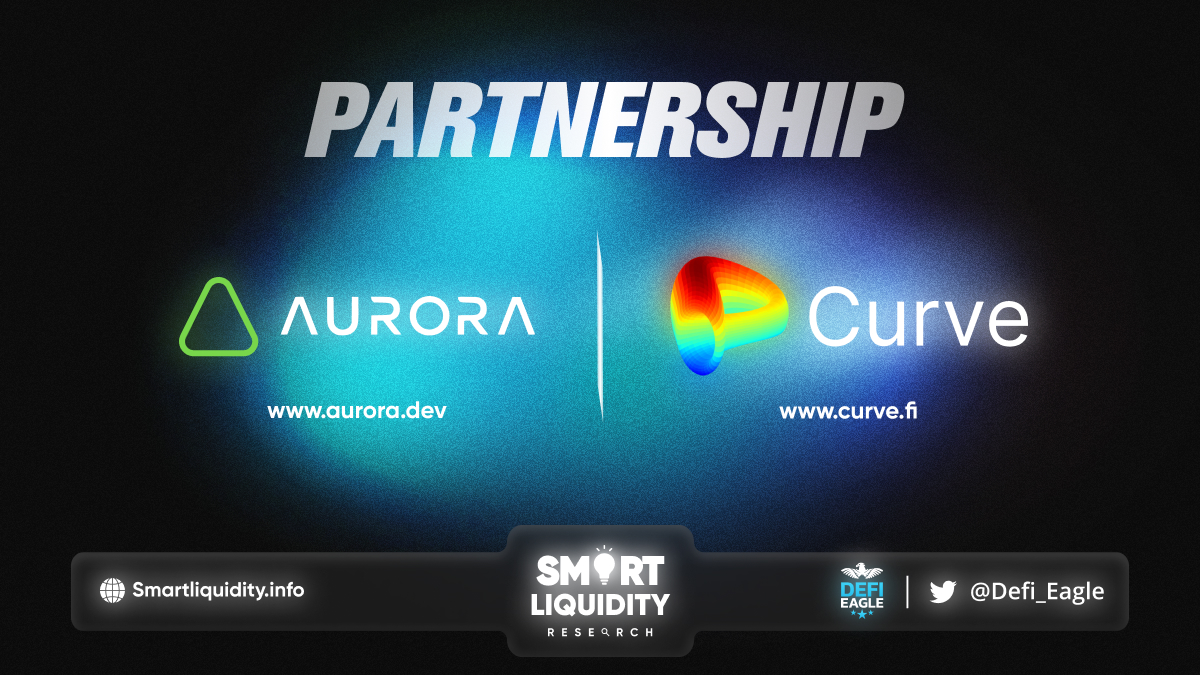 Curve Finance integrates Aurora Network to allow users connect to Aurora on Ethereum wallets when using Curve, and enjoy deep liquidity pools without the high gas fees.
Aurora recent achievements
Firstly, Aurora has witnessed the quickest growth in the recent month, crossing the $1.3b mark in TVL and reaching the Top 11 networks on DeFi Llama. Secondly, this ecosystem has more than 100 projects and 100 relayer nodes, with one of the most secure and innovative bridges between Ethereum, Aurora, and NEAR native.
Why is the integration necessary nowadays?
The integration of Curve on Aurora comes at a critical time, with the burgeoning of bluechip DeFi protocols on Aurora, such as Aurigami, Bastion and Trisolaris, on one hand; and the deployment of market-leading bridge solutions, such as Multichain, Synapse, and Wormhole, on the other. Also, Curve's industry standard stableswap function will add a layer of DeFi composability and liquidity to the Aurora DeFi ecosystem.
At the same time, better position Aurora in an increasingly multi-chain world, allowing it to connect with other ecosystems via the transfer and exchange of pegged assets in its stablecoin, $wBTC, and $wETH pools.
Integration details
In light of this integration, NEAR's DeFi hub, Proximity Labs, will allocate up to $7.5M in grants to Curve to help establish their presence in the Aurora ecosystem. Moreover, the synergy between Curve and Aurora will further accelerate the growth Aurora.
About Aurora
Aurora is an EVM built on the NEAR Protocol. It is delivering a turn-key solution for developers to operate their apps on an Ethereum-compatible platform. Aurora's main features include:
Fully compatible EVM for fast deployment of Solidity smart contracts;
Horizontal scaling possibility thanks to NEAR Protocol's dynamic resharding;
High throughput (x10 increase in transaction throughput comparing to Ethereum);
Fast confirmations (Transaction execution takes only 1-2 seconds in Aurora);
x1000 reduction in gas costs;
Trustless bridge architecture between Ethereum and Aurora / NEAR.
About Curve
Curve Finance is DeFi's leading automated market maker (AMM), whose stableswap formula sets the industry standard. Curve enables the high-liquidity, low-fee, low-slippage swaps between stablecoins. These stablecoins are $USDT, $DAI, and $USDC, as well as other core mERC-20 assets such as $wBTC and $wETH. With around $21b in TVL today, Curve is one of the key cornerstones of the multi-chain ERC-20 economy.
SOURCE:
https://aurora.dev/blog/curve-finance-integrates-the-aurora-network