LunaFi is coming to SX Network!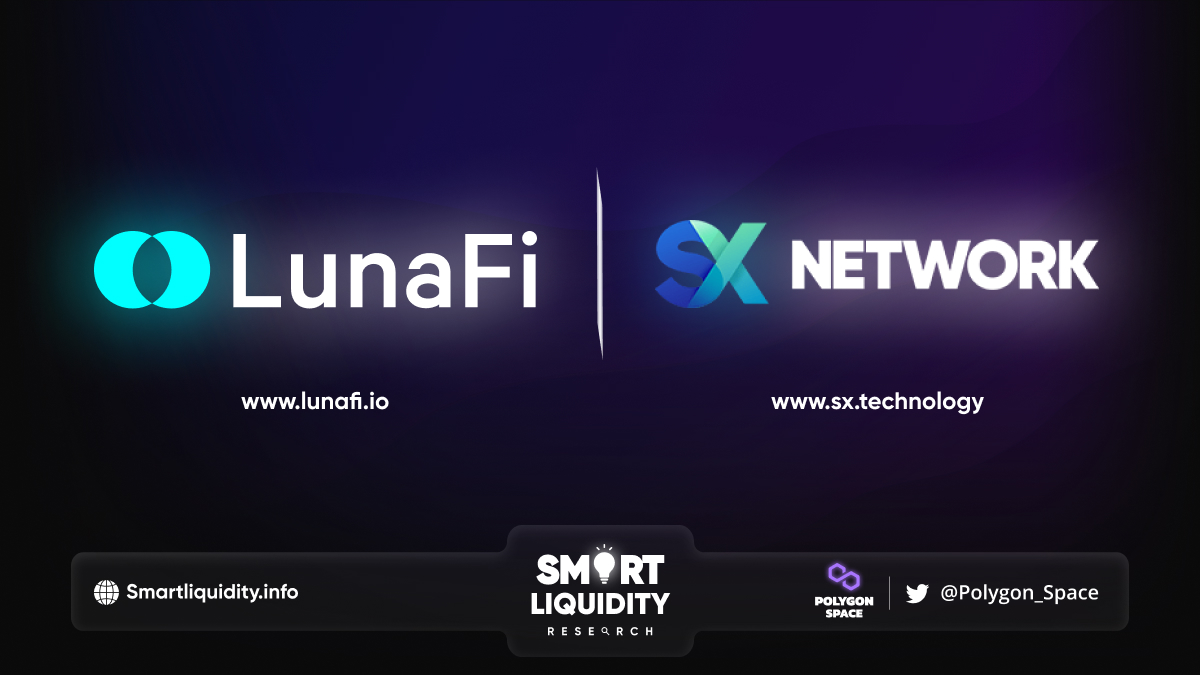 LunaFi is bringing their unique blockchain sports betting pools and casino games to SX Network!
SX Network is pleased to announce that LunaFi and their Lunabets platform will be deploying on SX Network!
LunaFi further helps establish SX Network as the dominant blockchain betting market ecosystem. SX Network provides a significant opportunity for LunaFi and Lunabets to scale and establish market share within a community of thousands of concurrent users and across several interrelated dApps and protocols.
What is LunaFi?
LunaFi is a decentralized betting protocol that also allows you to invest in the house, while guaranteeing that user bets are paid out correctly, on time — every time. LunaFi allows you to provide liquidity to the house pools that take the bets, meaning that when the house wins, you do too. By decentralizing betting, liquidity providers and bettors are able to interact seamlessly through smart contracts with zero human interference.
The smart contract ensures that the platform is completely safe for both parties — limiting the risk to only the bet, not the platform. Not only can you provide liquidity to the house, but you can also bet through their flagship non-custodial sports book and casino — Lunabets.
$LFI Token
$LFI is the governance token of LunaFi. Buying and staking $LFI gives you governance over the platform as it grows and reaches more users. Staking $LFI also gives you voting rights around key decisions that govern the project's future while earning a share of staking rewards.
As a part of our close collaboration with the team at LunaFi, they will be airdropping $100,000 of $LFI to SX token holders. To qualify, SX.Bet platform users must have bet at least $100 on SX.Bet by June 1st 2022. LunaFi is expected to launch its token on the 8th of June 2022.
Furthermore, to strengthen the SX Network<>LunaFi partnership, a $600,000 liquidity pool will be permanently held in the SharkSwap treasury ($300k SX & $300k LFI). This will be added to the LFI-SX trading pair and the LP tokens will be locked to ensure they stay there forever. The pool will be further incentivized with an additional $50,000 of $LFI & $50,000 of $SX, which will form an initial 3-month liquidity mining campaign.
George Porchester, LunaFi CEO: "The SX Network offers a major opportunity for LunaFi and the Lunabets dApp to scale and establish market share, and we are thrilled to partner with them. As a market leader in the online betting and gaming markets, implementing their layer-two solution for Polygon will help drive LunaFi's success"

Andrew Young, SX Network Project Lead: "We're thrilled to have the LunaFi and the Lunabets platform on SX Network. Lunabets will be a great addition to the SX Network ecosystem, giving bettors an exciting new betting market to tap into. Bringing on innovative betting platforms like Lunabets helps SX Network fulfill its vision of creating the world's deepest blockchain betting and prediction market ecosystem."
About SX Network
SX Network will be the first public blockchain to combine a smart contract platform with an on-chain community treasury and a native prediction market protocol. SX Network is a stand-alone smart contract blockchain built with Polygon Edge. It is designed from the ground up for blockchain application developers with EVM-compatibility, low-cost transactions, and a PoS-based consensus model.
SOURCE: https://medium.com/sportx-bet/lunafi-is-coming-to-sx-network-149db2313950