CLV Organises Joint Campaign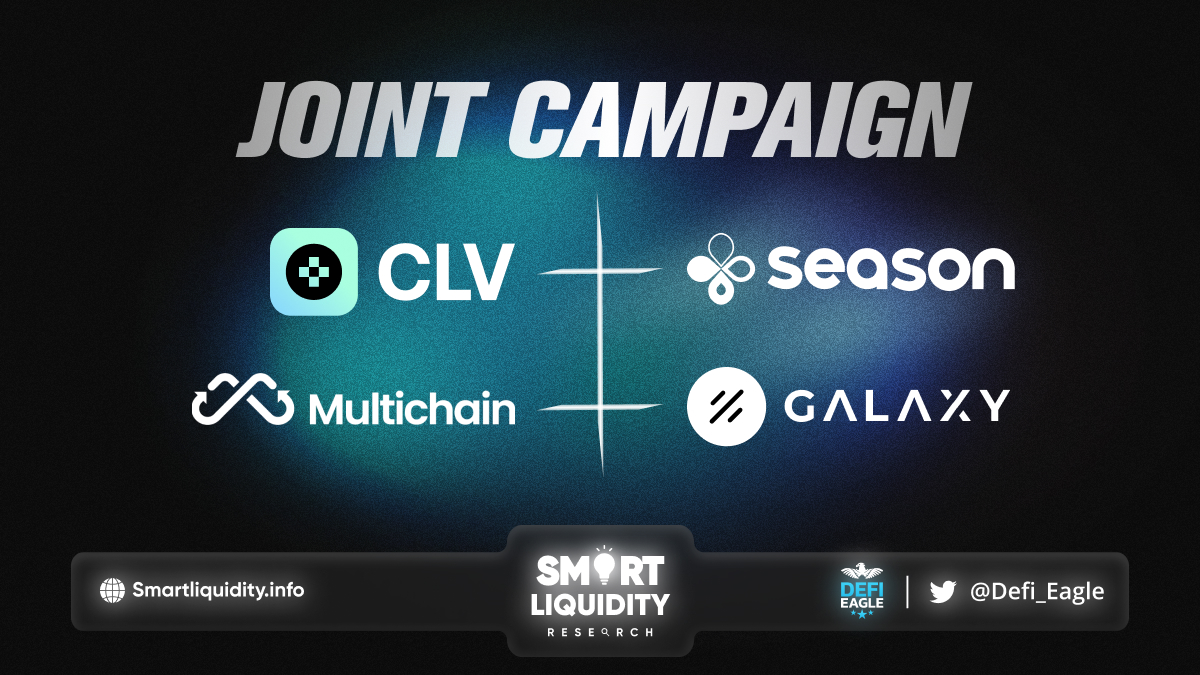 Above all, CLV organises Joint Campaign so users gain a share in the $35,000 worth of CLV reward pool and win OG NFTs.
Firstly, Multichain & CLV crosschain
How to participate
Bridge specified assets of the specified public chain to Clover parallel chain to receive a $CLV token reward via Multichain– (https://app.multichain.org/#/router)
Requirements
Specific assets:ETH/USDT/USDC/BUSD/DAI/MULTI (free fee)
Specific chain:ETH/BSC/Fantom/Polygon
Event Timeline
May 11, 2022 |10 AM UTC — May 17, 2022 |12 AM UTC
Event Rewards:
🎁Lucky Reward: 3000 $CLV (1000 $USDT) * 5 users
🎁Super Airdrop: 2,000 $CLV (600 $USDT) * 20 users
Top 20 users with a single cross-chain asset value of $1,000 or more will receive a $2,000 CLV super airdrop each.
🎁Random Airdrop: 500 $CLV (150 $USDT) *120
They will randomly select 120 lucky users who have a single cross-chain asset of $100 or more, and each will receive a $500 CLV token airdrop.
Rules:
Cross-chain assets must be stored in the CLV parallel chain until the end of the campaign.
You can only participate once.
Secondly, SeasonSwap & Experience Campaign (Win OG NFT)
How to Participate:
Complete "Multichain X CLV joint campaign activity"
Perform three token transactions on SeasonSwap (seasonswap.com)
The amount of each transaction must be ≥ 100 USD to earn SeasonSwap OG NFT * 500
Event Timeline
May 11, 2022 |10 AM UTC — May 17, 2022 |12 AM UTC
Event Rewards:
🎁SeasonSwap OG NFT * 500 Users
🎁 Project Galaxy Joint NFTs
Rules:
Must participate in "Multichain & CLV Joint Campaign" and complete the mentioned tasks.
About CLV
CLV (previously Clover Finance) is a one-stop infrastructure platform for cross-chain and decentralized applications.
In addition, the CLV chain is a Substrate-based specialized Layer 1 chain that is EVM compatible and cross-chain interoperable. The CLV wallet is a multi-chain all-in-one wallet, for Day-to-Day, DeFi, and Gaming purposes.
Also, featured by Coinlist as one of the most noteworthy projects in 2021 and backed by major industry institutions such as Polychain Capital, Alameda Research, Huobi and OKex's Ventures Arm, with multi-dimensional products lineup, CLV uniquely positioned itself as "Passport to the Omniverse".
SOURCE:
https://medium.com/@clv_org/clv-x-multichain-x-seasonswap-x-project-galaxy-joint-campaign-b4d053d85671