Partisia & TrustSwap FlashLaunch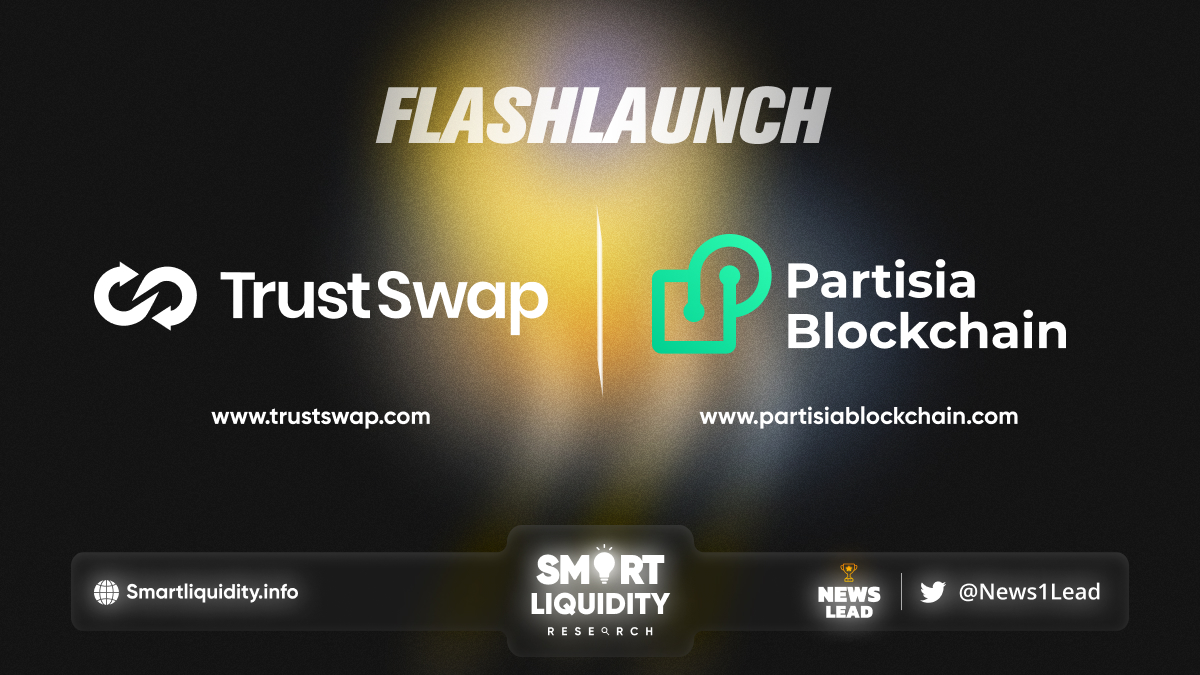 Partisia

&

TrustSwap

FlashLaunch – the launch of Parisia's $MPC token on the TrustSwap Launchpad beginning on May 19th, 2022 at 5pm UTC.
Solving The Problems With Blockchains
So far, existing blockchains have been unable to offer interoperability, scalability, and privacy all at one time. By incorporating ZK computations into their blockchain, the Partisia Blockchain team can solve this problem by adding the missing link.
Many blockchain projects have tackled interoperability and scalability and made progress on those fronts while failing to provide adequate privacy to users. The lack of privacy in blockchains has prevented many newcomers from joining the crypto space and becoming blockchain users.
By creating a blockchain that provides interoperability, scalability, and privacy, Partisia Blockchain can attract users who have avoided blockchain due to privacy concerns, thus furthering mass adoption.
Participation and Allocation
Each FlashLaunch will have a set individual Public Round allocation of exactly $750 per person.
Anyone who registers during the 24-hour FlashLaunch window will be eligible for an entry to receive an allocation as long as they have either 4000+ SWAP actively staked or a SwapScore of at least 2500 when the FlashLaunch starts.
Applicants can apply to the FlashLaunch during the 24 hours between 5PM UTC on the launch day and 5PM UTC the following day at https://dashboard.trustswap.com/app/launchpads.
Once all applications registered, a specific number of entries will be assigned to each participant based on their SwapScore or Staked $SWAP, whichever is higher. The snapshot will be taken at 5PM UTC on May 20th, 2022. SWAP must be actively staking at that time to be counted as staked.
There will be a random drawing for the $750 allocations.
Each person can only win once per FlashLaunch.
KYC verification is need and jurisdictional restrictions apply.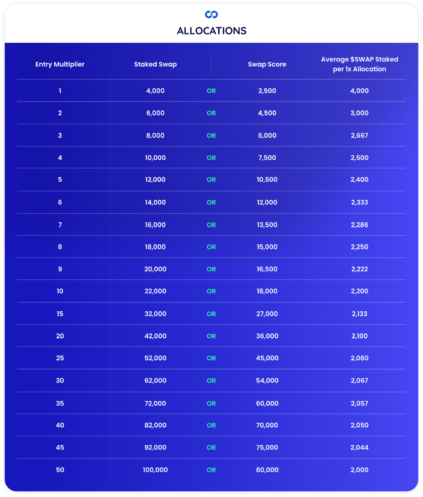 Step-By-Step Guide
At any time between 5PM UTC on May 19th and 5PM UTC on May 20th (24 hrs), go to https://dashboard.trustswap.com/app/launchpads and click the blue button to fill out the application form. In addition to filling the form, you also need to submit the KYC at https://kyc.partisiablockchain.com/ . The link to submit KYC is LIVE. Interested participants can submit their KYC without the need to wait till the 19th of May. However, they must still fill out the pledge form on TrustSwap Dashboard.
Applicants will have number of entries into a random drawing relative to their staked SWAP/SwapScore (see the above chart for details).
Winners of the draw, totaling 666 in number, will get via TrustSwap's Dashboard Messaging System with payment instructions.
An additional 300 people selected in the drawing will be on 'stand-by' and will have the first option to participate if there are any unsold tokens after the initial rounds are complete.
About 

Partisia Blockchain 
Partisia Blockchain focuses on addressing the existing problems with blockchain technology. These problems include a lack of confidentiality and privacy. Although others have attempted to address the privacy problems on blockchains, Partisia Blockchain will provide a unique solution. Partisia Blockchain is offering Zero-Knowledge (ZK) computations on-chain, off-chain, and across blockchains. ZK computation adds privacy and confidentiality to blockchains while allowing them to remain decentralized.
About TrustSwap
TrustSwap provides DeFi tools for token holders & businesses to buy, trade, create, and secure crypto assets with confidence.
SOURCE:
https://trustswap.com/blog/partisia-announces-may-19th-flashlaunch-on-trustswap-launchpad/