ScoreFam Integrates Chainlink Data Feeds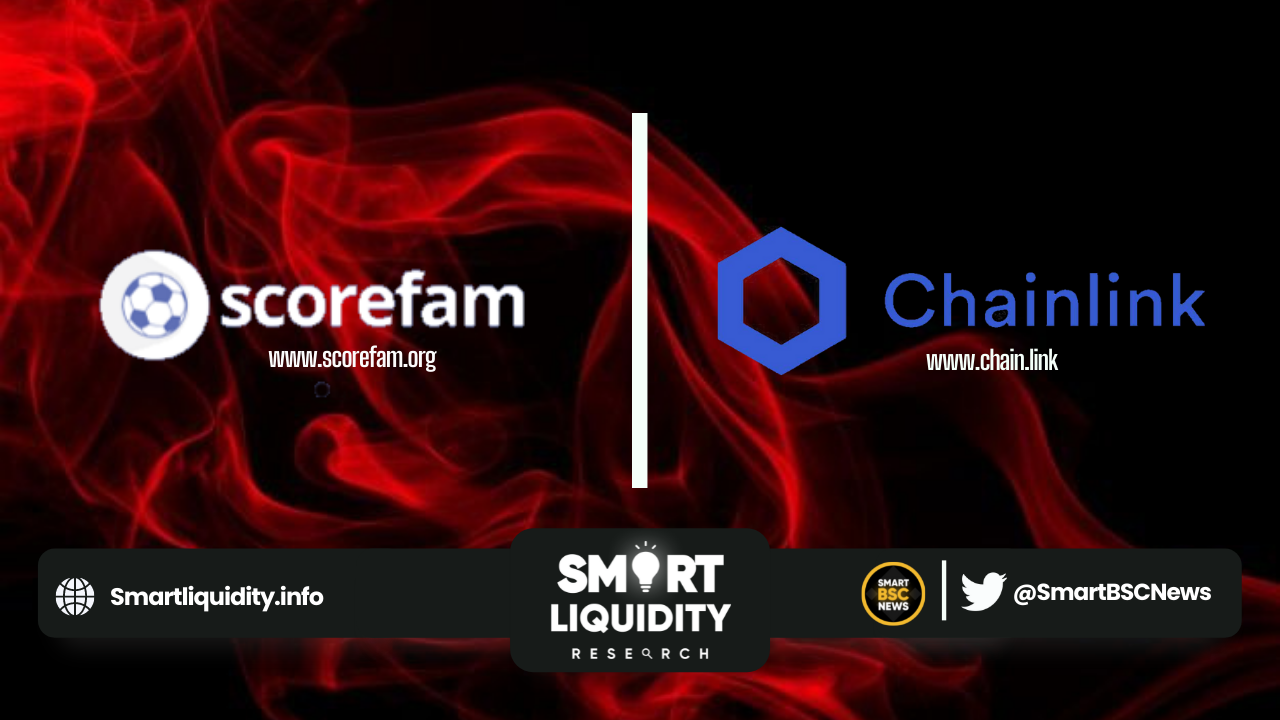 Scorefam integrates Chainlink DataFeeds providing their platform with football results and fixture information.
Scorefam is creating a new and exciting wat for sports lovers to earn. In other words, they engaging on their favorite sporting and gaming events on a decentralized platform. Therefore announcing the ScoreFam Integrates Chainlink DataFeeds.
By integrating the industry-leading decentralized oracle network, Scorefam now has seamless access to real-time football data needed to power their prediction markets.  Having accurate details of football matches such as match outcomes, current and upcoming fixtures, and player statistics.
Choosing Chainlink
Chainlink as their go-to oracle solution because its infrastructure is seamless to integrate and time-tested in production. Already helping secure leading DeFi protocols responsible for tens of billions of dollars in smart contract value. Chainlink has a proven history of reliably delivering data of all types to blockchains. It is widely used by applications that require off-chain data or computation services.
Scorefam is on a mission to bridge the gap between the blockchain sphere and the football world. In order to achieve this goal, Chainlink is using blockchain technology to power a gaming platform. Giving their users a degree of anonymity and total ownership over their assets. Accessing data from Enetpulse through the Chainlink Network allows them to update their platform with the latest football results. Of course in a highly secure and timely manner
Providing users using Chainlink
To help provide their platform with football results and fixture information, they needed seamless access to off-chain data feeds that are supplied directly on-chain in a highly reliable manner. Because blockchains are natively incapable of accessing off-chain data, they needed a flexible oracle network that could reliably and flexibly deliver high-quality data on-chain to be consumed by our application. In conclusion, they chose to integrate Chainlink to get access to high-quality, real-world sports data.
"The Enetpulse sports data that we access through Chainlink is an essential part of our platform and helps power the mechanics of our game in a highly secure and reliable manner." — Simisoluwa Adeyemo, Co-Founder and CEO of Scorefam
About Chainlink
Chainlink is the industry standard for building, accessing, and selling oracle services needed to power hybrid smart contracts on any blockchain. In addition,  Chainlink oracle networks provide smart contracts with a way to reliably connect to any external API and leverage secure off-chain computations in which for enabling feature-rich applications.
About Scorefam
Scorefam is the space for crypto and sports lovers. Moreover, the platform that connects sports lovers to the plethora of benefits that blockchains provide such as full ownership of assets, anonymity, transaction speed and so much more.
SOURCE
https://blog.scorefam.org/scorefam-integrates-chainlink-data-feeds-to-help-secure-its-soccer-prediction-markets/