Venus Mini Program on Binance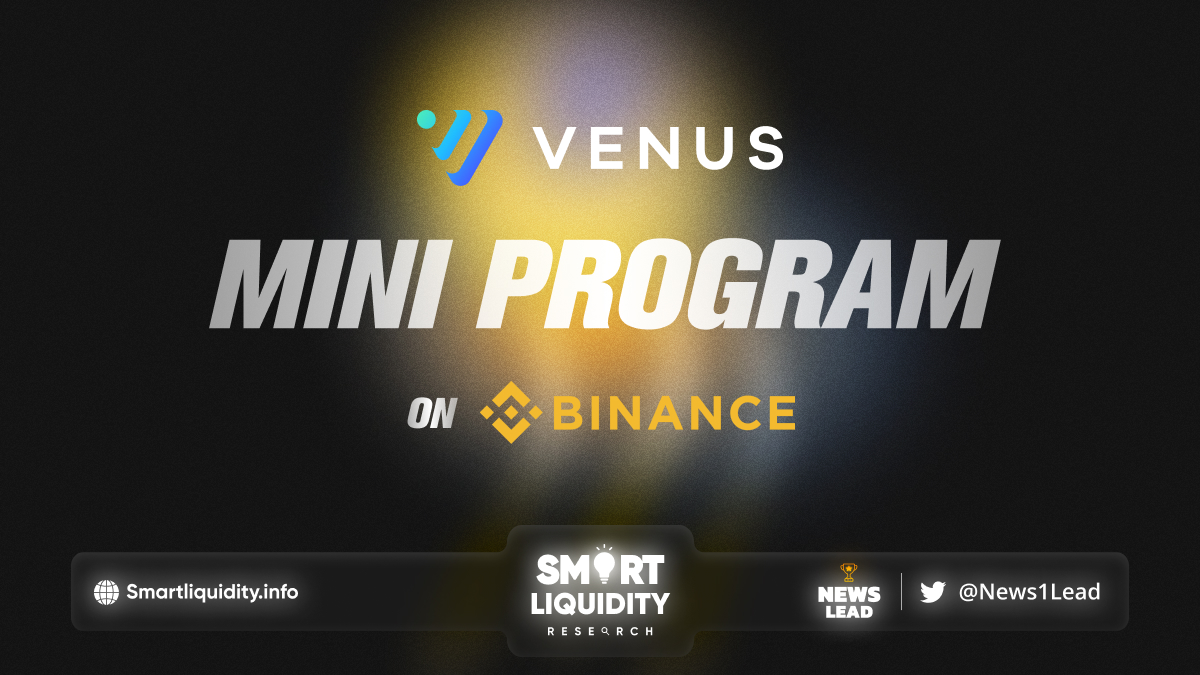 Venus

Mini Program on

Binance

to bring

decentralized borrowing and lending into the

Binance App.
Introducing Venus Protocol Mini Program
The Venus Protocol Mini Program opens the door to a seamless decentralized borrowing and lending experience for Binance users. Through the Binance App, Binance users gain direct access to Venus Protocol. They are able to seamlessly access the features and benefits of the Venus Protocol directly within the Binance interface, without needing to close the mobile app or switch to other platforms. 
Brad Harrison, CEO at Venus Protocol, said: "We are proud to partner with Binance to bring the benefits of the leading borrowing and lending platform on BNB Chain to millions of Binance users. By widening the accessibility to Venus Protocol's DeFi offerings and minimizing the learning curve into DeFi for users, we are optimistic that this partnership will facilitate greater DeFi adoption globally."
Mini Program in details
Earlier this year in March, DeFi projects began to be integrated into the Binance ecosystem, starting with the PancakeSwap Mini Program.
Mayur Kamat, Head of Product at Binance, said: "DeFi offerings, with its breadth and excitement, have been seeing increased interest and adoption globally. Yet, significant barriers to entry still exist. Our goal is to make these exciting use cases easily accessible for our users. With the addition of Venus Protocol, the DeFi experience that users can get on the Binance App is greatly enriched."
Benefits for users
All Binance users can access the Venus Protocol Mini Program with Binance DeFi Wallet. Users can access the Binance DeFi Wallet from the latest version of the Binance App. Therefore, the goal is to create a DeFi wallet, transfer funds, and use DApps such as PancakeSwap and Venus Protocol. 
The Binance DeFi wallet experience simplifies the onboarding and fund transfer process for new users. Also, it's making it very easy to switch between Binance and DeFi. Without worrying about selecting certain blockchains or copy/pasting the right addresses. 
About Binance
Binance is the world's leading blockchain ecosystem and cryptocurrency infrastructure provider with a financial product suite. It includes the largest digital asset exchange by volume. It features an unmatched portfolio of crypto products and offerings.
About Venus Protocol
Venus Protocol is a fast, low cost, decentralized lending platform that lives on the BNB Chain. At its core, Venus is a money market protocol that enables lenders to provide loans to generate yield on their tokens and borrowers to take out loans using $XVS and a variety of other currencies as collateral. 
Venus differs from other money market protocols through both its ability to borrow other crypto assets and also its ability to mint synthetic stablecoins with over-collateralized positions backed by a basket of cryptocurrencies to protect the protocol.
SOURCE:
https://www.binance.com/en/blog/ecosystem/venus-protocol-mini-program-brings-decentralized-borrowing-and-lending-to-the-binance-app-421499824684903876?ref=AZTKZ9XS&utm_source=BinanceTwitter&utm_medium=GlobalSocial&utm_campaign=GlobalSocial