Ruby.Exchange on Impossible Pop Quiz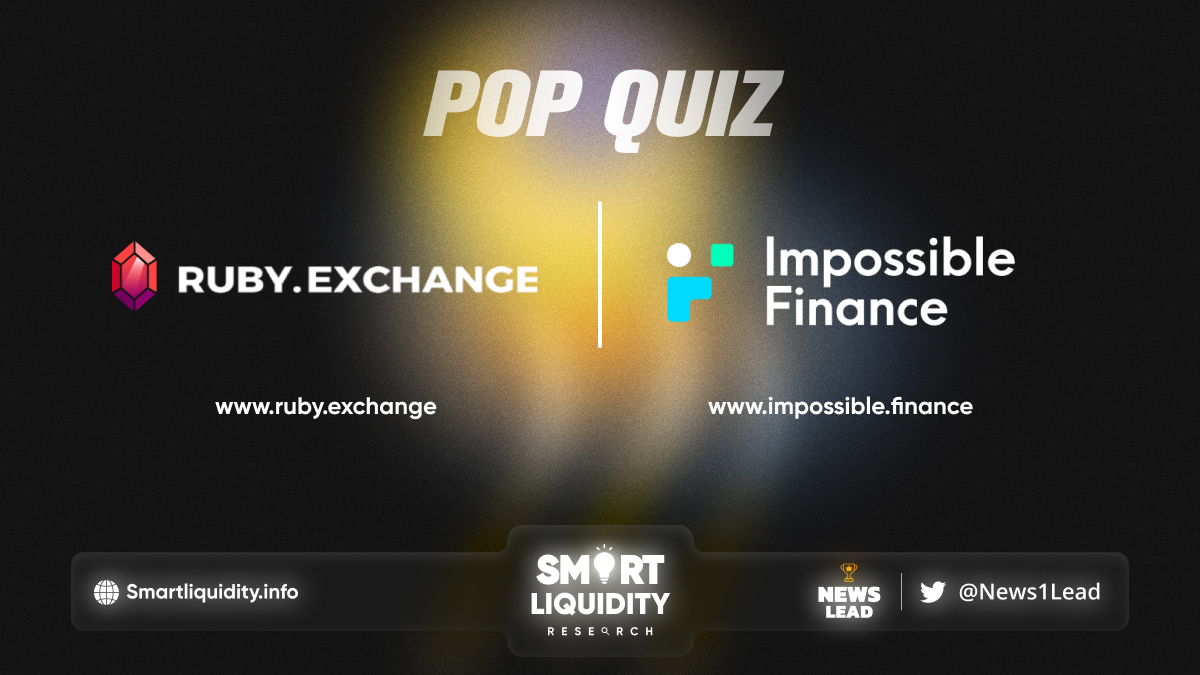 Ruby.Exchange

on

Impossible

Pop Quiz with opportunity to get guaranteed RUBY whitelist allocation in Discord server.
Campaign period:
24/05/2022, 09/06/2022, 2PM (UTC)
Details of Pop Quizzes
Pop Quiz questions will be asked on Exclusive Impossible Friends Discord Channel. Join Ruby.Exchange on Impossible Pop Quiz Discord server and go to #start-here to learn how to join Impossible Friends Discord group.
Members of the group can answer the Pop Quiz questions within 30 minutes.
For each quiz, there will be 10 questions and 15 winners will be randomly selected from the pool of best answers given.
Each lucky winner will win US$100 worth of RUBY whitelist allocation.
The Quiz will be on the following days (10 questions per quiz):
24/05/2022 Quiz
09/06/2022 Quiz
Terms & Conditions
Impossible reserves the right in its sole discretion to amend or change or cancel this announcement and group at any time and for any reasons without prior notice.
Use a self-custodied (Metamask, Trustwallet, etc.) BSC wallet address. Do NOT use an exchange wallet to participate
This whitelisting campaign is for the RUBY IDO.
The campaign will generate 30 winners via a Random Draw among the correct answers. Each winner will be eligible to buy US$100 worth of RUBY tokens during the IDO event.
A participant can only win up to one whitelist slot for the RUBY Token Sale. Winners will need to complete KYC for RUBY IDO.
Impossible Finance reserves the right to cancel or amend any Activity, Activity Rules or Details at our sole discretion.
This campaign is open internationally, but restrictions due to compliance regulations for different jurisdictions apply. Please consult the respective laws governing your region for the most accurate information.
About Ruby.Exchange
Ruby.Exchange is the foremost AMM on SKALE V2, a zero-gas, high-throughput multichain solution for Ethereum. Ruby delivers a gamified user experience for traders and liquidity providers by integrating NFTs: Generative gemstones that embody financial and practical utility as well as artistic value.
About Impossible Finance
Impossible Finance is a multi-chain incubator, launchpad, and swap platform led by Ex-Binance & DeFi veterans. It offers a robust product-first ecosystem that supports top-tier blockchain projects to targeted user audiences. With extensive support from key leaders in the crypto industry, Impossible Finance simplifies DeFi for users to enjoy fairer investing, cheaper trading and better yields.
SOURCE:
https://medium.com/impossiblefinance/impossible-friends-exclusive-ruby-exchange-pop-quiz-34a9991f0ba8