OpenLuck Integrates Chainlink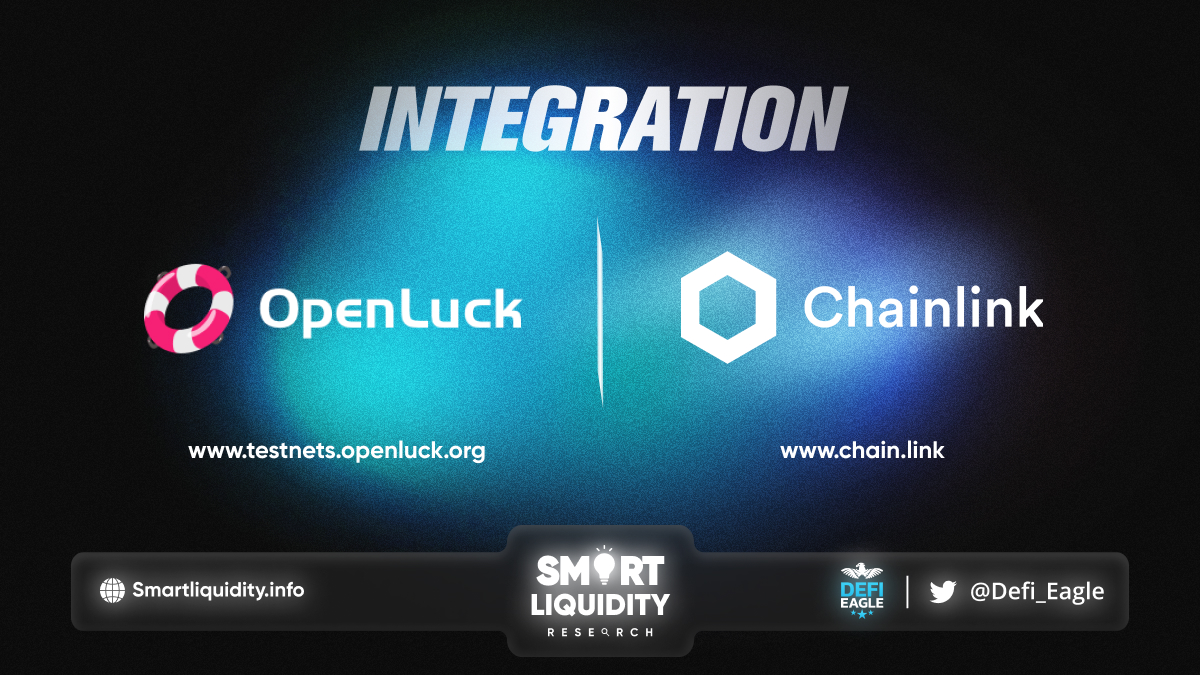 OpenLuck

integrates

Chainlink

 trust-minimized services on BNB Chain testnet, with mainnet integrations to follow.
Automating Crowdfunding With Chainlink Keepers
Automating the crowdfunding process is important as it allows OpenLuck to seamlessly scale the platform. While it's possible to automate these processes using centralized scripts or manual intervention, these solutions introduce a single point of failure and undermine the security guarantees of decentralized platform. So, Chainlink Keepers enable to automate smart contract functions in a highly secure manner.
Chainlink Keepers is a decentralized service purpose-built to manage tasks on behalf of smart contracts. Chainlink Keepers serve as decentralized, hyper-reliable, and economically incentivized automation bots that wake up smart contracts when they need to perform critical on-chain functions, which usually take place at regular time intervals or based on external events.
Securing NFT Prices With Chainlink Price Feeds
Therefore the initial integration of Chainlink Price Feeds involves the use of the following USD-paired feeds: BNB, BUSD, ETH, USDC, and USDT. OpenLuck Integrates Chainlink, digital artists and other sellers can list their NFTs for sale in a range of different tokens and make it easier for users to purchase tickets.
They chose Chainlink as go-to oracle solution because its infrastructure is seamless to integrate and time-tested in production. Chainlink already helps secure leading DeFi protocols responsible for tens of billions of dollars in smart contract value, maintaining robust security and high availability even amidst unexpected events, such as exchange downtime, flash crashes, and data manipulation attacks via flash loans.
Selecting Lucky Draw Winners With Chainlink VRF
Chainlink VRF works by combining block data that is still unknown when the request is made with the oracle node's pre-committed private key to generate both a random number and a cryptographic proof. In addition, Lucks Trading smart contract will only accept the random number input if it has a valid cryptographic proof, and the cryptographic proof can only be generated if the VRF process is tamper-proof.
"Chainlink trust-minimized services are essential for our NFT marketplace. By integrating Chainlink Keepers, Price Feeds, and VRF, we're able to enhance the security of our crowdfunding feature, NFT prices, and lucky draw." — Kevin, CMO of OpenLuck
About Chainlink
Chainlink is the industry standard for building, accessing, and selling oracle services needed to power hybrid smart contracts on any blockchain. It oracle networks provide smart contracts with a way to reliably connect to any external API and leverage secure off-chain computations for enabling feature-rich applications. This project currently secures tens of billions of dollars across DeFi, insurance, gaming, and other major industries, and offers global enterprises and leading data providers a universal gateway to all blockchains.
About OpenLuck
OpenLuck is a decentralized Cross-Chain NFT marketplace on the BNB Chain which is full of innovation and creativity.
By using the world's first Lucks Trading model, it lowers the barriers to participate which is more friendly for users. Therefore, Users only need to pay for an extremely low cost on BNB Chain then can have the opportunity to win the valuable NFTs on Ethereum and BNB Chain.
SOURCE:
https://medium.com/@openluck/openluck-integrates-chainlink-keepers-price-feeds-and-vrf-to-help-power-lucks-trading-b0355a2aea5a