Premia now supports Fantom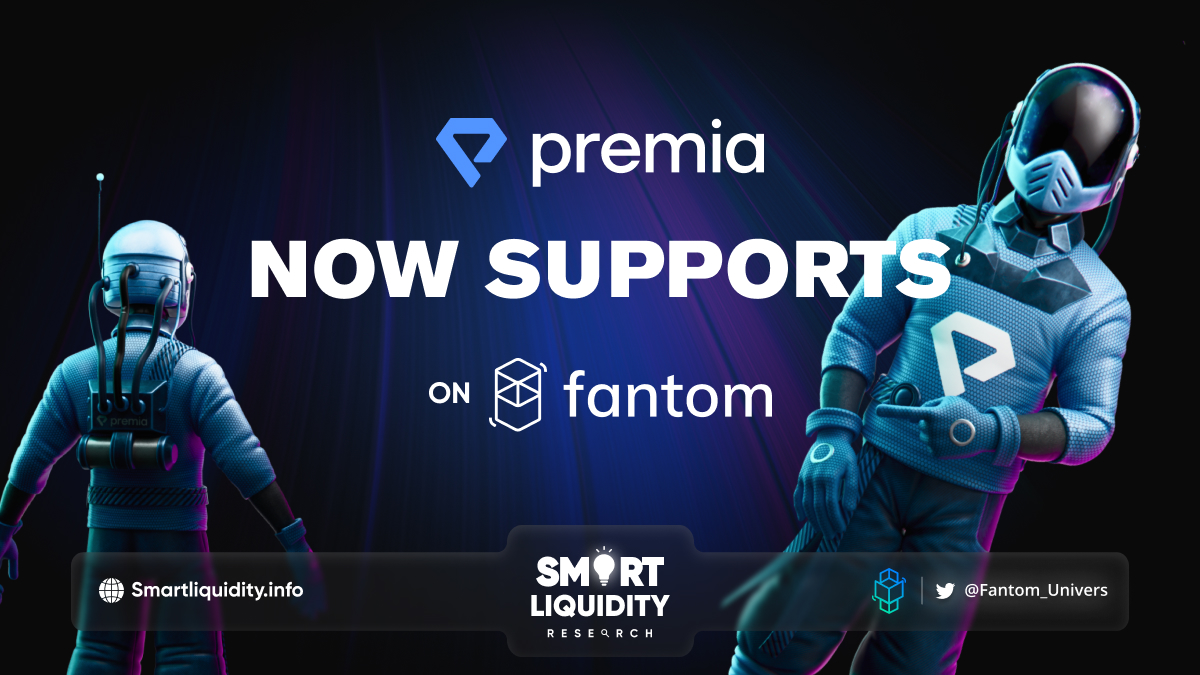 Premia now supports Fantom to implement their initial cross-chain bridge aggregator.
The Ethereum ecosystem is quickly becoming further cross-chain and multi-chain compatible. As such, Premia plans to implement a framework for seamless multi-chain deployment so they can launch on other EVM-compatible L1's and L2's and maintain each deployment with ease. Moreover, Premia have implemented their initial cross-chain bridge aggregator. With the Fantom launch, Premia have added Fantom network support to the built-in third party bridge on the Premia website (for cross-chain transfers). And now announcing Premia now supports Fantom.
Third Party Bridge Integration
With their Fantom launch, they have added support for Fantom to the third-party bridge on the Premia user interface. The goal of the "Swap & Bridge" feature on Premia is to help users obtain the assets they require, without leaving the site and opening yet another tab. (This is the same reason they allow users to swap on-site using their aggregator, allowing users to get the best price across DEX's directly on Premia).
The third-party bridge being utilized for Fantom cross-chain swaps on Premia is Multichain.org
What are Bridge Risks?
The bridge goes from:
Ethereum Mainnet → Arbitrum
Ethereum Mainnet → Fantom
Arbitrum → Ethereum Mainnet
Fantom → Ethereum Mainnet
Arbitrum → Fantom
Fantom → Arbitrum
And many other supported cross-chain paths
Bridging tokens from Ethereum Mainnet to Fantom will work just like their current Ethereum to Arbitrum bridge — no additional fees (gas fees only). But bridging tokens back from Fantom to Ethereum Mainnet will use Multichain's router which takes 0.01% of the amount swapped as a fee, with a minimum fee of 80 DAI equivalent (0.02 ETH, 0.0013 WBTC, etc).
There are also minimum amounts required to send Fantom <> Ethereum using Multichain. For example: the minimum DAI to bridge into Fantom from Ethereum Mainnet is 80 DAI, and then 200 DAI minimum to bridge back to Mainnet. Accordingly, the user would receive 120 DAI back because of the 80 DAI minimum fee. The estimated total bridge time there and back from Fantom ranges from 10 to 30 minutes.
Using a third-party bridge comes with risks. In recent years, bridges have been subject to hacks. It's important to remember that when you use a bridge, you are depositing your token and receiving a different token as a kind of IOU for the token you originally deposited from Mainnet.
­
About Premia
Premia's automated options market enables best-in-class pricing based on realtime supply and demand, bringing fully-featured peer-to-pool trading and capital efficiency to DeFi options.
Market driven options pricing – Each pool on Premia takes into account the relative supply and demand of capital within that pool to ensure a market-clearing options price is reached. This ensures optimal pool utilization at fair prices.
Liquidity sensitive returns to LPs – Returns on liquidity (options premiums) are priced according to the supply/demand of capital in each pool. Larger demand means higher option prices, which translates to greater returns for LPs.
Granular liquidity provision – LPs have control over which markets they underwrite, as opposed to underwriting the entire volatility market. LPs can implement customized strategies to granularly provision their liquidity only to the pools (and options) they desire.
Self-incentivizing initial liquidity – The automated pool pricing mechanism incentivizes liquidity providers to enter a pool from the time it's launched, to get the highest returns.
Dynamic Premia token rewards – Liquidity providers and PREMIA stakers accrue PREMIA tokens over time through our Liquidity Mining program and xPREMIA system, respectively. The amount rewarded depends on the size of their position and the length of the deposit. (Additionally, the amount of protocol fees generated determines the total size of rewards for PREMIA stakers).
­
About Fantom
Fantom is a fast, scalable, and secure layer-1 EVM-compatible platform built on a permissionless aBFT consensus protocol. Speed, low transaction costs, and high throughput make Fantom ideal for DeFi applications and real-world use-cases.
­
SOURCE
https://blog.premia.finance/third-party-bridge-integration-and-explaining-bridge-risks-235589f1355e