SupraOracles Partnership wih Ancient Kingdom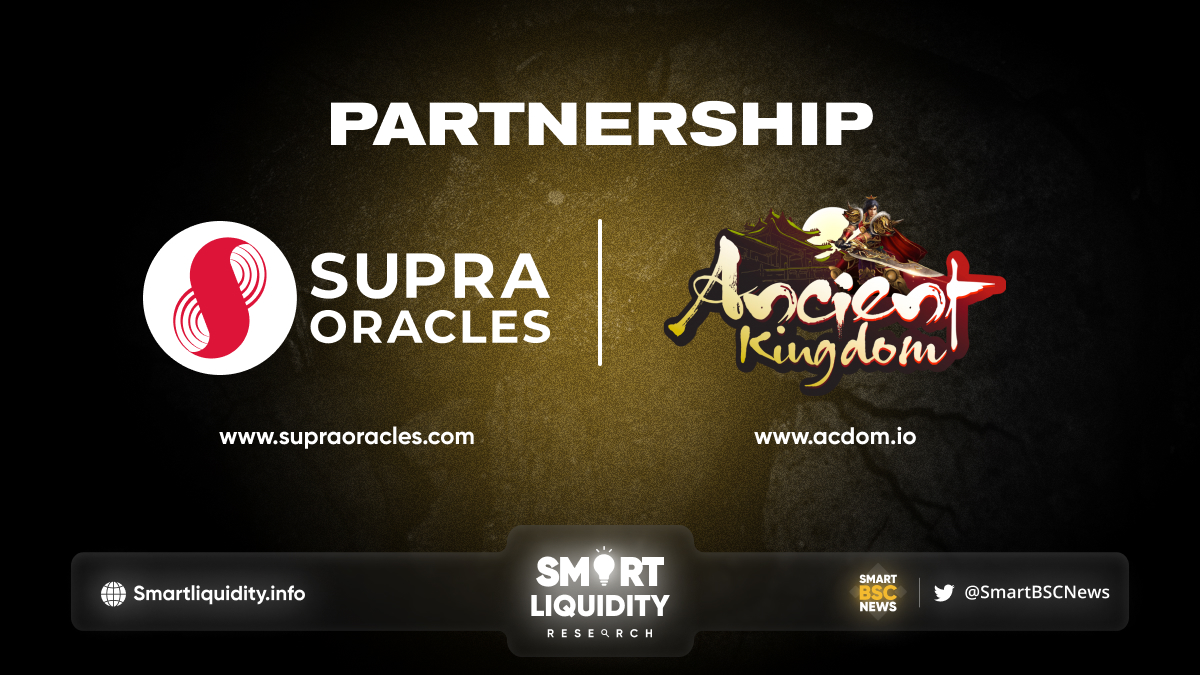 SupraOracles Partnership wih Ancient Kingdom to enhance cross-border NFT interactions.
SupraOracles is excited to partner with the Ancient Kingdom, a pioneering martial art NFT play-to-earn game which renders higher quality gameplay for new participants. Ancient Kingdom has developed complex blockchain gaming narratives that surpass existing industry standards. In addition, it allows players to interact with DeFi derivatives using gaming NFTs seamlessly. And now announcing SupraOracles Partnership with Ancient Kingdom.
In order to create new in-game incentives, Ancient Kingdom developers are allowing players to stake DOM tokens, trade their favorite NFTs to improve their character and become the rulers of the ancient lands. As such, SupraOracles' interoperable oracle services can assist Ancient Kingdom in expanding its use case outside its native network.
For that matter, Ancient Kingdom will utilize SupraOracles' decentralized network to reach new potential players. SupraOracles's interoperable solution and capability to interact with other EVM networks offers Ancient Kingdom a faster entry ticket to interact with other NFT marketplaces. Finally, the partnership between SupraOracles and Ancient Kingdom will serve as a launchpad for both projects and will help boost their industry impact.
What does Ancient Kingdom offers?
MMORPG – Ancient Kingdom is considered an MMORPG, a story-driven online video game in which a player, taking on the persona of a character in a virtual or fantasy world, interacts with a large number of other players.
Blockchain & GameFi – Blockchain innovation utilizing the BSC convention set up a generally serverless and got ongoing interaction experience. GameFi, in a brief, is the merging of gaming with the financial sector.
NFT and the Blockchain Gaming Industry's Future – With NFTs, Ancient Kingdom offers a realistic gaming experience. An NFT is a unique digital certificate of ownership that may be utilized for crypto transactions, turning in-game objects into tradeable liquid assets. Thus, the addition of NFTs in the game enables players to trade NFTs more realistically in the virtual world.
Play to earn (P2E) – This approach enables other gamers or gaming enthusiasts to purchase and exchange game awards or items represented as tokens or NFTs on the open market.
Reincarnation – Ancient Kingdom grants the characters the ability to rebirth. In detail, it triggers the rebirth function at the 90th level (the highest level), which has the capacity to improve attack, defence, and life holistically.
­
About SupraOracles
SupraOracles strives to bridge the gap between traditional capital markets and the Web3.0 ecosystem. Their vision and driving mission is to empower the developer community with a novel oracle toolset so that they may conveniently create, deploy, and manage data applications with superior performance, robustness, and agility.
­
About the Ancient Kingdom
Ancient Kingdom is an instance of a play-to-earn game that allows people to participate in the metaverse. Enabling them to play with their warriors and unique digital items (NFTs) within their ecosystems. Moreover, the game is a hybrid of battle royale, survival RPG, and turn-based strategy games. Which a gamer plays as one of the myth warriors and competes against other players to become the hero. Who will save the ancient Kingdom.
­
SOURCE
https://supraoracles.com/news/supraoracles-partners-with-the-ancient-kingdom-to-enhance-cross-border-nft-interactions/