Good Games Guilds x Cantina Royale Partnership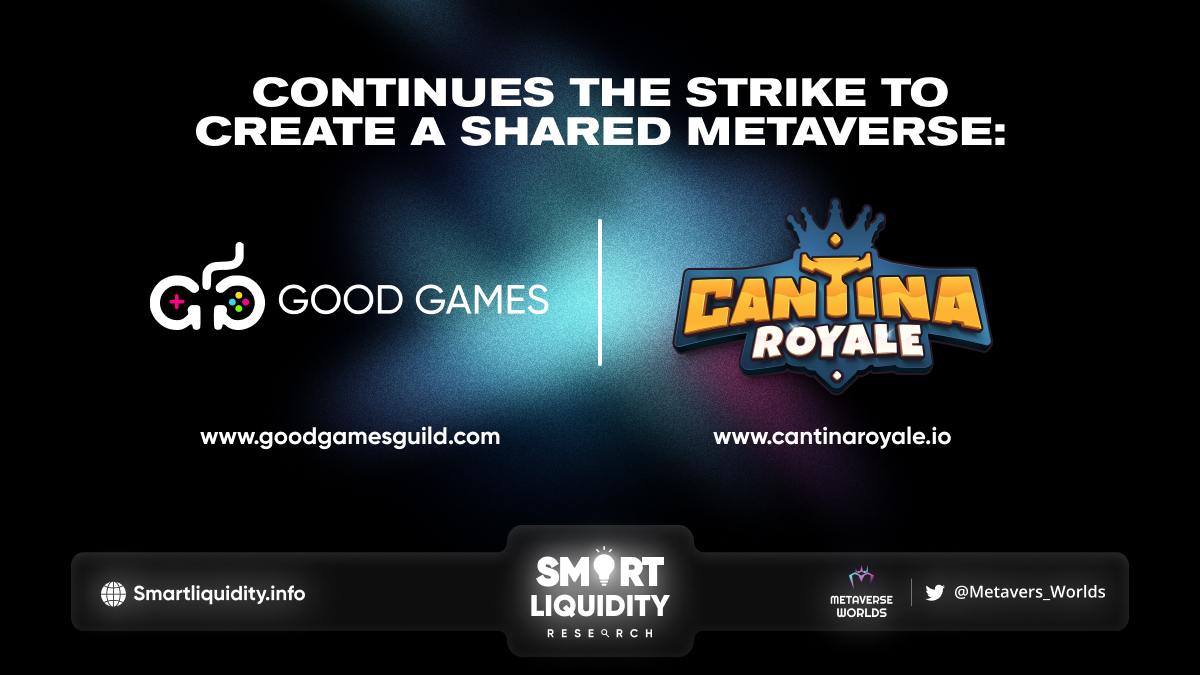 Good Games Guilds is proud to announce its strategic partnership with Cantina Royale,The most Epic PVP & PVE Battle Royale game in dark space.
Good Games Guilds continues the strike to create a shared metaverse. Their partnership is expected to bring the best of both worlds in gaming and blockchain technology.
Additionally, Connecting gaming and blockchain technology is their shared goal. Also, both platforms are certain this partnership will help take the GameFi industry to new heights.
About Cantina Royale
Cantina Royale is a top-down tactical arcade shooter game featuring both single-player and intense online multiplayer battles. Its mission mission to deliver a unique gaming experience with distinct game assets, dynamic gameplay, and opportunities to earn. Cantina Royale merges DeFi and NFT gaming in an innovative approach.
The platform supports on-chain NFT Staking. Which will provide players an opportunity to earn through their high-level characters through NFT sales or rentals. Each player's digital assets are locked securely on the chain, and rewards are earned for staking these assets.
Cantina Royale introduces the first-ever play-to-earn blockchain gaming platform that is free to play for all users. Free-to-play users have the option to create an account with no wallet requirements, hidden fees, or costs to jumpstart their adventure. They will gain access to certain game modes where they can test their skills, and climb ranks against other Free-to-Play users. These rankings could affect their ability to become sponsored by NFT holders who are looking for their next big star.
The free-to-play model allows Cantina Royale to host a diverse selection of players regardless of their risk appetite. Players can invest in their NFT characters and weapons for special perks and rewards bonuses, or they can opt to become a scholar with rented NFTs to progress their gameplay. Free-to-play users can get a feel of the game without any initial investment while gaining access to whitelists and drops that would take their gameplay to the next level.
Cantina Royale through the Scholarship Program, they offer the NFT Lending Platform in Verko. This program will introduce a complete DeFi marketplace. Which enables the NFT DeFi lending and borrowing for P2E, for players, and for NFT holders to share P2E revenue
About Good Games Guild
Good Games Guild is a Gaming Hub that aims to create the largest virtual world economy by sponsoring millions of play-to-earn gamers, investing in play-to-earn games along with their in-game assets, and building tools that will enhance the future of gaming and metaverse.
SOURCE: 
https://medium.com/@goodgamesguild/ggg-partnership-cantina-royale-429aca6f3775