ConsenSys Accelerates NFT Experience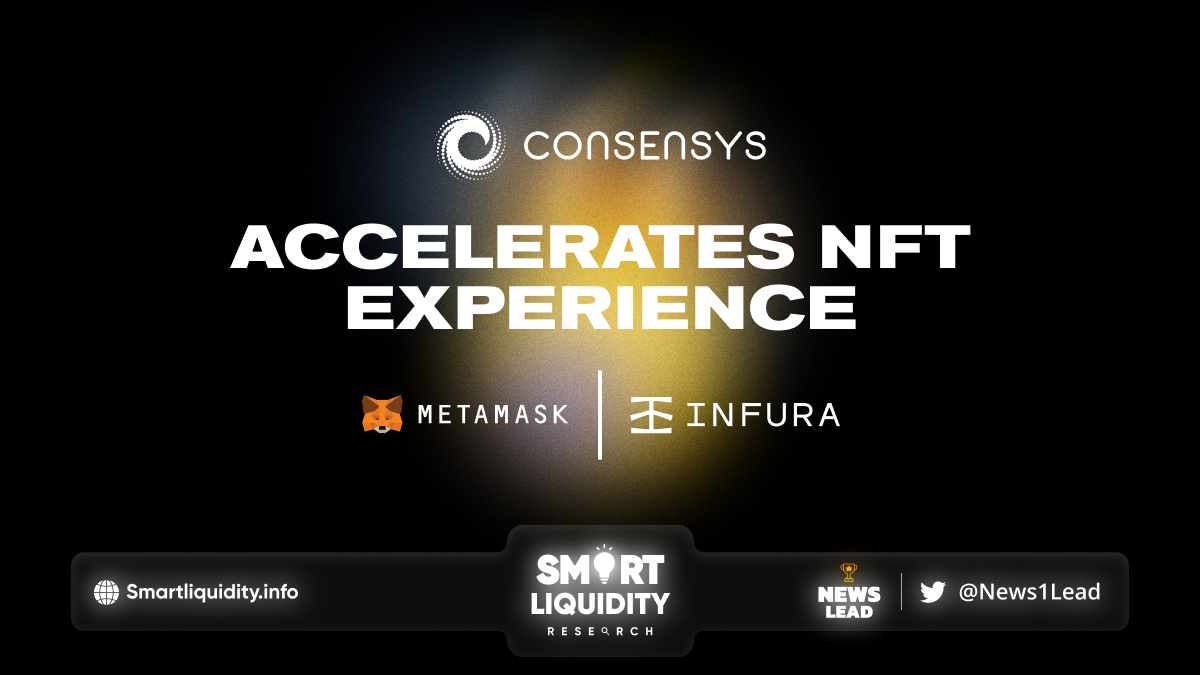 ConsenSys accelerates NFT experience by launching Infura NFT API and MetaMask Institutional NFT Portfolio View for developers and organizations.
ConsenSys, a market-leading blockchain technology company, is delighted to announce the launch of two highly anticipated product features at NFT.NYC2022, which will streamline Non-Fungible Token (NFT) experiences for developers, crypto funds, market-makers, DAOs, artists and NFTs enthusiasts. The Web3 leader will launch its Beta version of the Infura NFT API and the MetaMask Institutional NFT feature.
The Infura NFT API is an end-to-end solution that makes it easier for developers to build, create, mint, sell NFTs and provide the building blocks that any NFT project would need for an accelerated path to value. To address the increasing demand from organizations to have an holistic breakdown of NFTs held across all accounts and marketplaces MetaMask Institutional (MMI)—a version of MetaMask that integrates institution-required custody, operational efficiency, risk, and compliance features—has launched NFT capabilities within their DeFi and Web3-focused Portfolio Dashboard  for organizations.
ConsenSys pioneering NFT integration since day one
ConsenSys' products have powered the NFT experience since the very beginning. These disruptive and unique tokens are a paradigm shift for the creator economy, enabling fairer economic terms and artist-owned digital communities. They have gained an immense amount of traction and will potentially grow even more rapidly as major brands and companies adopt them. In 2021, Web3 paid out $174,000 per creator, while Meta paid out $0.10 per user, Spotify paid out $636 per artist, and YouTube paid out $2.47 per channel. An artist can own the relationship with their fans in perpetuity.
Infura NFT API
Infura's new NFT API along with SDKs and developer tutorials make it easier for developers to easily customize and create NFTs. As well as pull essential data to service end users. It provides developers with tooling specifically targeted at reading information from NFT contracts and writing to or creating all new NFT contracts. This gives developers a streamlined experience for faster iterations, access to NFT metadata, and stability.
MetaMask Institutional, addressing the surge of organizations' interest in NFTs
MMI also announces the launch of the NFT feature within its portfolio dashboard, providing detailed asset views across a range of metrics. It provides a holistic breakdown of NFTs held across all custodians, accounts, and marketplaces. With this new feature, MMI users gain access to the complete data suite of digital assets.
About ConsenSys
ConsenSys is a leading Ethereum and decentralized protocols software company. Therefore, they enable developers, enterprises, and people worldwide to build next-generation applications. Also, launch modern financial infrastructure, and access the decentralized web.
About MetMask
MetaMask is crypto wallet & gateway to blockchain apps.
About Infura
Infura is World's Most Powerful Blockchain Development Suite.
SOURCE:
https://consensys.net/blog/press-release/consensys-accelerates-the-nft-experience-by-launching-infura-nft-api-and-metamask-institutional-nft-portfolio-view-for-developers-and-organizations/?utm_content=212417179&utm_medium=social&utm_source=twitter&hss_channel=tw-3129477561