Menzy & TrustSwap FlashLaunch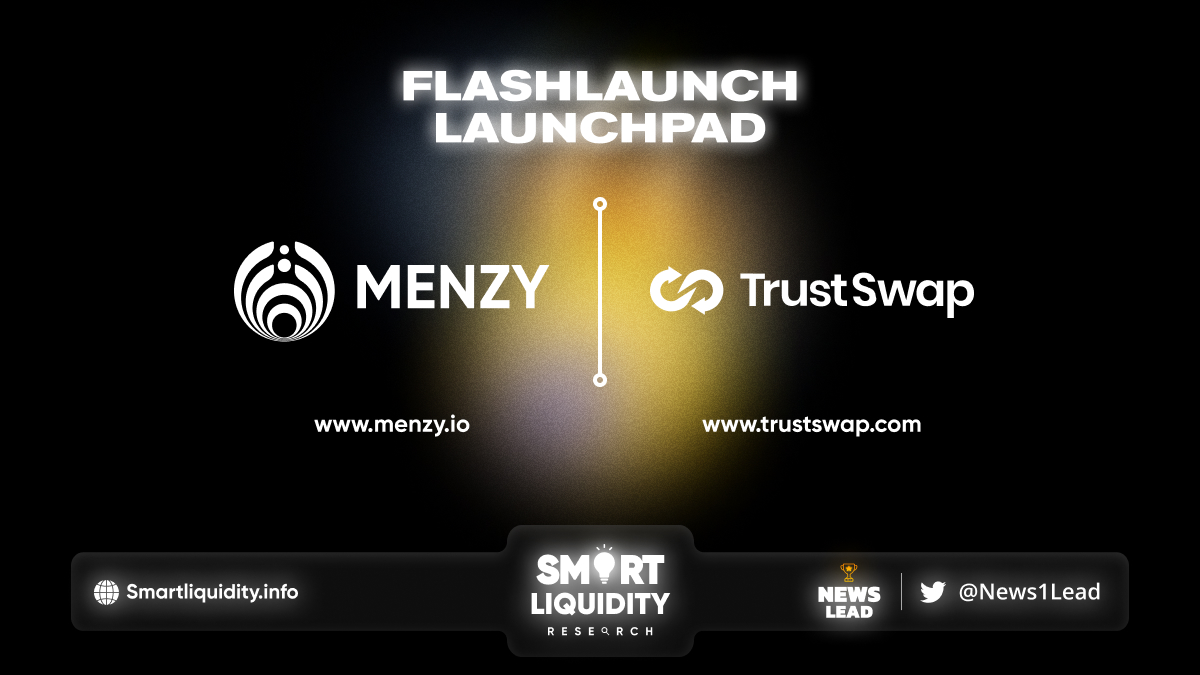 Menzy & TrustSwap FlashLaunch to launch of MNZ token on the TrustSwap Launchpad beginning on Wednesday, June 29th, 2022 at 5:00 PM UTC.
FlashLaunch Participation And Allocation
Each FlashLaunch will have a set individual Public Round allocation of exactly $500 per person.
Anyone who registers during the 24-hour FlashLaunch window will be eligible for entry to receive an allocation as long as they have at least 4000 SWAP staked in the old staking portals (across all supported chains) OR a score of at least 4000 Points in the new Long Term Staking Pool (LTSP)when the snapshot is taken.*
Applicants can apply to the FlashLaunch during the 24 hours between 5 PM UTC on the launch day and 5 PM UTC the following day at https://dashboard.trustswap.com/app/launchpads.
Once all applications are registered, each participant will be assigned a specific number of entries based on both their SwapScore (old staking pool, all supported chains) and LTSP Score (new staking pool, ETH only for now) when the snapshot is taken at 5:00PM UTC on June 30th (24 hours after the FlashLaunch starts).*
Entries will be assigned for SwapScore based on the table below. Entries for LTSP stakers will be assigned as follows:

One (1) Entry will be assigned for each 1000 Points over the 4000 point minimum (ie. 4000 Points = 4 Entries. 100,000 Points = 100 entries, etc.)
Scores will be combined (Total Entries = SwapScore + LTSP Score).*

There will be a random drawing for the $500 allocations so the more entries you have, the higher your chance of being selected.
Each person can only win once per FlashLaunch.
KYC verification is required and jurisdictional restrictions apply.
Secure Launch Process
To ensure a smooth launch, the Menzy team has agreed to:
Have their domain fully SSL certified one week prior to the token sale date.
Have their domain protected by Cloudflare and share the proof with TrustSwap one week prior to the token sale date.
Disclose the vesting schedule of all tokens, including team, strategic investors, private presale, influencers, etc.
Add no less than $150,000 of liquidity immediately upon DEX listing.
Have at least one community moderator on each social platform (Discord, Telegram, etc.) actively available 24 hours a day for the first 7 days following the DEX launch.
Step-By-Step Guide
At any time between 5PM UTC on June 29th and 5PM UTC on June 30th (24 hrs), go to https://dashboard.trustswap.com/app/launchpadsand click the blue button to fill out the application form. Interested participants can submit KYC documents prior to the launch. However, they must still fill out the pledge form on TrustSwap Dashboard during the launch event.
Applicants will be given a number of entries into a random drawing relative to their SWAP tokens that are actively staked (see Participation and Allocation section above).
Winners of the draw will be contacted via TrustSwap's Dashboard Messaging System with payment instructions.
An additional 100 people selected in the drawing will be on 'stand-by' and will have the first option to participate if there are any unsold tokens after the initial rounds are complete.
About Menzy
Menzy developed a unique algorithmic system that detects any activity or sport while it happens, with the help of your mobile camera. This technology enables you to receive rewards for every move you make. Essentially Menzy is a virtual fitness ecosystem that includes both SocialFi and Move-To-Earn GameFi features.
About TrustSwap
TrustSwap is a multi-chain DeFi-ecosystem providing services to both corporate and retail customers. With over 4.5 Billion dollars secured across 26,000 projects across ten blockchains, TrustSwap is a foundational pillar in crypto security. TrustSwap's "The Crypto App" has over four million downloads, making it one of the most frequented crypto applications globally. The Launchpad offered by TrustSwap has securely launched over 40 projects.
SOURCE:
https://trustswap.com/blog/menzy-announces-june-29th-flashlaunch-on-trustswap-launchpad/