Kawaii Island's new token farming options have been introduced. Kawaiiverse subnetwork successfully launched on Oraichain for over 2 weeks with smooth system operation.
Now it's time to gradually migrate the farming pools to Kawaiiverse for a more flexible system and zero gas fee, with the purpose to build a healthier system for the growth of KWT as its governance token.
One of the main purposes of building its network is to support users with the implausible cheap network fee in every transaction and smooth interchain interactions. With the launching of the Kawaiiverse subnetwork, users will now be able to have a seamless experience. With its on-chain features, starting with the Kawaii Scan, OraiDEX, and now is the new Kawaii Farming.
After throughout consideration of the on-chain data as well as following comments of its community members, taking the chance of moving farming pools to Kawaiiverse, we are updating the APR and farming mechanism for more sustainable growth of KWT.
Tokens staking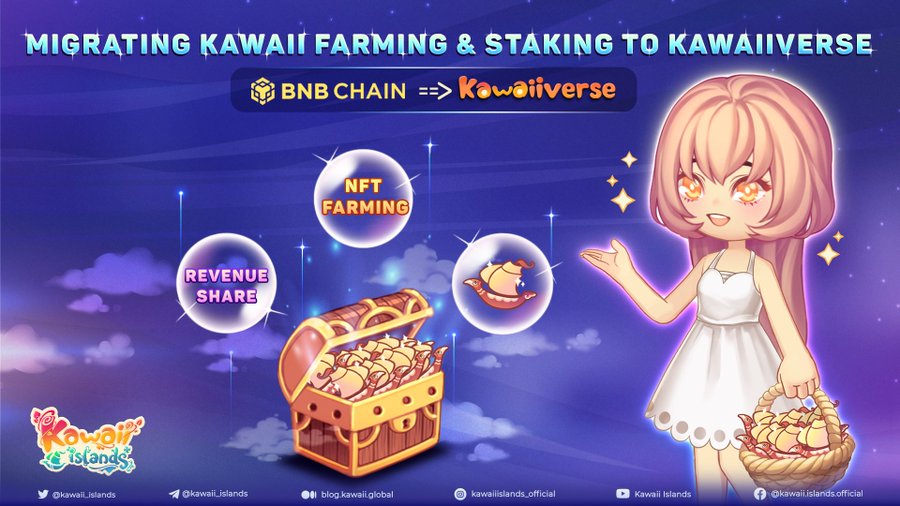 In addition, together with the migration from BSC to Kawaiiverse, Kawaii Islands will implement 4 staking options for its KWT holders. Kindly note that new staking options will be running on the Kawaiiverse subnet only.
Moreover, 3 out of 4 staking options are long-term staking periods, including 3, 6, and 12 months lock and the other one is a demand deposit. Users can join in all staking options anytime, there is no deposit period required.
Flexible staking — APR: 15%.
KWT 3 months Vault — APR: 35%. Staking period: 3 months from deposit timing.
6 months KWT vault — APR: 45%. Staking period: 6 months from deposit timing.
KWT 12 months vault — APR: 55%. Staking period: 12 months from deposit timing.
In later phases, KWT holders will have an additional farming option when KWT/ORAI LP is available on OraiDEX.
NFT farming with KWT Boost Option
As a regular investing method for its NFT holders, NFT Farming with Boost will also be set up in Kawaiiverse Subnetwork. Similar to the previous NFT Farming, each type of NFT will have different values (based on marketplace listing prices) with the initial fixed APR of 20% on the NFT price.
However, they will update the required token amount for Boost farming following the community's feedback on the KWT price. Aiming to build a healthier balance for the growth of KWT. The amount of KWT required to reach a certain APR will be adaptive and automatically updated. Following the marketplace price of the NFTs as well as the price of KWT.
This time, boosting levels will be removed to make it easier for everyone. There won't have a minimum/maximum required value, and users' rewards are no longer regulated by each level's limit. Then the higher amount of KWT you stake together with a specific type of NFT you put in boost farming, the higher the APR rate you can get.
BETTER EXAMPLE OF CALCULATION
For example, if you want to get 130% APR on a Field value, you need to stake your NFT together with 24,0024 KWT. As the price of KWT rises, the same boosted amount will generate a higher APR. For relevant APR and estimated earnings in the new NFT farming system.
Furthermore, the launching date of new Token staking and NFT farming will be released gradually as well as more services will come to the Kawaiiverse subnet in the near future.
ABOUT Kawaii Island
Kawaiiverse (Kawaii Islands) is a collaboration between Imba Games Studio, a leading game development studio with over 14 million customers from more than 7 years of game development experience, and strategic partner Oraichain, the world's first AI-powered data oracle and AI Layer 1 in the Blockchain sphere. Furthermore, Kawaiiverse is set to grow into an Anime Metaverse. Where magic mixes reality and everyone can play, create, connect and earn. With the core game Kawaii Islands, Kawaiiverse is expanding rapidly with its own subnetwork with low fees on Oraichain. The second game Kawaii Fishing Saga and multiple exciting events lined up.
RESOURCES
Medium