TimeSwap Integrates Biconomy's Gasless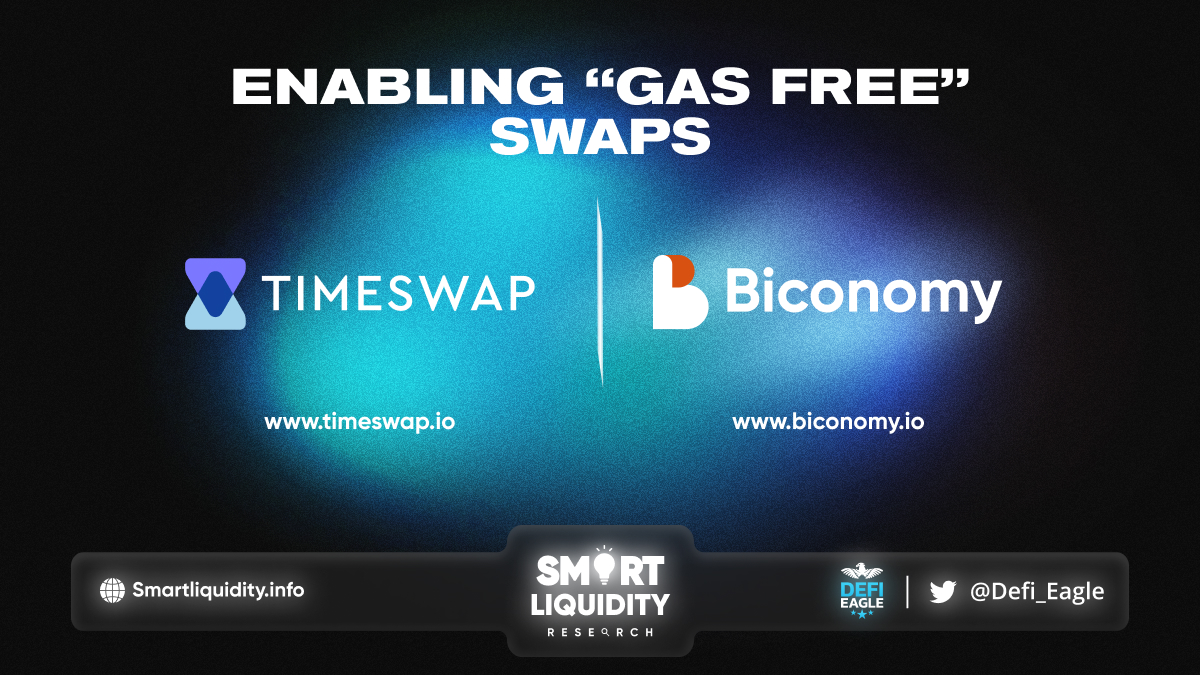 TimeSwap integrates Biconomy's Gasless to enable "Gas Free" Swaps for its time travelers.
While TimeSwap's intrinsic innovation covers the fully decentralized money market protocol part, Biconomy's Gasless fulfills the "Gas free" part of the prophecy. This enables a level of user experience where anyone can enjoy the best of DeFi lending/borrowing without learning the details of a blockchain transaction.
DeFi's 1st oracle-less, permissionless Money Market Protocol
Heavy oracle dependency, capital inefficiencies, and the risk of price manipulation of governance tokens, illiquid long-tail assets has limited the growth and adoption of DeFi lending/borrowing protocols.
TimeSwap remedies all these pain points using tri-variable AMM, enabling native interest rate and collateral factor discovery.TimeSwap Integrates Biconomy's Gasless, so it's  immutable, censorship-resistant, and leverages the value of network effects. The protocol achieves all that and more without any dependence on oracles, offering risk/return adjustable profiles.
What utility does Gasless bring to TimeSwap?
TimeSwap's integration with Gasless adds to the protocol's growth potential. As a unique product-market fit, superb utility and gas-free transactions can help Timeswap become the next lending/borrowing and liquidity powerhouse. Just like how Biconomy helped onboard ~643K users to Web 3 via Gasless NFT drops, we remain hopeful that more and more users will find it easier to leverage sustainable and capital-efficient yields on TimeSwap with the Gasless integration.
About TimeSwap
Timeswap is the first fully oracle-less, permissionless, non-liquidatable, fixed-income lending & borrowing protocol. Timeswap uses an AMM for interest rate discovery and collateral ratio determination. The protocol enables lenders/borrowers to define insurance and interest parameters that are determined across a constant product bonding curve. This allows users to structure bonds against a pooled counterparty. Additionally, Liquidity Providers can create custom pools with fixed maturities for any token pair. This facilitates the creation of debt markets across the otherwise illiquid long-tail assets market. TimeSwap revolutionizes decentralized lending/borrowing along with the insurance and derivatives market.
About Biconomy
Biconomy is the multi-chain transaction infrastructure for the next-generation Web 3.0 applications. Through Biconomy's powerful and easy-to-use APIs, developers can enable a simple and customized user journey. So that their end-users don't get frustrated by blockchain complexities. Biconomy is on a mission to bring the familiarity of web 2.0 to simplify Web 3.0 experiences that will drive mass adoption.
SOURCE:
https://medium.com/biconomy/timeswap-integrates-gasless-to-enable-gas-free-swaps-for-its-time-travelers-37c361e85d99