Hector DAO: Q1 & Q2 in Review | Building Hector Ecosystem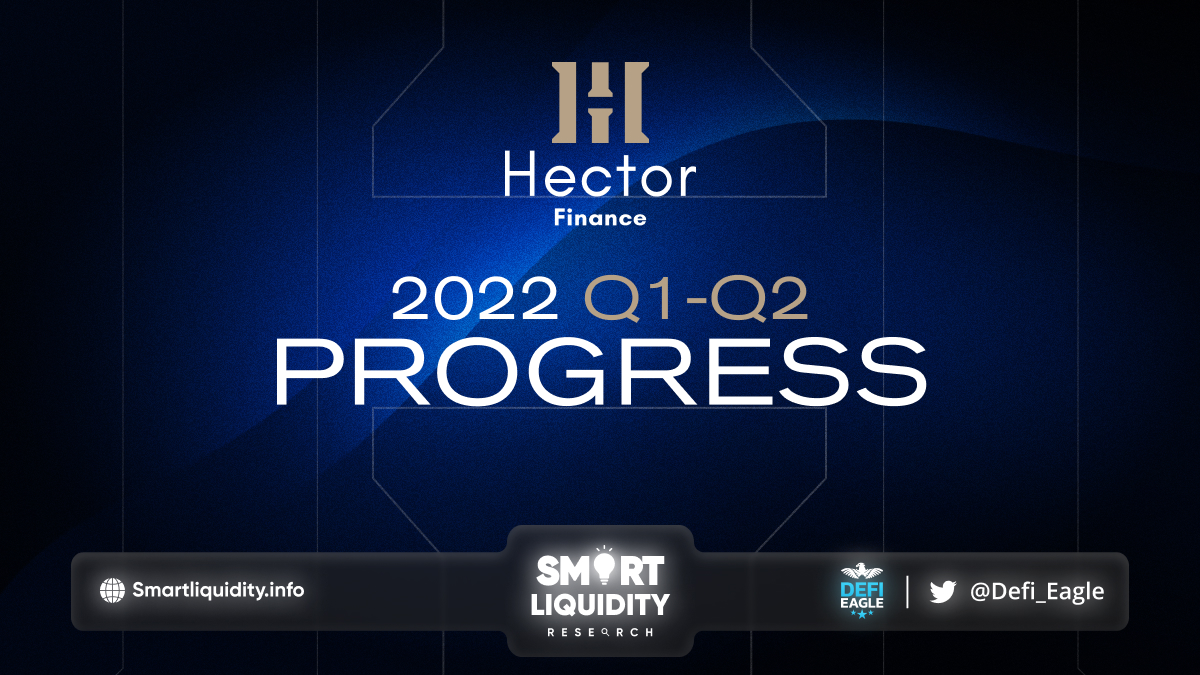 Hector Finance is a project which operates on the Fantom Opera Chain, developing a number of usecases within the Hector Ecosystem. Over 2022 Hector aims to expand to become multi-chain.
Introducing the Hector Ecosystem

Hector DEX
Hector DEX is the Cross-Chain DEX Aggregator embedded into the Hector ecosystem. This means that users can swap their tokens to and from HEC (and others) across multiple chains whilst getting the best possible rates. This is one of the steps they are taking to turn Hector into a centre within the Fantom Opera Chain.
Hector Institute
Hector Bank is their decentralised lending and borrowing platform built on the Fantom Opera Chain. Users are able to lend out and borrow a variety of crypto assets. Lenders can achieve an APY by lending out stable coins and other tokens. Borrowers can use wsHEC as collateral to borrow stablecoins to use them in different projects without having to unstake or unwrap their tokens.
The protocol charges a small amount of interest on borrowed positions. A portion of this profit is then used in line with our plans to become deflationary over time.
Hector NFT: Mythos Collection
To create a DeFi game (Currently lovingly called Hector Game) They are creating a DeFi game which will use the NFTs they have been creating and will expand over time. Revenues generated by the game will support the expansion of not only the game, but the Hector Ecosystem in general.
NFT Staking NFT creators will be able to mint their NFTs through the Hector Ecosystem. A small portion of royalties from NFT sales will be used to buy HEC tokens and distribute them to NFT holders. This allows us to work with the best NFT creators to offer exclusive collections to the community.
The TOR Stablecoin
TOR is a new ERC20 token which can only be minted when a user burns HEC. TOR can be exchanged for newly minted HEC (redeemed) using the HEC price oracle, implemented with Time Weighted Average Price (TWAP). Oracles are a fundamental component to any stablecoin's base functionality. An oracle, in relation to blockchain technology, is a system built to feed data to smart contracts.
Generally, a Stablecoin is only used and trusted if it maintains its price peg. TOR is pegged to $1. How is it 'backed'? There are two layers of TOR's backing:
Smart-contract models and the HEC/stable LP
Over-collateralized via the Hector Finance Treasury
COMING SOON:
Hector Game
They are creating a game which will use the NFTs we have been creating and will expand over time. Revenues generated by the game will support the expansion of not only the game, but the Hector Ecosystem in general.
The front and back end of the UI is currently in development and will incorporate the copious amounts of feedback: the community, and their diverse network of traders, artist and developers. This collaborative approach was fundamental in bringing to life the vision of a revolutionary marketplace which could push the utility, trade and wide spread use of NFT technology into the future.
Hector Launch
Hector Launch will be an incubator and launchpad for upcoming projects on the Fantom Opera Chain. As of right now, there is a gap in the market for reliable incubators like this. Developers of new projects will be able to leverage the Hector audience by offering exclusive whitelist spaces to HEC stakers.
Hector University 
Hector University will be an education centre which features short courses to teach people about the Hector ecosystem. Participants will learn in a controlled test environment.. This serves aim of educating and informing people about the Hector ecosystem whilst also allowing them to become familiar with our project. It also incentivises people to learn about the more complex parts of the ecosystem and develop their knowledge of the crypto space as a whole.
Hector Pay
Hector Pay is one of the most ambitious goals Hector has. They aim to create a payment system which will allow users to pay for real-world items using their (DeFi) crypto balance.
The benefits of being able to pay with cryptocurrencies are obvious:
Extremely low transaction fees;
Increased speed;
Better security.
HECTOR DAO SOCIAL CHANNELS
Website| Discord | Twitter | Github | Reddit| Youtube | Instagram| Medium | Linktree