MetaEngine partnership with Dirty Street Cats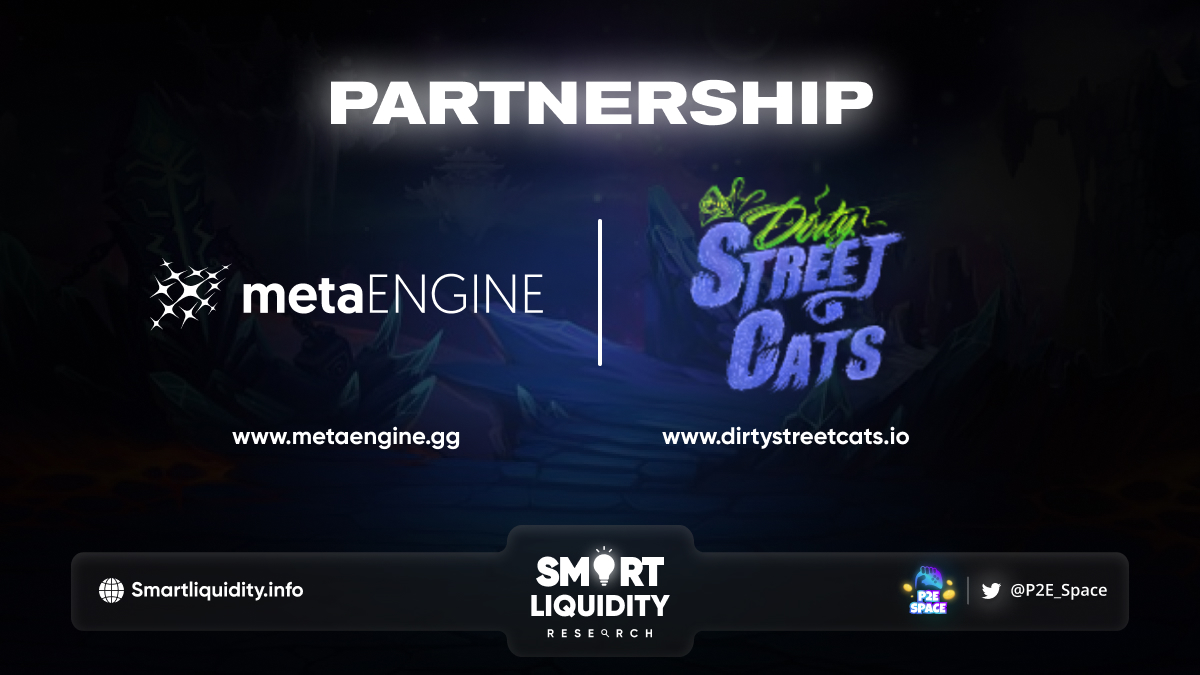 MetaEngine partnership with Dirty Street Cats. MetaENGINE is delighted to announce its latest partnership with Andrew Labs working together on developing a flagship product — the Dirty Street Cats mobile P2E battle royale game
Learn About

Dirty Street Cats:
The Dirty Street Cats game is envisioned to be a groundbreaking P2E game all set to shake up the crypto gaming world.
The ideologies and development strategies behind this game have been specially designed for taking the gaming experience in the P2E world to the next level.
This game promises to deliver expectations above and beyond as each NFT character comprises a wide variety of features and characteristics, enhancing the user experience.
In the game, players will take control of Street Cats, a newly-conscious species that appeared after the richest man in the world transferred the human population to Mars. Starting with Paris, the players will fight for control over the last 7 major standing cities.
Each in-game character will represent an NFT, consisting of a wide variety of characteristics that give the player in-game combat.
One of the developments will include players' ability to rent their characters to enthusiastic players through an in-game marketplace.
Marie Cohen, Director of Andrew Labs:
A director of Andrew Labs, An Experienced Compliance Officer. Has in-depth knowledge in Swiss financial regulatory framework. Specialized in Fintech laws with a focus on digital assets.
Renowned expert in international sanctions with a master's degree, strategic and operational philanthropy, University of Geneva, Switzerland
Head of Financial Security Team: Indosuez Wealth Management , Geneva, Switzerland
Diploma of Advanced Degree, Strategic And Operational Philanthropy: Geneva University, Switzerland
Sanctions Officer, ACAMS, United States
MBA, Bar Exam, Toulouse Bar School, Toulouse- France
Graduated with the French Bar Diploma
Master in Business Law, Business Law, Law University-Toulouse, France
Speaks 4 languages: French, English, Italian, Hebrew
About metaENGINE
MetaENGINE is an all-in-one platform that incorporates a professional-grade game engine with a complete back-end server, network, blockchain integration, and a publishing platform.
About Dirty Street Cats
Dirty Street Cats is a mobile P2E Battle Royale game and the first flagship product by the Swiss Web3 gaming brand Andrew Labs.
SOURCE:
https://metaengine.medium.com/metaengine-x-dirty-street-cats-4cdceff364b8